In quarantine, expats given local support
10:50 UTC+8, 2020-03-31
0
In Jing'an, police and grassroots officials are making every effort to ensure that each returning resident is supported during their 14-day quarantine. 
10:50 UTC+8, 2020-03-31
0
In Jing'an, police and grassroots officials are making every effort to ensure that each returning resident is supported during their 14-day quarantine. Authorities and volunteers are lending a hand in areas where many expats live. Here are some examples. Li Qian reports.

Ti Gong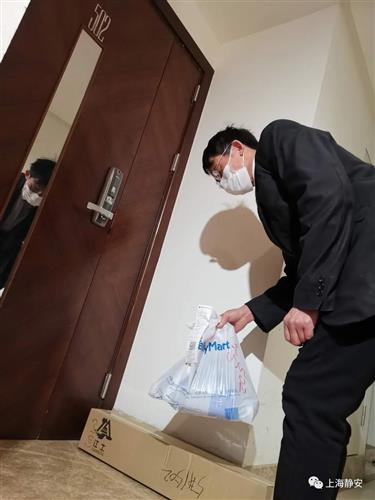 Ti Gong
Walking the dog

Jing'an Four Seasons, a high-end residential complex on Shimen No. 1 Road is home to more than 300 expats from 41 countries and regions.
In the complex's Taixing neighborhood, notices were posted in English, Italian, Korean and Japan to inform foreign residents about quarantine measures. Multilingual volunteers were also on hand to help, where needed, with translation.
On March 2, a Japanese man returned from his native home and started his 14-day quarantine at home. When he had barely set down his luggage, neighborhood worker Zhu Yuxiang knocked on his door and explained the latest prevention measures. Fluent in Japanese, Zhu answered all his questions.
"I gave my reassurances that I would stay indoors for 14 days," the man said.
Zhu explained, "I set up a WeChat group for Japanese residents. If they have any problems, they can let me know through WeChat, and I will help them."
Neighborhood workers also act as deliverymen for takeaway food and other packages that are dropped at the doorsteps of quarantined residents.
Zhang Shujin's job is to walk the dog of a Japanese man who returned and was put in home quarantine.
"He was so worried about his dog," Zhang said. "I have a dog of my own, so I understood his concerns and volunteered to take care of his dog. Now I walk two dogs a day, and they get along fine."
Ti Gong
Ti Gong
Not lost in translation

As more foreign residents return from abroad, Jing'an police have set up the city's first "foreign languages" team to offer support to expats required to go into home quarantine.
Officers on the team are proficient in English, French, German, Italian, Spanish, Portuguese, Russian, Japanese, Korean or Persian. They are available in WeChat groups with colleagues serving expats, and can step in when necessary.
So far, the team has helped in over 60 cases, according to Jing'an police. Bai Wenchao is one of them. He graduated in Italian from Shanghai International Studies University in 2009 and was among a team of Shanghai policemen dispatched to patrol tourist hotpots in Italy in 2017.
"To talk to foreigners in their mother tongue means messages are delivered accurately, and besides, it makes them feel more at home," Bai said.
"The team now has 50 officers," according to officer Zhang Xin. "We've asked many front-line officers to jot down common questions and translate them into English."
Jing'an police have made cards with words such as "quarantine," "symptoms" and "fever" for officers. By scanning a QR code on the card, officers can learn how words and phrases are pronounced. In addition, officers have sent 10 police teddy bear to expat children to brighten their days.

Ti Gong
Warm community welcome

Valentina Li was exhausted after an overnight flight from Paris to Shanghai and lengthy procedures at Pudong International Airport, but she was relieved and happy to be back home on March 7.
"There is nowhere else safer than China right now," she said.
plex in Zhijiang Road W. Subdistrict. When she finally disembarked from the special bus that transported her home, she was astonished to be greeted by a team of more than 10 people.
"It was a surprising warm welcome," she said.
Community workers and volunteers, local medical workers and police officers took her temperature, guided her through the process of signing a home quarantine pledge and gave her a hand with her luggage.
Li received a "gift pack" of alcohol disinfectant, a clinical thermometer, masks and gloves.
Due to her work, Li travels a lot. In January, she was on an overseas business trip when the coronavirus epidemic broke out in China.
"I had traveled to New York, London, Milan and France," she said. "During my overseas stay, I found that many foreigners were simply comparing the novel coronavirus to seasonal flu and weren't taking it very seriously."
As soon as she landed in Shanghai, she received a call from authorities telling her what she had to do next.
"I had been a little bit worried, but the call really relived my tensions," she said.
"I had been a little bit worried, but the call really relived my tensions," she said.
"Our passports were taken and our travel itineraries logged," she said. "People who had been to Italy in the past 14 days had to take a nucleic acid-based detection test."
After she was permitted to get off the plane, she underwent strict customs and immigration inspections.
"Officials asked me a lot of questions, and my luggage was disinfected," she said.
Then, she was guided to a desk to register her ID number, home address and other personal information. She proceeded to a designated bus to go home.
to go home. "Besides the driver, there were just three of us on the bus: a man from Rome, a volunteer from airport and me," she said. "We sat far apart and didn't talk. A police car followed us all the way."
Subdistrict and neighborhood officials were waiting for her on arrival.
"I was told that I should stay at home for the 14day quarantine," Li said. A medical worker would visit me every day to take my body temperature. Neighborhood committee workers would help get food and daily necessities."
She added, "So far, everything is fine. I haven't encountered any difficulties. I feel very grateful for all the help and care from my neighborhood."
Source: SHINE Editor: Chen Xingjie Special Reports