Springtime brings promise of renewal in Jing'an
10:30 UTC+8, 2020-03-31
0
As the city continues to slowly emerge from the coronavirus outbreak, Jing'an businesses are resuming work and public venues are reopening.
10:30 UTC+8, 2020-03-31
0
As the city continues to slowly emerge from the coronavirus outbreak, Jing'an businesses are resuming work and public venues are reopening. Let's follow Shanghai Daily reporter Li Qian to have a look.
Ti Gong
Parks reopen

The winter of our discontent has ended, and spring has officially arrived. As parks reopen, more people are going outdoors to breathe in the fresh spring air and enjoy seasonal flower displays.
Daning Park, one of the best places in the city to enjoy tulips, has been holding an annual tulip festival for five years. Millions of tulip blooms attract millions of visitors every year.
This year, there are 1.7 million tulips, all imported from the Netherlands, on display. They are framed by Dutch-themed installations and designs, such as cows, windmills and clogs.
Besides flowers, the park, one of the largest in downtown Shanghai, also features beautiful landscaping and artistic rockery. Its iconic landmark is a 2,596-square-meter beach made with thousands of tons of white sand that has been hauled in.
Jing'an Sculpture Park, Nanjing Road W., Metro stations and roadside gardens are also ablaze with tulips and other early bloomers.
Sculpture Park is famous for its seasonal floral displays set against sculptures designed by renowned artists.
In autumn, visitors are enchanted by an autumn palette of golden ginkgoes and red maples. This month, the park is awash with pink cherry blossoms and crabapple flowers. Rows of cherry trees line a 100-meter path in the park, creating a pink, romantic aura.
Jing'an Park opposite Jing'an Temple is a popular outdoor oasis in downtown Shanghai, and a favorite of expats.
Tall Chinese parasol trees and an expansive lawn area give the impression of walking in a French garden, while winding paths, a lotus pond and the pavilion in its center represent the traditional Chinese style. In their turn, magnolias, peonies and camellias add color to the park.
Zhabei Park, the oldest park in the district, features a traditional Chinese garden, with riverside corridors and pavilions, and structures with white walls and black tiles.
Plants in the park are beautifully landscaped. Flowers include peonies, cherry and Chinese crabapple blossoms, and coreopsis bushes.
Tall maples and sycamores, once in full leaf, will offer shelter on days of scorching sunshine.
Currently, all parks in Jing'an have reopened.
Daning Park is open from 7am to 5pm, while the rest of the parks are open from 8am to 5pm. Precautions are still in place related to the coronavirus epidemic. Visitor numbers are limited at any one time, and those entering the parks must have their temperature taken.

Jiang Xiaowei / SHINE
Ti Gong
Ti Gong
Seasonal delicacies
The Qingming Festival on April 4 is several days away, and the venerable Wangjiasha eatery is now busy making the traditional festival food qingtuan, or green glutinous rice balls.
In recent days, people have been lining up outside the popular Shanghai dim sum shop's flagship store on Nanjing Road W. to buy qingtuan.
It looks like a normal year, except that everyone is wearing mask and standing apart from others.
Qingtuan is made with mugwort juice, glutinous rice and sweetened bean paste. In recent years, Wangjiasha has invented new flavors and fillings, such as salted yolk and meat floss, meat and shepherd's purse, and custard and shredded coconut.
"This year, we didn't concoct anything new, but our business is still good," said Kong Jun, office head of Wangjiasha. "In recent days, sales have risen to 10,000 per day."
To prevent cross-infection, the eatery encourages take-away and allows a maximum of 60 customers at any one time. Customers enter the eatery from the gate on Nanjing Road W. and exit via the gate on Wujiang Road.
Five employees maintain order in the queue, and everyone is required to stand at least 1 meter away from other people.
The venerable Xinzhenjiang Restaurant on Nanjing Road W. launched the new flavor "kalimeris indica and bamboo shoots." Kalimeris indica is a popular wild herb found on the lower reaches of the Yangtze River.
Also, the restaurant's seasonal knifefish banquet has returned. Knifefish is a pricey seasonal specialty. Knifefish dishes are normally available only in March and early April.
Xinzhenjiang offers a variety of knifefish dishes. The most popular is dumplings with knifefish filling.
"Every year, I come to buy knifefish dumplings. We just can't miss it," said a loyal customer surnamed Wang.
Chef Fei Zhen has dealt with knifefish for more than 40 years.
"It's best to eat knifefish before the Qingming Festival, when it is at its freshest and tastiest," he said. "Our knifefish dumplings are totally handmade. The skin is made with spinach or carrot, which makes the dumplings look so tantalizing."

Ti Gong
Ti Gong
White-collar canteens

As office buildings resume work, Jing'an's "white-collar canteens" are cooking up a storm again. Initiated in 2005, the project has introduced inexpensive lunches to office workers. So far, the canteens have served nearly 500,000 white-collar workers in 13 subdistricts and Pengpu Town.
"To attract good businesses to come and stay in Jing'an, we need not only great office space but good employee services," said Lin Xiaojue, director of the district's commerce commission.
She added, "It's of vital importance to reopen white-collar worker canteens as businesses resume operations. We've worked with different departments and office buildings to take proper precautions, such as reducing seats to keep diners apart."
The Daning Road Subdistrict, home to more than 25,000 workers, collaborated with Shaoxing Restaurant, Xibei Restaurant and 10 other eateries to provide lunch boxes for employees.
"We hadn't expected to receive so many orders," said the man who runs the Nice e-Spots restaurant. "We provide five different sets, and today we've received more than 100 orders.
"Also, two companies have signed contracts with us to deliver lunches to their workers."

Ti Gong
Foreign business optimism

Foreign businesses in Jing'an remain upbeat on the Chinese market despite the coronavirus epidemic, according to a meeting held recently by public officials.
Jing'an is home to more than 80 regional headquarters of multinational companies, who contribute nearly 55 percent of the district's tax revenues.
So far, foreign businesses in Jing'an have donated hundreds of millions of yuan in cash and goods to aid Wuhan and other places in China. Many said they plan to increase local investment now that the pandemic is abating.
TÜV Rheinland from Germany is an industry leader in providing testing, inspection and certification services. Its office in Jing'an has just been recognized as its regional headquarters. Lutz Frankholz, director of the China branch, said the company will increase investment in Shanghai to build the first third-party intelligent unmanned lab and virtual reality testing lab.
Biopharmaceutical company Pfizer opened the global headquarters for its Pfizer Upjohn unit in Jing'an last year. This month, Pfizer Upjohn's two new drugs, Revatio, used to treat pulmonary hypertension, and Vyndaqel, used to stabilize transthyretin, were approved by the National Medical Products Administration.
Essential oil company doTERRA and beauty giant L'Oreal said they are busy preparing for the third China International Import Expo in November.
L'Oreal China has more than 12,000 employees. Its headquarters in Park Place has partly reopened, and more than 70 percent of operations at its Suzhou factory have resumed.
"We have tried our best to ensure every front-line worker, especially sales people, have enough masks, and we have had no confirmed cases of coronavirus," said Vice President Lan Zhenzhen.
She said online sales of personal care and beauty products this month have increased from February.
Owen Masseick, president of doTERRA China, also said online sales have been positive. "We have felt the impact of the epidemic," he said, "but we're confident in the future of China and looking forward to fully resuming business."
Kohler China, which runs more than 10 factories in China, said it didn't cut jobs during the epidemic and helped franchise outlets through the hard times. Philips China supplied medical devices to hospitals in the epidemic epicenter of Wuhan during the crisis

Ti Gong
Shops resume operation

Jing'an is home to some of Shanghai's busiest commercial zones, including the Jing'an Temple area and Nanjing Road W. Nearly one-third of the district's 11,000 stores have reopened.
Time-honored brands along Shaanxi Road N., such as Harbin Foodstuff Factory and the Xinzhenjiang Restaurant, are welcoming returning customers.
Senior citizens especially are coming out to sample the array of beautiful snacks and delicious food. But everyone continues to wear a mask and keep a distance from others.
"I feel like a vegetable after being stuck at home for so many days," said an elderly customer named Wang, who lives in the nearby Huaye Apartments. "I miss the butter cookies I like so much. But I know that we have to continue to protect ourselves, so I am wearing a mask and gloves."
Starbucks' Reserve Roastery on Nanjing Road W. — the company's biggest global outlet — had queues of customers lining up every day before the COVID-19 outbreak. It reopened recently.
"We all want to stay on the right track," said Chen Ping, director of Jing'an Market Regulation. "It's of vital importance to maintain a balance between epidemic control and resumption of business."
Through an online Q&A system and WeChat, regulators have explained the rules related to resumption of operations and helped businesses protect staff and customers.
There is only one door open to the roastery on Nanjing Road W. Masks must be worn and temperatures checked.
The air-conditioning is off, but the roastery's ventilation system is on to keep fresh air circulating. Only half of usual seating is available to ensure that all tables are a meter apart.
People queuing up outside must stand 1 meter apart, and the service inside is contact-free.
In Linfen Road Subdistrict, about 300 of the area's 700 stores have reopened, after thorough disinfection.
The subdistrict has a new function on its "Community Brain" urban management system, allowing shopkeepers to register and update health information of their employees. The system can automatically detect when stores are crowded or something else is amiss, and officials are dispatched to the scene.
Subdistrict officials have helped wet markets, grocery stores and fruit shops lay out "shopping routes" to prevent cross-infection and have told eateries to accept only diners who have made reservations.
Xinwang Meishilin, a popular eatery, has decided to stick to takeaways for the time being. Deliverymen are not allowed to enter the premises, and all deliveries are sealed.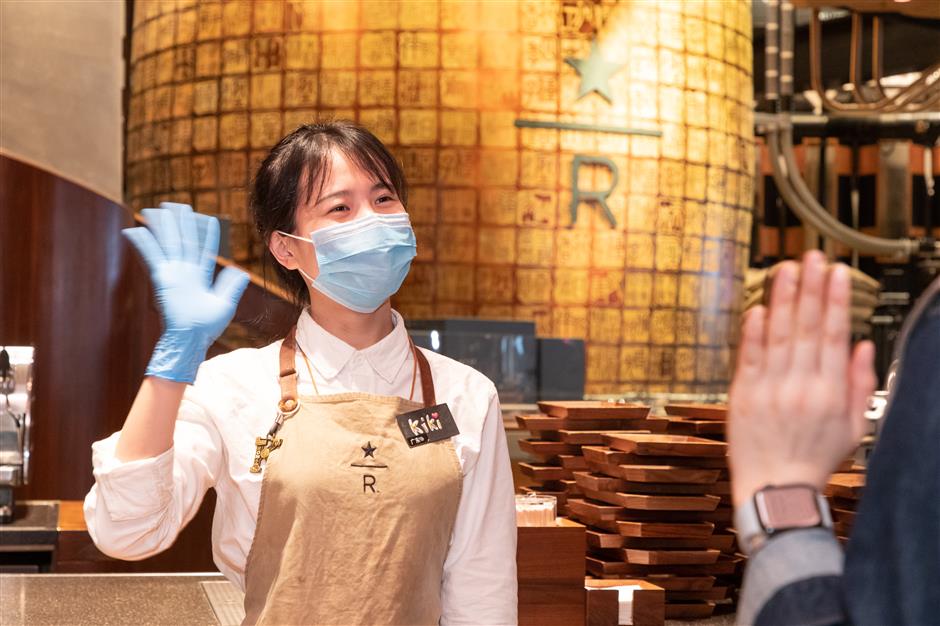 Ti Gong
Source: SHINE Editor: Chen Xingjie Special Reports