10 years on, Expo site still going strong
00:42 UTC+8, 2020-05-11
0
A tour for special guests showcased the Urban Best Practice Area at the former Expo site in celebration of the 10th anniversary of the 2010 Shanghai World Expo.
00:42 UTC+8, 2020-05-11
0
Wang Pengchong / Ti Gong
Nearly 50 guests from home and abroad took a journey around the Urban Best Practice Area at the former Expo site in celebration of the 10th anniversary of the 2010 Shanghai World Expo on Sunday.
On the west bank of the Huangpu River, this area is now a showcase of low carbon and eco-friendly development. The previous pavilions have been transformed into stores, art galleries, exhibition halls, hotels and offices.
This event invited the guests, including foreign families, entrepreneurs and Shanghai Magnolia Award winners, to visit 10 landmarks of the UBPA to see the changes that have been made over a decade.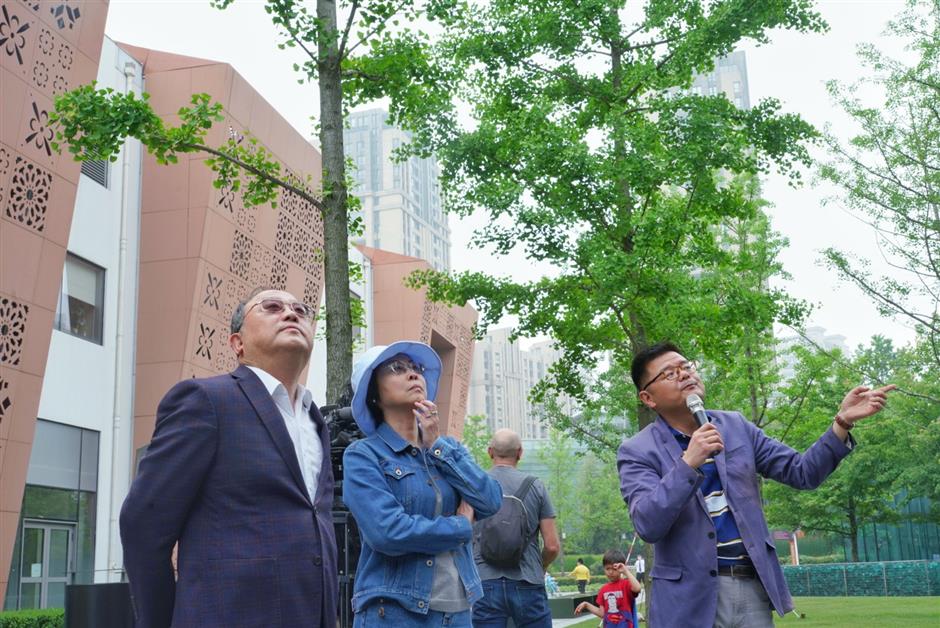 Wang Pengchong / Ti Gong
The first stop, Madrid Pavilion, was a representation of the idea of low carbon at the 2010 Shanghai World Expo with "one house and one tree." The house is Bamboo Housing, the recreation of a rent-control project in Spain founded and operated by the Madrid government, while the tree is Madrid's Air Tree, a structure designed by Urban Ecosystems and built from recycled materials and which is energy self-sufficient.
After the expo, the structures were adjusted to fit Shanghai's climate. The house's appearance was mostly kept but the bamboo walls were replaced by walls of a mix of wooden sliding screens and solar photovoltaic glass. The Air Tree serves as a place for residents to relax and watch performances.
The Living Water Park, has been renovated into a "Sponge Park" where rainwater can be collected for watering the plants, washing sanitation facilities and cleaning roads.
The Cases Joint Pavilion's Taipei booth was built from an old factory into a "house in a house." Inside the frame of the factory, there is a large "beer barrel" which is now a resort with stores and hotels. The structure's construction remains true to the original "3Rs" — reduce, reuse and recycle.
Other structures, including the Shanghai Pavilion and the Hamburg Pavilion, all use eco-friendly materials and have environmental protection elements in their designs. The Hamburg Pavilion is now home to a French culinary institute L'Arôme Institut Culinaire Français.
The journey ended at the C2 building, which once served as an area for expo visitors to enjoy food from all over the world. Now it's the art gallery of teamLab Borderless Shanghai, the second creation of Japanese art collective teamLab, an interdisciplinary group of artists, designers, mathematicians, engineers and programmers.
Wu Qiong / Ti Gong
In the borderless 6,600-square-meter space, there are 50 artworks displayed with light shows and installations.
In the gallery's gorgeous world of light, visitors will find that the light can "interact" with them — if they touch the wall of digital flowers with their hands, the flowers will blossom in that place; if they "touch" the light beam in the air, the beam will be "flicked;" and if they stand at a certain area, they will find digital butterflies "generated" from their bodies. Some will fly higher and others will fall to "death." Through these workpieces, people can also gain insight into concepts like life and death.
Almost all artworks can have such interaction. These interactions are all realized with facilities that can sense people's temperature as well as the light and shadow.
Javier Gimeno, senior vice president and CEO of French building materials company Saint-Gobain's Asia Pacific Region, who is also a Magnolia Award winner in Shanghai, told Shanghai Daily that he thinks the 10 years is a very important milestone.
Wang Pengchong / Ti Gong
"I arrived in Shanghai in September 2010 so I'm also celebrating my 10th anniversary in Shanghai," said Gimeno. "Ten years ago, the city was willing to show the world its strong will to become a green, eco-friendly and environment capital. And 10 years later, this strong will is still there."
He believes that the eco-friendly buildings should be the standards for the future and the city should make efforts for the green solutions to be generalized and deployed for everyone.
Ivan Chapdelaine, a designer from Canada, brought his wife and their two sons, aged 2 and 4, to join the event. "I think it's important to have the children explore different areas of Shanghai and it's a good education," he said. For himself, he said he enjoys the combination of historical and modern materials in the construction aspect.
Laura Ruesjas-Lukasik from France has been living in the city for five years.
Wang Pengchong / Ti Gong
"Today's event was very meaningful, a great journey through a variety of cultures, architectures, and experiences through an urban setting," she said.

"A good balance of human scale, warmth, innovation, with all senses including experiencing sound, taste, touch ... It is a great example of combining those experiences, and an honor to have been part of celebrating the Shanghai Expo's 10th anniversary."
"These buildings are given the opportunity to continue serving a variety of purposes, from cooking to exhibitions, or retail — which is the best way to maintain an urban space alive."
Wang Pengchong / Ti Gong
Source: SHINE Editor: tianshengjie Special Reports