Traffic police urge helmet use among e-bikers
19:10 UTC+8, 2020-05-20
0
A public awareness campaign has significantly reduced accidents and injuries among e-bike riders in Jinshan District. Soon a similar campaign will be spread citywide.
19:10 UTC+8, 2020-05-20
0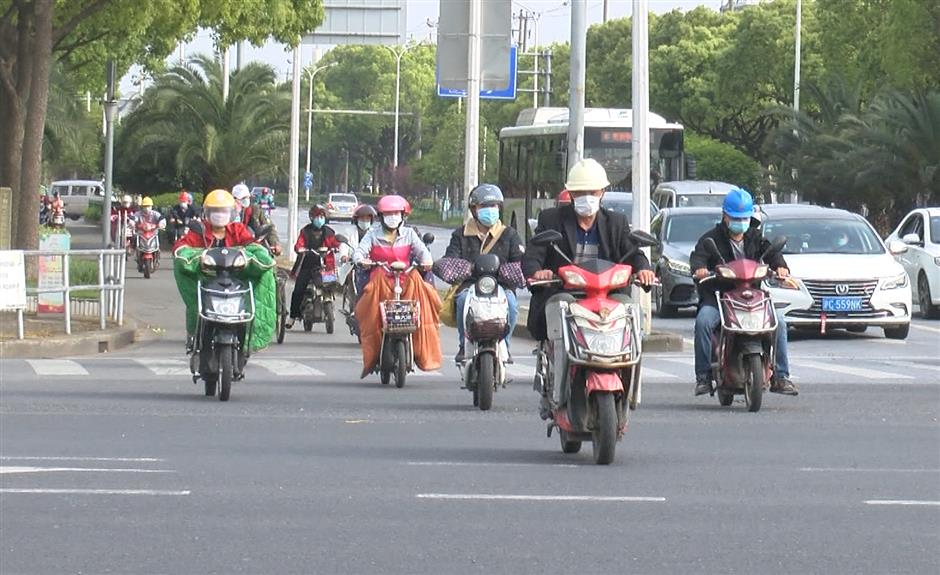 Ti Gong / Jinshan police
Wang Yong / Jinshan police
While few e-bike riders wear helmets in downtown areas of Shanghai, in the suburban district of Jinshan, about 90 percent of them do.
Police in Jinshan attribute this figure to a two-month campaign to raise awareness of safety among e-bikers, which was initiated after the Ministry of Public Security called on e-bike users to don helmets.
Shanghai police are expected to carry out the awareness campaign citywide from June, but they stated on Tuesday that e-bikers not wearing helmets won't be fined since neither national nor local traffic laws stipulate that yet.
A man surnamed Zhang who lives in Shanyang Town in Jinshan District is one of the residents who has started wearing a helmet when riding his e-bike.
"I had read about tragic accidents involving e-bikers run over by automobiles. I was always cautious when riding my e-bike on the street, so the campaign at once convinced me to invest in my own safety," he said.
By playing public-service announcement videos in public places, educating e-bikers when they got their registration plates and approaching riders on the streets, Jinshan police aimed to spread reminders to about 420,000 e-bikers in the district.
The results, according to Jinshan police, are significant, with about a 30 percent drop in traffic accidents involving e-bikes from April 1 to May 18 from the same period last year. The number of casualties in such accidents was also down about 90 percent over the same period.

According to the Ministry of Public Safety, in about 80 percent of fatal traffic accidents involving motorcycle and e-bike riders, brain injury was the cause of the death, while wearing helmets and seat belts can reduce the risk of fatality by 60 to 70 percent.

Pricey protection

Surging demand has significantly pushed up the price of the helmets for e-bike riders. Some models are now about 100 yuan (US$14) more expensive than they were just a few days ago, and some helmet shops on Taobao.com confirmed to Shanghai Daily that they have seen a surge in sales this month.
At the moment, most of the popular helmets on Taobao are priced between 100 and 200 yuan.
In Jinshan District, some shops selling helmets for e-bikers say they have run out of stock.
As for the quality of helmets on the market, Shanghai traffic police say that China currently doesn't have a specific set of standards for e-bike helmets, and manufacturers are expected to refer to standards for motorcycle helmets.
Xie Wei, vice head of the public relations department of the Jinshan traffic police, warns that some e-bikers are using helmets for construction workers instead of those specifically for e-bikers.
"These two kinds of helmets are totally different in design for protecting the back of the head," he explained. "While helmets for construction sites mainly protect workers from being injured by falling objects, those for e-bikers have a softer shell but thicker padding to protect people when they fall to the ground."
Police remind people to purchase e-bike helmets with 3C (China Compulsory Certification) certificates.
There were about 300 million e-bikes in China as of the end of last year, according to information from a national bike industry conference in November. In Shanghai, 1 million e-bikes are sold every year, according to the Shanghai Bicycle Association.

Regulatory patchwork

Revisions to the city's e-bike regulations are being mulled, but it's unclear whether not wearing a helmet will become a punishable offense.
Meanwhile, neighboring Jiangsu and Zhejiang provinces passed revised rules on May 15, in which e-bike riders not wearing helmets in Jiangsu will be given a warning or fined up to 50 yuan starting from July 1, while offenders in Zhejiang could be fined 20 to 50 yuan.
Adults who carry children under 6 years old on their e-bikes should use safety seats in the two provinces, according to the new rules.
Everyone, whether a resident of the provinces or not, is expected to follow the local e-bike rules.
In Shenzhen of southern Guangdong Province, e-bike riders without helmets can be fined 200 yuan as of 2018.
Helmet laws for electric bikes also exist in certain parts of the US, Australia and Europe.

In Asia, since personal electric vehicles are classified as motorcycles in South Korea and Japan, riders of such vehicles are required to wear helmets.

Source: SHINE Editor: Cai Wenjun Special Reports