It's all right on the night at Anyi Road street fair
18:23 UTC+8, 2020-05-31
0
The much anticipated Anyi Road night street fair is back.
18:23 UTC+8, 2020-05-31
0
Ti Gong
Jiang Xiaowei / SHINE
Ti Gong
The much anticipated, weekend-only, Anyi Road street fair returned on Saturday.
The fair, "Green Escape", first opened to the public last October on Anyi Road, making the 264-meter-long, otherwise quiet lane outside the Kerry Center, one of the city's most lively places.
After saying goodbye for more than four months, it has returned this weekend, again proving a hit with the public.
"It was raining cats and dogs in the afternoon. And it's still rainy. I didn't expect so many visitors," said Huang Ning, deputy general manager of Kerry Properties Development (Shanghai) Co.
A fan of the fair, Chloe Chen, added: "I've missed it so much. Finally, it's back. Last year, I visited the fair almost every weekend because it made me feel good. And one important thing was that it's a very good place to take photos with my friends.
Chen, who works and lives in Jing'an District , said this year's fair gave her some new feelings.
"I saw more bars, which I really love. I may try some later, and I will tell my foreign friends to come with me," she said.
There have been some upgrades.
Instead of a pop-up fair that only runs for several months, it will become a regular event. And the operation hours will extend, lasting from noon to 11pm.
Besides food, drink and entertainment, more immersive experiences have also been added, such as interactive games, DIY workshops and photo-taking sites in a neon-lit setting.
"We want to create an international life circle," said Huang.
One innovation, according to him, is the introduction of some popular bars.
"It's common to see foreigners gather together on the roadside, with a cup of beer in hand, chatting with each other. They love the relaxed atmosphere," Huang said. "Also, the introduction of bars increases chances of people making friends with bartenders and other drinkers. It's a kind of interactive experience."
Bartender Paul, from the Sober Company, one of the city's most popular bars, said the fair was quite different from those he had attended before.
"It's my first time at the fair," he said. "I'm from Taiwan, which is known for a variety of night fairs. But Green Escape is so stylish, it is not like any others that I've been to before. I really love it.
"We've sold more than 30 cups of drinks in the afternoon, and many are foreign customers."
Aura Lab opened its first store in the Jing'an Kerry Center, and now it operates eight outlets in Shanghai, becoming one of the city's most popular florists for initiating the concept of "Ready to Flower" and selling bouquets.
"Our stall in the last year's fair was running very well," said Peng Xiaowei, in charge of the florist's brand operating day. "We sold flowers and plants priced over 30,000 yuan (US$4,208).
"Previously, most of our customers were office ladies because we operated in shopping mall. But after we opened the stall in the fair, people from all age groups started to know our brand and become our customers."
Last year, the florist only sold flowers. But this year, it opened a workshop nearby for people to learn flower arranging.
"We hope our customers learn about flower arranging, and they become loyal customers," he added.
To ensure health and safety, the hourly number of visitors will be restricted to 3,500. Stall holders are required to have their temperature taken, present health QR codes and show their whereabouts for the last 14 days. Also, litter bins for waste masks have been installed, and tables, chairs and other facilities are disinfected on a regular basis.
Lin Xiaojue, director of Jing'an's commerce commission, said Anyi Road provides a good example of how to revitalize backstreets. Its success will be copied.
"Next week, Wujiang Road and HKRI Taikoo Hui mall will also hold night fairs," she said.
According to her, the nightlife economy demonstrates a city's vigor. It is not only about night fairs but other places that open until midnight where people can relax.
"So, night reading salons, night running clubs and even night museum activities are all part of nightlife economy," she said.
Jiang Xiaowei / SHINE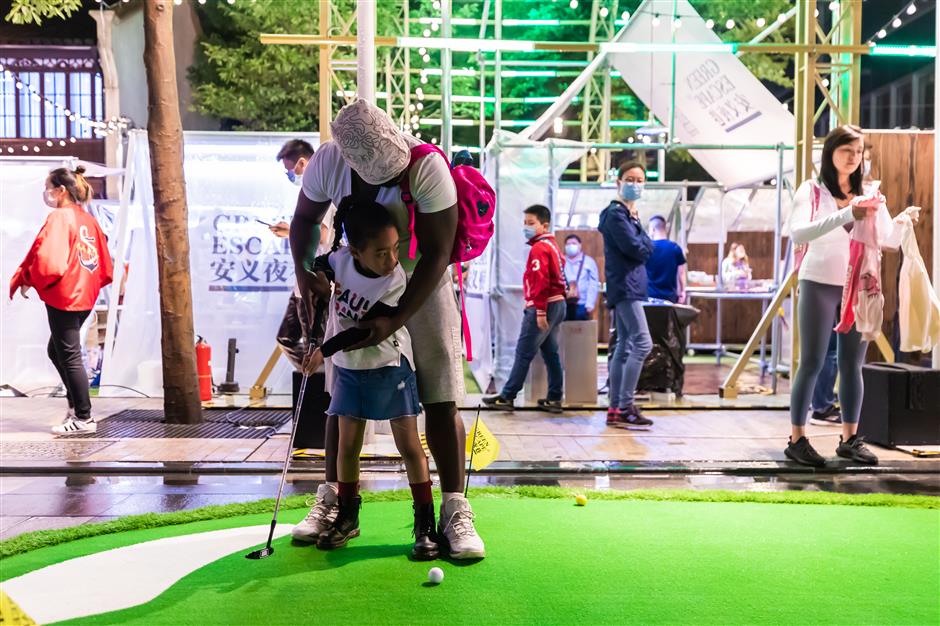 Ti Gong
Ti Gong
Source: SHINE Editor: Cai Wenjun Special Reports