Walk back in time on Jing'an cultural tour
10:50 UTC+8, 2020-06-30
0
To celebrate Cultural and Natural Heritage Day on June 13, a historical walking route was specially designed, leading people to explore 10 time-honored brands in Jing'an.  
10:50 UTC+8, 2020-06-30
0
Jing'an has designated 27 varieties of traditional art and customs as cultural heritage icons, including local snacks and cheongsam. To celebrate Cultural and Natural Heritage Day on June 13, a historical walking route was specially designed, leading people to explore 10 time-honored brands on or near Nanjing Road W.
Ti Gong
Wangjiasha snacks
Address: 805 Nanjing Rd W.

Start the journey with traditional breakfast at the 75-year-old Wangjiasha, an unassuming snack bar whose specialties include xiaolongbao (steamed buns). Especially delicious are xiaolongbao stuffed with crab meat and roe. Other varieties include xianrou yuebing (porkfilled mooncake), xiekehuang (fluffy sesamecoated pastry with pickled vegetables) and babaofan (steamed rice with eight ingredients).
Ti Gong
Lu'an Ink Paste Workshop and Cultural Center
Address: 15 Shimen No. 1 Rd

Lu'an ink paste, used for seals stamped on paintings and calligraphy, is thought to be as precious as gold. Invented by drug dealer Zhang Lu'an at the end of the Qing Dynasty (1644-1911), it quickly gained a reputation for reproducing bright colors that didn't fade as quickly as others, making it popular among master painters and calligraphers like Zhang Daqian, Wu Hufan and He Tianjian. In 2008, the art of making Lu'an ink paste was listed as part of China's intangible cultural heritage, the highest honor in the country. To better protect and pass down this art, a workshop and cultural center were established in 2011, open to the public with free admission.
Ti Gong
Luyangcun restaurant
Address: 77 Jiangning Rd

Established in 1936, Luyangcun is known for Chuanyang cuisine, a mix of Sichuan and Yangzhou food that originated in Shanghai in the 1940s, also known as Yangzhou-style Sichuan or Shanghai-style Sichuan cuisine. But there's much more to the restaurant's menu. In fact, it's common to see long queues in the morning as people patiently but excitedly wait to buy Luyangcun's delicious snacks, such as steamed buns stuffed with greens.
Ti Gong
Longfeng qipao
Address: 207 Shaanxi Rd N.
Opened in 1936, Longfeng is one of Shanghai's most reputable qipao makers, retaining its high-profile status by selecting cloth and tailoring suits based on the age, lifestyle and personality of each individual customer. Longfeng is synonymous with masterful cutting and delicate embroidery. With fine attention to detail, every fitting consists of measuring 36 different parts of the body. The brand also uses its unique skills to make buttons called pankou, or frog fasteners, sometimes described as the "eye" of the qipao.
Ti Gong
Humsuit suits
Address: 199-201 Shaanxi Rd N.

Humsuit, an upscale store that opened in 1929, is an ideal place for men to buy custom-made suits. Seasoned tailors go through nearly 200 steps to make every suit. Humsuit, which sounds a bit like "handsome," was founded by Xu Jisheng, an inheritor of the Fengbang tailoring style that started in Ningbo at the end of the Qing Dynasty (1644-1911) and later spread to Shanghai. In the early 20th century, Shanghai was renowned for cutting-edge ladies fashion and stood at the forefront of revolutionizing Chinese menswear, ushering in the shift from traditional gowns to modern suits in both Chinese and Western styles. The first Western suit shop in Shanghai opened in 1896. In 1905, the Sun Yat-sen jacket came on the scene, and the first catalog featuring Western suits was published in 1933. Many celebrities have come to be loyal customers of Xu's shop, including late Chinese Vice President Rong Yiren, actor Sun Daolin and singer Jiang Dawei. Last year, to commemorate its 90th anniversary, Humsuit published a book detailing its history as well as trade secrets from decades of exquisite styling.
Hongxiang clothes
Address: 131-133 Shaanxi Rd N.

Founded in 1917, Hongxiang was the first couture house in China to host a fashion show. To make a perfect garment, Hongxiang tailors must master 30 techniques listed as part of the city's intangible cultural heritage. It's an ideal place for women to find eye-catching garments, and tailor-made clothes can be picked up within 72 hours.
Ti Gong
Leiyunshang Pharmacy
Address: 111-115 Shaanxi Rd N.
As one of the top traditional Chinese medicine pharmacies in Shanghai, Leiyunshang's history dates back 350 years, specializing in traditional Chinese medicinal products, including sachets filled with herbs, herbal pastes and acupuncture plasters. One of its most famous products is gaofang — an herbal paste made of condensed liquid herbal medicines chock full of ingredients like honey and brown sugar — taken by many to sustain health. Each paste is tailor-made, used in a number of different therapies and especially popular with senior citizens. Sachets are another signature product, chosen as one of the official gifts presented to G20 trade ministers at the 2016 meeting in Shanghai. Designed in the shapes of calabash and lotus, they're a symbol of traditional Chinese culture and long-lasting friendship. Sachets, filled with fragrant herbs and medicinal powders, were worn by ancient Chinese as clothing accessories. Today, they are commonly used as household decorations, emitting an aroma that helps ward off insects.
Ti Gong
Dameihua shoes
Address: 101 Shaanxi Rd N.
Dameihua was established in 1904, selling cloth shoes in a style dating back more than 3,000 years. The handmade shoes, with cloth soles and embroidery on the vamp, are old-fashioned but popular with young people thanks to the recent "vintage" trend.
Ti Gong
Kaisiling cakes
Address: 1001 Nanjing Rd W.
Kaisiling, formerly known as the New Kiessling Cafe, was the first Chineserun Western-style restaurant in Shanghai, opening its doors in 1928. Kaisiling pastries became the talk of the town after pastry chef Ling Qingxiang and his two sons joined the staff. Influential writer Eileen Chang (192095), also known as Zhang Ailing, was a regular patron. Today, it is still a popular site and serves unique pastries like hadou, an oblong dessert with chocolate icing and a custard-cream filling.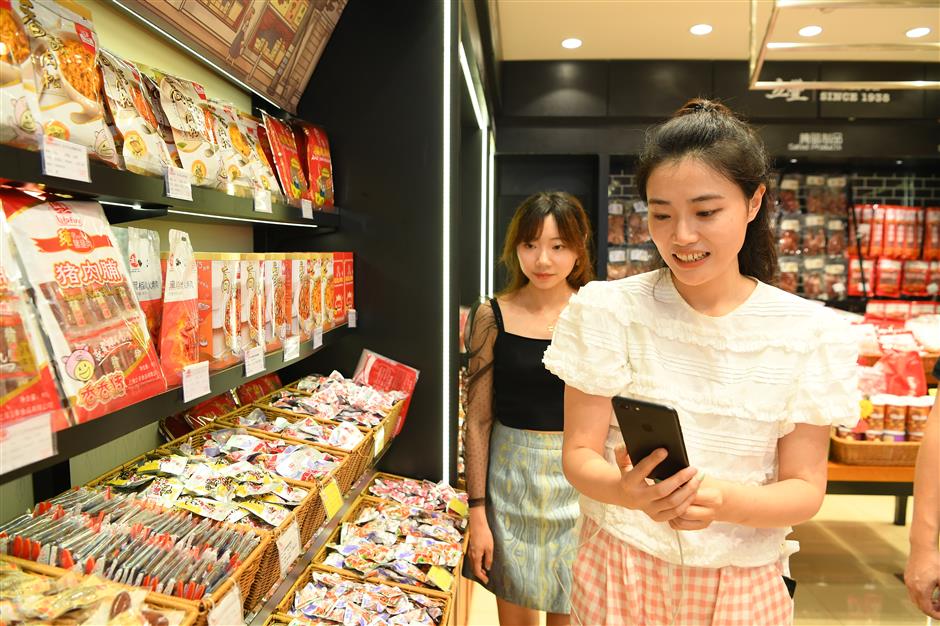 Ti Gong
Lifeng food
Address: 982 Nanjing Rd W.
Lifeng opened in 1938, selling Cantonese specialties and cooked food such as roast goose and sausage. Later, it added popular snacks like beef jerky and dried pork slices.
Source: SHINE Editor: Chen Xingjie Special Reports