New firefighting system installed in older community
18:33 UTC+8, 2020-07-15
0
Congested lanes in residential complexes can slow down the work of firefighters, but a new pump system could save precious time during emergencies.
18:33 UTC+8, 2020-07-15
0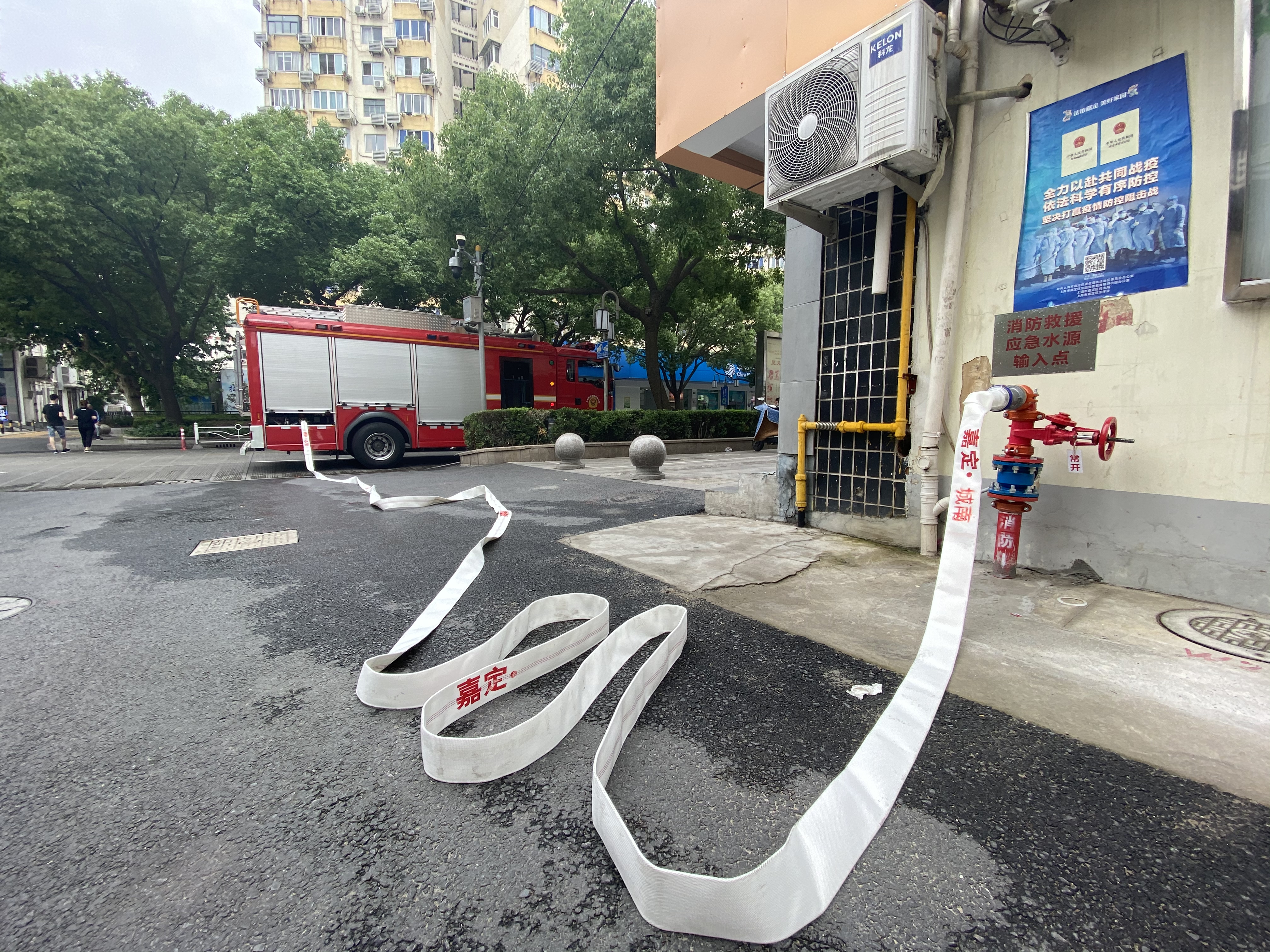 ---
6 Photos | View Slide Show ›
A pump outside a residential complex on Qinghe Road in Jiading District transfers water from a fire engine into the complex.

Ti Gong

Water from the fire engines are pumped into the residential complex via pipelines.

Chen Huizhi / SHINE

Pipelines in the residential complex.

Chen Huizhi / SHINE

There are over 10 fire hydrants in this residential complex.

Chen Huizhi / SHINE

The firefighters get water from the fire hydrants inside the residential complex.

Ti Gong

One of the fire hydrants in this residential complex is blocked by cars, and the authorities said this problem could be solved by legislation.

Chen Huizhi / SHINE
Some older neighborhoods in Shanghai have very narrow passage ways; and when these cramped lanes become congested with parked cars, it can create a difficult situation for emergency vehicles and first responders.

In such cases, fire engines have to park outside the neighborhoods while firefighters roll out their hoses all the way to a fire scene. Unloading and moving all of this heavy equipment can cost precious time in situations where every second counts.

As a result of brainstorming among fire and rescue authorities in the city, a true revolution is underway for firefighting in cramped old neighborhoods, with the first such project recently realized in the Minyuan residential complex on Qinghe Road in Jiading District.

The idea was to add more fire hydrants inside the complex, and the solution was to build an above-ground pipeline system which transfers water from fire engines parked outside into these fire hydrants.
Water in the fire engines is first transferred into a pump located outside the residential complex via a fire hose. Inside, once a fire hydrant is opened, water will be pumped in via pipelines for the firefighters to use.
Wang Xiaojun, an official with the firefighting and training department of the Jiading District fire and rescue squad, said this solution significantly increases the efficiency of firefighting.
"Without it, firefighters would have to bring a fire hose with multiple nozzles for hydraulic guns and carry two guns weighing over 5 kilograms each, which slows them down a lot," Wang said.
"Time can also be lost in dragging hoses to a fire scenes, as well as when eventually rolling up the hoses after a mission is accomplished," he added.
There are over 10 fire hydrants in the residential complex, each covering one or two buildings. The pipelines, red in color, are mostly located about 3 meters above the ground, and their purpose is twofold.
"For one, it addressed residents' concerns that burglars might step on the low pipelines to climb up the building. For another, it results in greater pressure at the nozzle of a fire hydrant which is located at about 1 meter above the ground," Wang said.
The whole system in this residential complex costs about 200,000 yuan (US$28,540), funded by the government.
"We chose to try it here because the residential complex is relatively small, and previous efforts to make fire passages here didn't pay off," Wang said.
So far, the system hasn't been used in a real emergency, but Wang's colleagues have staged a drill which returned satisfying results. It took under one minute for a group making use of the new system to get water into their hydraulic guns, while another group using the traditional method took almost double that time.
Similar projects are also expected to be realized soon in other Shanghai districts such as Putuo, Xuhui and the Pudong New Area.
Next up, Wang said, fire authorities will push for a revision of safety rules to prevent blocking access to hydrants inside residential complexes.

Source: SHINE Editor: Wang Xiang Special Reports