Civil defense volunteers become one group
20:37 UTC+8, 2020-10-22
0
Volunteers across the city involved in protection and rescue services have been integrated into a joint civil defense force to strengthen the system and raise public awareness.
20:37 UTC+8, 2020-10-22
0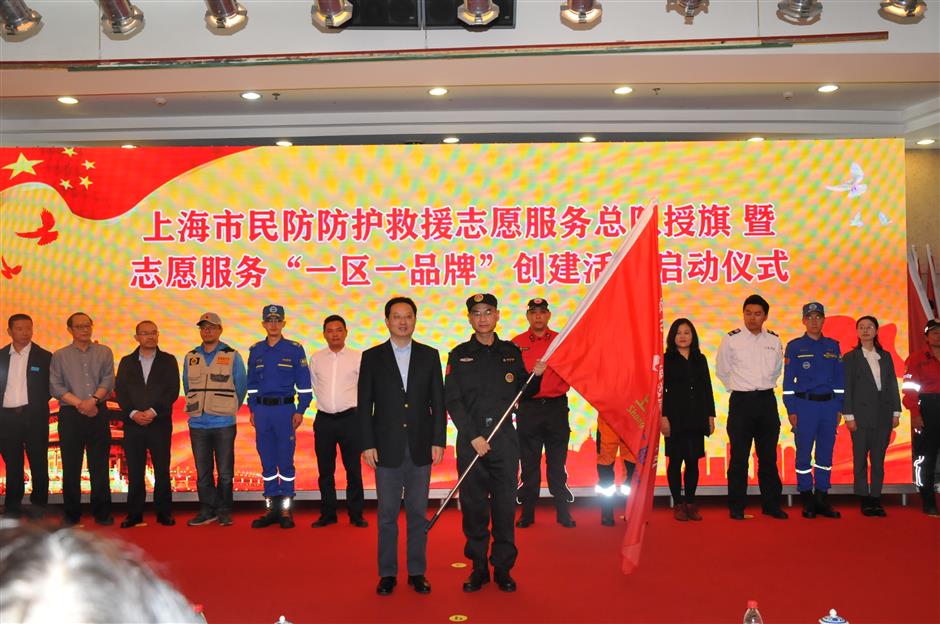 Ti Gong
The city's civil defense office united volunteers in the protection and rescue service into one group on Thursday.
The group is made up of 16 sub-squads based in each city district, specialized in different civil defense duties, including evacuation guidance, psychological consulting, emergency repair and water rescue. Squad members mainly come from civil defense industries, government units and public service organizations.
During the launch ceremony, the squads were awarded flags to honor their dedication and categorize each duty for better management.
According to the office, the group is the first of its kind in the nation to combine voluntary service with civil defense, an important supplement to the current civil protection and rescue network.
"Civil defense cannot be improved without support from the public, thus the setup of the volunteer service group can greatly strengthen our original force and raise awareness widely," said Zhong Jie, director of the civil defense office.
Currently, there are 17 professional rescue teams of more than 20,000 members across the city, responsible for key security missions and nuclear biochemical detection, which will be replenished with the new volunteer team.
According to the office's Cheng Zheng, public participation is essential to a city's overall safety. Across the world, many countries, such as Germany and France, had mobilized the public for a mature civil defense system.
Cheng said: "These volunteer squads used to be scattered around the city. What we do now is to integrate them together to create higher mobility. Their rescue capability can also be diversified and enhanced through regular practice."
Shanghai Houtian Disaster Reduction Center in Huangpu District, for example, is a non-profit organization founded eight years ago.
It provides multiple rescue services, including the first community emergency motorcycle crew in China, responsible for rescue vehicle guidance and on-site traffic assistance for events such as the STC Triathlon series.
Wu Ruofan / SHINE
Its members are motorcycle enthusiasts with a passion for community work.
Jin Zhen, who has been in service for over four years, started off as an amateur racer at a motor club. He bought his CFMOTO 650 out of pure interest, before he found out it was the go-to model for almost every club member.
"One of us was volunteering for Houtian, who put us all on board later. We thought it a cool idea to contribute to the public through our hobby," said Jin.
He said members receive regular rescue training once every two years at Houtian, including gaining certificates from the American Heart Association.
Another volunteer Zong Hua serves at Houtian's water rescue unit based in Qingpu District.
Zong said that, though most of their tasks are in Qingpu, the unit is planning to set up more divisions in districts such as Fengxian, Jinshan and Songjiang.
"The water rescue force within the government is limited, so we can be a great supporting role," said Zong.
Hou Bin, director of Houtian, said the center had gone through many financial difficulties over the years, but made it through with support from the government.
"Volunteers are doing this out of pure passion. Sometimes we receive some subsidies through events, but those occasions are rare," he said.
In the next step, the volunteer group aims to form a united civil defense force through joint training and drills, shared information and regular activities. A special plan was also issued during the ceremony, providing guidance to further integrate the volunteer network.
Source: SHINE Editor: Yang Meiping Special Reports