60,000 evacuated in earthquake aftermath
13:23 UTC+8, 2017-08-10
0
Nearly 60,000 people were evacuated from China's mountainous southwest after a strong earthquake killed at least 19 people.
13:23 UTC+8, 2017-08-10
0
Xinhua
Nearly 60,000 people were evacuated from China's mountainous southwest after a strong earthquake killed at least 20 people, rattling a region where memories of a 2008 seismic disaster remain fresh.
The 7.0-magnitude earthquake which struck Sichuan Province late on Tuesday tore cracks in mountain highways, triggered landslides, damaged buildings and sent panicked residents and tourists fleeing from buildings.
The provincial government said yesterday afternoon that most of the tourists — many of whom had been stranded at a national park near the epicenter — had been evacuated after spending a nervous night out in the open as more than 1,000 aftershocks rippled across the region.
Local residents were also being moved to safer ground, according to the authorities.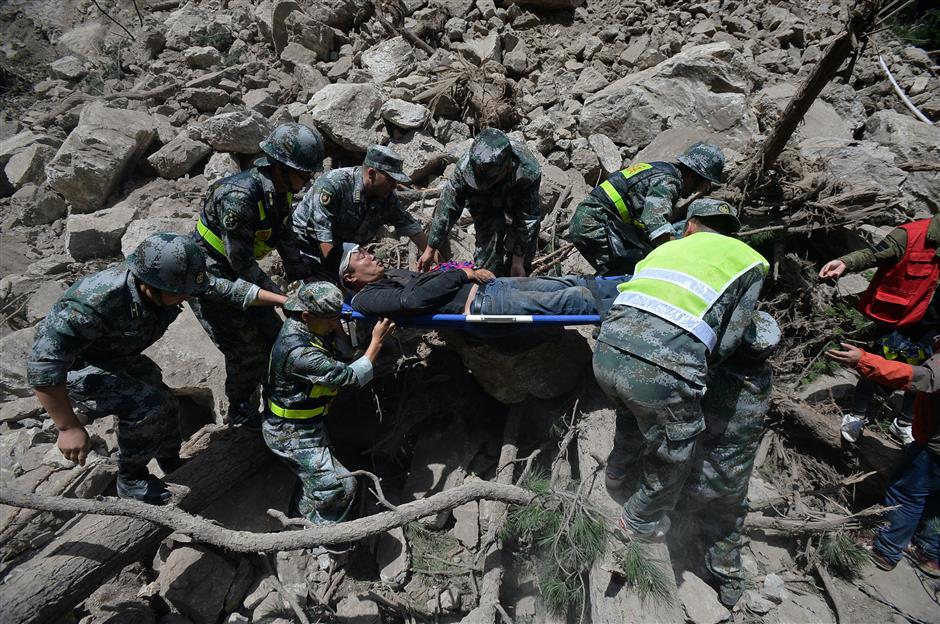 Reuters
At least 431 people were injured, 18 of them critically, according to the local government of the Aba prefecture where the epicenter was located.
The People's Hospital of Jiuzhaigou County received 156 of the injured. Of the 24 seriously injured it treated, one had already been discharged, according to surgeon Yuan Jin.
Shen Ji, director of the provincial health and family planning commission, said more than 30 ambulances and over 500 medical personnel had been sent to the area. The provincial disease control and prevention center has also sent a team to assess health risks and prevent epidemics. A 200-member medical aid team from neighboring Gansu Province is standing by.
Over 800 workers are combing villages in search of anyone still trapped, according to the provincial quake relief headquarters.
Wang Zhibin, a police officer in Jiuzhaigou, said fallen rocks and landslides blocking roads had largely been cleared by 5am yesterday.
Rescue workers are trying to reach eight people trapped by debris after a building collapsed in Zhangzha township.
Around 6am, the first emergency rescue flight, carrying a team of nearly 100, arrived at the Jiuzhai-Huanglong Airport, the transport hub for relief work. The National Earthquake Response Support Service sent two helicopters with seismologists, medicine and relief goods.
A road linking the local airport with the worst hit area had been cut off by fallen rocks. As of 1pm, all flights from the airport had been delayed with scores of passengers stranded.
Taxi drivers from neighboring Songpan County had driven to the airport and set up booths offering free food and drinks as well as free taxi rides for stranded passengers and rescue workers.
Tibetan taxi driver Angchuk, 26, said several groups of tourists had been taken to the nearest town, about 18 kilometers away.
The Jiuzhaigou region is forecast to receive slight to moderate rainfall in the coming days, the provincial meteorological bureau said.
Rain is expected to fall in much of the Sichuan Basin tonight, with torrential rain forecast in the northwestern and part of the southern regions of the basin.
Meteorologists warned rain may cause secondary disasters such as flooding and landslides, and disaster-prevention efforts and measures should be strengthened.
The Aba government said 1,680 private homes across Jiuzhaigou County's 17 townships suffered varying degrees of damage.
Images on social media or in state news outlets showed cars and buses tossed into ravines or crushed by giant boulders jolted loose from surrounding hills, and rescue personnel combing through rubble for any victims.
Aerial footage showed picturesque forested mountains scarred by giant landslides.
Hundreds of soldiers and rescue personnel have been deployed to the Jiuzhaigou area, along with hundreds of vehicles, and dozens of sniffer dogs and devices to detect life under the rubble.
The disaster evoked memories of an 8.0-magnitude quake that devastated the region in 2008, leaving 87,000 people dead or missing.
Source: Agencies Editor: Wang Qingchu Special Reports