Sorting your rubbish before putting it out
14:36 UTC+8, 2018-09-28
0
Cities in the Yangtze River Delta are actively seeking innovative ways to fireup public acceptance for sorting garbage and collecting it for recycling.
14:36 UTC+8, 2018-09-28
0
New ideas to overcome stumbling blocks to garbage sorting

Shanghai's public sanitation authorities recently travelled to the Jianggan District of Hangzhou to inspect a new smart monitoring system installed on garbage trucks to manage trash sorting and transportation.
Seven trucks in the district have been equipped with the system.
Authorities in Shanghai began looking for new ideas after a trial project in the city's Jing'an District didn't produce the desired results. That project required garbage workers to write down and report collection data.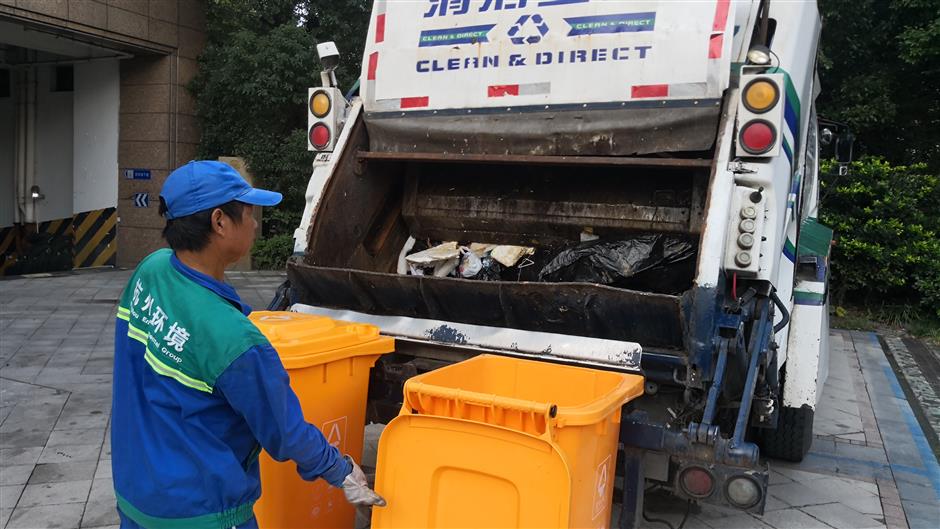 Hu Min / SHINE
Everywhere in the Yangtze River Delta, programs to sort garbage and improve collection services and waste disposal are underway.
Hangzhou's high-definition monitoring system is attracting a lot of attention. The system captures images of sorted garbage, records the weight of garbage collected, and the times and spots where trash is emptied from garbage bins.
The photos show the license plates of collection trucks, GPS coordinates of pickup spots, the weight of the trash collected and the number of bins emptied. The data are sent to a center in real time once garbage bins are emptied.
The system allows officials to spot abnormalities and reduce human supervisors and management costs, according to officials with the Jianggan District Urban Management Bureau in Hangzhou.
The district has more than 1,000 collection spots, which would require a large number of people to patrol. The smart system needs only three to four people to review the data and photos at the monitoring center, according to the bureau.
"Real-time monitoring provides rapid, accurate and complete proof for officials if they need to take action against violations," said Zhang Guanqin, operation director of the system.
Businesses or other entities that don't properly sort garbage may get collection services suspended until corrective action is taken.
Companies face fines of up to 10,000 yuan (US$1,458) if they fail to rectify violations within a specified period of time.
By the end of this year, about 100 smart garbage trucks in Jianggan will be on the roads.
Officials with the Shanghai Greenery and Public Sanitation Bureau said they will likely use the system citywide.
About 3.8 million households in Shanghai have registered for a green account program launched in 2013, whereby participants accrue points for sorting their garbage into appropriate bins. These points can be redeemed for items such as milk, soap, toothpaste, phone cards and utility bill payments.
Hu Min / SHINE
Garbage bin chief
Community-level garbage sorting will be implemented citywide in Shanghai by the end of 2020.
But smart technology alone isn't enough. People power helps increase participation and enthusiasm at the grassroots.
In March, Jianggan began trialing what is called "garbage bin chief."
At the Sheng'ao Lingyu residential complex in the district, each building unit has a resident designated as a "garbage bin chief."
"Because they are local residents, it's easier for them to cajole others into sorting garbage than it is for property management staff or neighborhood committee officials," said Jiang Tingting, director of the complex's neighborhood committee.
Retiree Wu Defen is a "garbage bin chief" at the community.
Every morning and evening, Wu shows up at the trash dumping sites where there are three different bins for different categories of rubbish.
She opens and checks the contents of every garbage bag for kitchen waste and scans the QR codes on the bags. She records the information via cell phone and scores the performances of individual households. Those who sort garbage correctly are allocated points that can be redeemed for fresh eggs.
Data from every household are uploaded into a big data management system. The performance of each household is publicized by stars posted on the first floor of each building.
"When the trial started in March, many residents complained about the inconvenience and did not understand what they were supposed to do," Wu said. "The sorting rate was very low. I visited each household to promote and explain garbage sorting."
The participation rate is now nearly 100 percent at the complex, with at least 90 percent of households doing the sorting correctly.
"Garbage sorting is not that difficult once you keep in mind the different categories of trash, and it helps to receive some incentive, such as eggs," said resident Cai Wei.
The complex also rewards two "garbage bin chiefs" every month to encourage their participation and vigilance.
Hu Min / SHINE
At the Langshi international residential complex, home to more than 300 expats, there is a smart unit with different sorting bins for plastic bottles, glass and paper. Points allocated to those who sort correctly can be redeemed for goods at convenience stores and fruit shops.
Garbage sorting materials distributed to residents are in both Chinese and English.

Free rubbish bags
Those found to be dumping garbage into wrong bins on a continuing basis, as revealed by the tracking system, may get black marks against their names on the public credit system, officials said.
"There were many households refusing to cooperate in the first month, with the sorting rate at only 30 to 40 percent at the complex, but now it is 100 percent," said official Gu Deng.
In Hangzhou, 2,673 residential complexes have started garbage sorting, with 1.61 million households included in the program. It has 10 domestic garbage treatment facilities, with incineration the major waste treatment.
Hu Min / SHINE
The coastal city of Ningbo distributed free rubbish bags to each household at 667 residential complexes under a trial program to capture kitchen waste. Each bag has a unique QR code.
"By scanning the code, we are able to track down the source of the bag," said Zhang Lu, an official with the Ningbo Domestic Garbage Sorting Management Center.
The Guang'an residential complex in the Haishu District of Ningbo is home to 1,400 households, with most of the residents young people.
The complex has 48 garbage dumping sites, each with two bins: one for kitchen wastes and the other for other wastes. The free rubbish bags are distributed to residents on a quarterly base.
"Once households are found to be out of compliance with garbage sorting directives, we will visit them and try to educate them on proper sorting," said Wu Haibo, office director of the complex.
Ningbo is the only city in Asia that is cooperating with the World Bank in a trash-sorting pilot project with 1.5 billion yuan in funding. The money covers infrastructure, garbage bag purchase, garbage truck purchases, promotion, training and the construction of smart environmental sanitation platforms.
About 82 percent of downtown areas in Ningbo had achieved domestic garbage sorting targets by July, with a 71 percent success rate in residential communities and 100 percent for companies and schools. The project covers almost 400,000 households in downtown Ningbo.
In 2013, when the trial project started, only 36 percent of residents in Ningbo were ware of garbage sorting. That figure rose to 91 percent by the end of June this year.
At the Ningbo Solid Waste Treatment Center, domestic waste is incinerated and the heat is used to power steam turbine generators.
Kitchen and restaurant waste are converted into biofuel and soil fertilizer.
Source: SHINE Editor: Cai Wenjun Special Reports