What did Premier Li say at the Two Session press conference?
18:17 UTC+8, 2019-03-15
0
GDP growth, tax cuts, business environment, foreign investment law ... Premier Li Keqiang answered questions related to many of the most trending topics ...
18:17 UTC+8, 2019-03-15
0
Xinhua
China's adoption of a GDP target range this year is consistent with the government's determination of not allowing major economic indicators to slide out of the proper range, Chinese Premier Li Keqiang said on Friday.
The 6-6.5 percent GDP growth target for 2019 is compatible with the GDP expansion of 6.6 percent achieved last year, Li told a press conference after the closing of the annual legislative session, adding that the new target has sent a message of stability to the market.
Li said the downward adjustment of the GDP growth target was made against the backdrop of a slowing global economy, as several international organizations have recently lowered their forecasts for global growth this year.
The 6.6-percent GDP growth rate in 2018 did not come by easily, and the 6-6.5 percent target is going to be a growth on top of a very large base figure, according to Li. "Keeping steady growth of China's economy in itself is an important progress."
Li pointed out that a deluge of stimulus is not a viable option as it might work in the short run, but may lead to future problems, and China's choice is "to energize market players to counter the downward pressure."
China has over 100 million market entities, whose vitality will create incalculable energy once fully unleashed, Li said, reiterating that China will continue to cut taxes and fees, streamline administration, foster new drivers of growth, broaden market access, and level the playing field for all market players.
Li said China has policy room reserved for dealing with possible uncertainties this year such as raising the deficit-to-GDP ratio, or using other instruments like required reserve ratios and interest rates.
"We are not going for monetary easing, but trying to provide effective support to the real economy," Li said.
Facing whatever new circumstances, China will stay firmly grounded in its realities and take a long term view to keep its economic growth stable, and the sound momentum of economic development unchanged for the long run, according to Li.
"China's economy will remain an important anchor of stability for the global economy," Li added.
More tax and fee cuts
The premier also said the country is determined to implement larger scale tax and fee cuts this year as a key countermeasure against downward economic pressure.
The move is expected to deliver a dividend of nearly 2 trillion yuan (US$297 billion) to the companies, Li said.
"We are going to cut value-added tax rates for manufacturing and other basic sectors, as well as for small and medium-sized companies, the largest providers of jobs in our country, in a meaningful way," he said.
"This will create a more enabling environment for companies and in effect cultivate our tax sources."
Noting that the reform requires exceptional courage and determination, Li said the government must live on a tight budget given the drop in fiscal revenues.
"This is not something taking an overdraft on our future, but nurturing a better tomorrow," he said.
Xinhua
Lower financing cost for small, micro firms
Serving the real economy is the bounden duty of the financial sector, Li said.
"We need to encourage financial institutions to enhance their internal management system and provide more services to private companies and to small and micro firms to reduce financing cost," Li said.
China will also pay attention to forestalling systemic financial risks. No new loans will be made to "zombie companies" which are no longer solvent, and illegal and non-compliant activities will be seriously dealt with, according to him.
"China is fully capable of forestalling systemic financial risks," Li said.
The enhancement of financial services and prevention and forestalling of financial risks are mutually reinforcing, Li added
Xinhua
Better business environment
The country will further improve its business environment to unleash market vitality and creativity, Li said.
Although the business environment in China has notably improved in the past few years thanks to government reform, the improvement still falls short of market expectations, according to Li.
In 2018, China advanced to a global ranking of 46 in terms of ease of doing business, up from 78 in 2017, according to a World Bank Group report.
"To further improve the business environment, the government will continue to focus on streamlining administrative approvals and delegating power to lower levels, as well as on improving regulation," Li said.
China will ensure that companies of all types of ownership will stand to benefit as equals from the measures of administrative streamlining, he added.
"Tax and fee cuts together with administrative streamlining and impartial regulation are important measures to counter the downward pressure on the economy and boost market vitality. The purpose is to ensure steady and sustained growth of Chinese economy," Li added.
China will continue to push forward the reform and opening up toward greater depth and breadth, pursuing market-oriented and law-based reforms to ensure that concrete outcomes will be delivered through specific actions, he said.
11 million new urban jobs
Chinese Premier Li Keqiang said Friday the country will ensure the creation of more than 11 million new urban jobs this year.
"In actual practice, our goal is to generate the same amount of job opportunities as we did last year, which is over 13 million," Li told a press conference after the conclusion of the annual session of China's national legislature.
"This year, for the first time, we are elevating the status of employment-first policy to a macro policy together with the fiscal policy and monetary policy," Li said.
He noted that the tax and fee cutting measures under the fiscal policy and the lowering of the real interest rates under the monetary policy are all designed to ensure employment.
"Keeping our major economic indicators within a proper range is first and foremost about ensuring employment and preventing a surge in unemployment," he said, adding that the country will adopt a combination of measures to boost employment.
Li said the country will work to ensure employment of college graduates, whose number will reach a new high of 8.34 million this year. It will prevent zero-employment families and provide more policy support to companies that hire more people.
The country will encourage business start-ups and innovation to create more job opportunities, he said.
Li also underlined the employment of rural migrant workers, whose population reaches more than 280 million and is still increasing.
Foreign investment law
China will introduce a series of regulations and documents in accordance with the foreign investment law to protect the legitimate rights and interests of foreign investors,Li said.
This is an important thing China is to do in the next step to ensure that the law is implemented smoothly, Li said.
Li underscored efforts to make the complaint mechanism open, transparent and effective.
China's national legislature on Friday passed the foreign investment law at the closing meeting of its annual session. The law will become effective on Jan. 1, 2020.
The law will offer better legal support to the protection and attraction of foreign investment, as well as regulate government behaviors, Li said.
The foreign investment law can also serve as a reference for investors from the two special administrative regions of Hong Kong and Macao as well as Taiwan, Li said.
The mainland welcomes more investment from the three regions, he said, adding that the State Council will listen closely to the views of the investors from these regions when making related regulations and policies so as to better protect their rights.
Boosting domestic consumption
The Chinese government will take measures to further boost domestic consumption and unleash market potential, Li said .
"There are still obstacles that constrain growth of domestic consumption. If we can resolve these problems, it will help boost consumption and improve the livelihoods of the people," Li said.
This year's government work report has set the goal to eliminate almost all expressway toll booths at provincial borders within two years. Li said the measure will not only ease traffic congestion, but also help with the growth of related industries and sectors.
"In actual practice, we will endeavor to achieve this goal ahead of schedule," he added.
This year will also see another 20-percent cut in the rates of internet services, which will save an estimated 180 billion yuan (US$26.7 billion) for consumers, Li said.
He added that telecommunication service carriers will be required to allow cell phone users switching to other carriers without changing their numbers.
"We also plan to cut the prices of electricity for general industrial and commercial companies by 10 percent this year," the premier said.
There are over 10 million e-commerce businesses with more than 600 million users. Electricity price cut will reduce their costs and benefit consumers, he said.
"We must endeavour to eliminate all these institutional barriers. This will unleash the potential of consumption, the vitality of the market and the creativity of our society. All government departments must be fully aware of the concerns of the people and do their best to meet our people's expectations," Li said.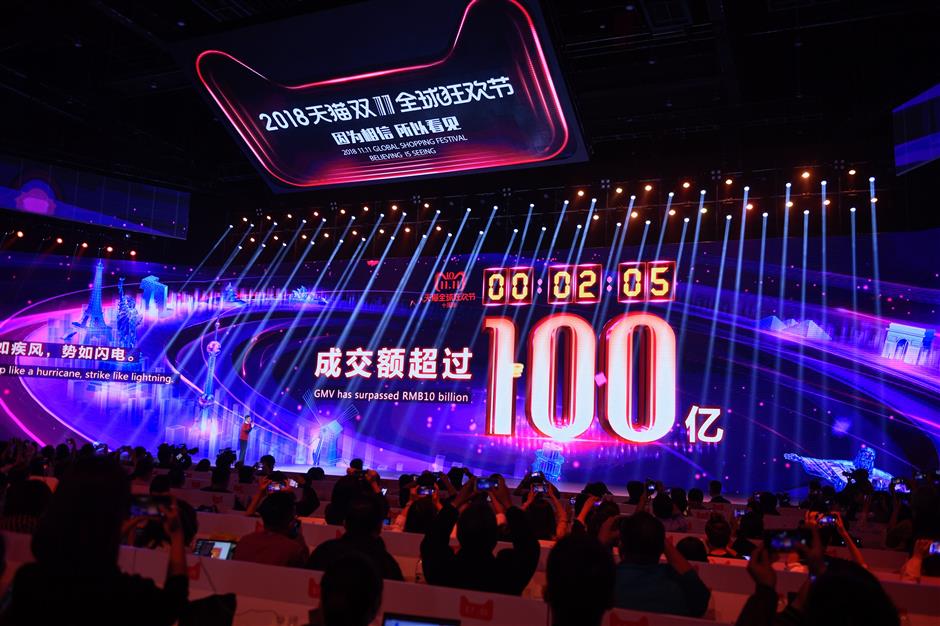 Xinhua
More preferential policies for Taiwan compatriots
The premier said the Chinese mainland intends to introduce more preferential policies for Taiwan compatriots.
It is to ensure that they will enjoy the same treatment as the mainland people when they work, study, live and do business on the mainland, Li said.
The mainland has previously introduced 31 measures for promoting cross-Strait economic and cultural exchanges, which must be fully delivered, and new measures should be introduced as well, he noted.
"When people on both sides of the Strait enjoy the same development opportunities and come closer to each other, the cross-Strait relationship will grow stronger and make more solid progress," Li said.
He reiterated that the mainland will continue to adhere to the one-China principle and the 1992 Consensus, oppose "Taiwan independence," and promote the peaceful development of cross-Strait relations and peaceful reunification of our motherland.
On China-US trade consultation
Good outcomes are hoped to be delivered out of the economic and trade consultations between China and the United States, Li said.
China hopes the talks will deliver win-win results and mutual benefits, Li said.
"I believe this is also what the whole world would like to see," he said.
China and the united states have become closely intertwined through years of development and cooperation, it is neither realistic nor possible to decouple the two economies, he said.
"I believe we need to continue to follow the principles of cooperation instead of confrontation, mutual respect, equality, and mutual benefits to advance bilateral relations, including economic and trade ties, to deliver concrete benefits to people of the countries," he said.
China has confidence that the two peoples have the wisdom and capability to diffuse and manage their differences to pursue steady and sound development of China-U.S. relationship, he added.
Despite twists and turns, Li said the overall relationship between China and the United States will forge ahead, as their shared interests far outweigh differences.
Continued DPRK-US dialogue
During the press conference, Li called for continued dialogue, especially between the Democratic People's Republic of Korea and the United States, to eventually resolve the Korean Peninsula issue.
The issue is longstanding and complicated and cannot be resolved overnight, Li said.
Commenting on the Hanoi summit between the DPRK and the United States, Li said both sides have expressed a readiness to stay engaged with each other, and "having such kind of engagement is better than no contact at all."
He called on all parties concerned to have patience and seize the opportunity to promote dialogue to achieve results desired by all.
China is committed to a denuclearized Korean Peninsula and hopes for peace and stability on the peninsula. "Such a position has never changed," he said.
A proper settlement of the issue is in the interests of both sides on the peninsula, as well as the region and the world at large, he said.
Stable neighborhood
China hopes to have a stable neighborhood, valuing its ties with northeast Asia, southeast Asia and all neighbors, said.
The country will continue to follow the principles of amity, sincerity, mutual benefit and inclusiveness in developing relations with its neighbors, Li said.
China will continue to play its constructive role in promoting the denuclearization of the Korean Peninsula, he said.
The Premier also called for the development of an FTA among China, Japan and the ROK. "Arriving at a comprehensive, high-standard and mutually beneficial agreement is in the interests of the three countries."
"China will stay on the path of peaceful development and continue to be a positive force and contributor for regional and global peace," he said.
Xinhua
Better care for the elderly, children
China will provide better care for senior citizens and children, Premier Li said.
Issues related to the aged and child care concern the Chinese people most. "They demand more attention from us," Li said.
China has nearly 250 million senior citizens at the age of 60 or above. The country also has over 100 million children below six years old. Services targeting these people are still in short supply, affecting most Chinese families.
Insufficient nursery and kindergarten service is particularly prominent after the full implementation of the two-child policy, Li said.
Nursing homes could provide only three beds for every 100 senior citizens in the country. The supply of aged care facilities lags far behind the demand, according to Li.
To address such problems, some excellent experiences have been gained in some areas. Developing community-based child and elderly care services is a good solution, Li said.
"If they can provide accessible quality services which are safe and reliable, they will certainly be popular among the targeted people," Li said. "The government needs to develop innovative mechanisms to meet the market demand, and bring into play the role of social forces."
The government also needs to provide policy support, Li said, citing offering public rental houses, tax exemption or tax cuts for the service providers.
Chronic diseases
China will further ease burden of patients with chronic or serious diseases this year, Li Keqiang said.
Outpatient medicines for treating chronic diseases such as high blood pressure and diabetes will be made reimbursable under the medical insurance scheme, with the reimbursement rate set at 50 percent. The move will benefit some 400 million patients, Li said.
Meanwhile, China plans to lower the deductible threshold and raise the reimbursement rate for serious illnesses, he added.
The premier said there have been complaints about expensive cancer drugs. Last year, 17 cancer drugs were included in China's medical insurance reimbursement list, with the prices cut by over 50 percent on average.
He called on the government and private sectors to work together to meet people's health needs. "Without health, there will be no happy life for our people."
Xinhua
Source: Xinhua Editor: Shen Ke Special Reports