Hangzhou prioritizes green construction for Asian Games
12:13 UTC+8, 2020-06-11
0
Sustainability, energy efficiency and surrounding ecology are all being considered in the building of venues for the 2022 Hangzhou Asian Games.
12:13 UTC+8, 2020-06-11
0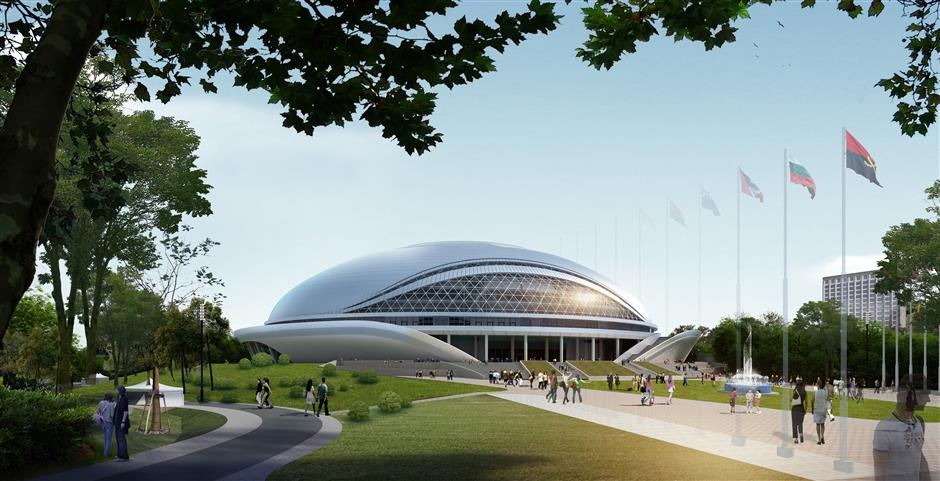 The 19th Asian Games Hangzhou 2020 Orgainizing Committee / Ti Gong
Hangzhou government has given increased priority to the green buildings in the construction of venues for the 2022 Hangzhou Asian Games.
The Hangzhou Asian Games Village was designated recently as a National Second-level Green Ecological Urban Zone, the first of its kind in Zhejiang Province.
Since 2006, China has developed its own green building certification system and has just launched the China Green Building Council. Together they provide guidelines for a growing environmentally aware market and a series of awards.
The village was awarded for a host of environmentally-friendly features including solar panels, efficient insulation, green spaces, as well as rainwater recycling systems.
Different function areas are linked up with jogging paths that are flanked by lush vegetation. Two adjacent ecological parks have winding waterfront promenades, giving athletes an option for leisure after competitions.
The 19th Asian Games Hangzhou 2020 Orgainizing Committee / Ti Gong
The village is planned as a pilot project of the local government's "sponge city" blueprint that is aimed at making local neighborhoods, streets and greenery better able to capture and store rainwater to ease the impact on the city during both rainy and arid seasons.
With the help of big data and cloud computing, a new smart management system has been developed in the village. The system is about to streamline procedures of official services and enhance work efficiency.
Big data technology is also used in the power grid to save energy. Since electricity consumption varies according to different units, big data makes it possible to supply electricity precisely and effectively.
The village is set to complete construction by the end of 2021 and will come into use in March 2022. It can accommodate around 10,000 athletes, 5,000 media staff and 4,000 referees.
Hangzhou government has drawn experience from the 2008 Beijing Olympics, 2010 Guangzhou Asian Games and G20 Hangzhou Summit and drafted its own technical guidelines measuring the "greenness" of a building based on energy efficiency, water saving, air pollution control and site sustainability among other criteria.
Construction sites in downtown areas are fenced in and installed with water-spraying facilities in efforts to prevent swirling dust and lessen impacts on residents as much as possible.
Construction waste is crushed by machines on site and then divided into several types for recycling and reuse. So far, about 9,000 tons of construction waste have been dealt with.
The 19th Asian Games Hangzhou 2020 Orgainizing Committee / Ti Gong
That method is also implemented in other cities. In Ningbo, 760,000 cubic meters of blasted stones from a sail racing center have been reused to build a breakwater along the city's coastline.
In Chun'an County, which is dotted with thousands of lakes and islands, the bicycle race venue is designed harmoniously with natural environment, reducing the impact on nature.
Green, low-carbon and sustainable development concepts can be seen in every field in the run up to the Games.
The organizing committee is building the ping pong and hockey venues inside Gongshu Grand Canal Park, integrating crisscrossed watercourses and vegetation with green venues.
The 19th Asian Games Hangzhou 2020 Orgainizing Committee / Ti Gong
Previously, this area was an urban village, a backwater where farmers tilled the land. But rapid urban development gobbled up the farmland and encircled the village with high-rise buildings.
The living environment worsened year by year, turning the area into an urban eyesore.
In efforts to raise residents' wellbeing and living standards, the government relocated them to new houses and transformed this area into the Grand Canal Park.
Following the 2022 Asian Games, this area is expected to become the "lung" for Hangzhou and will provide a public sports space to citizens.
In Wenzhou, the dragon boat race center is also built on a previous urban village. The local government takes it as an opportunity to accelerate urban development and improve residents' life quality.
Thus far, 40 venues are under construction, including stadiums in Ningbo, Wenzhou, Jinhua, Shaoxing cities and Deqing County.
The outbreak of COVID-19 had halted the construction for almost two months. It resumed on March 5, and no infection cases were reported among workers.
Source: SHINE Editor: Su Yanxian Special Reports