Tech startups eye opportunity in education market
08:56 UTC+8, 2019-02-19
0
The trend is not just one of better, more mature technologies coming to the fore; rather, they are increasingly applied to enrich the forms and content of education.
08:56 UTC+8, 2019-02-19
0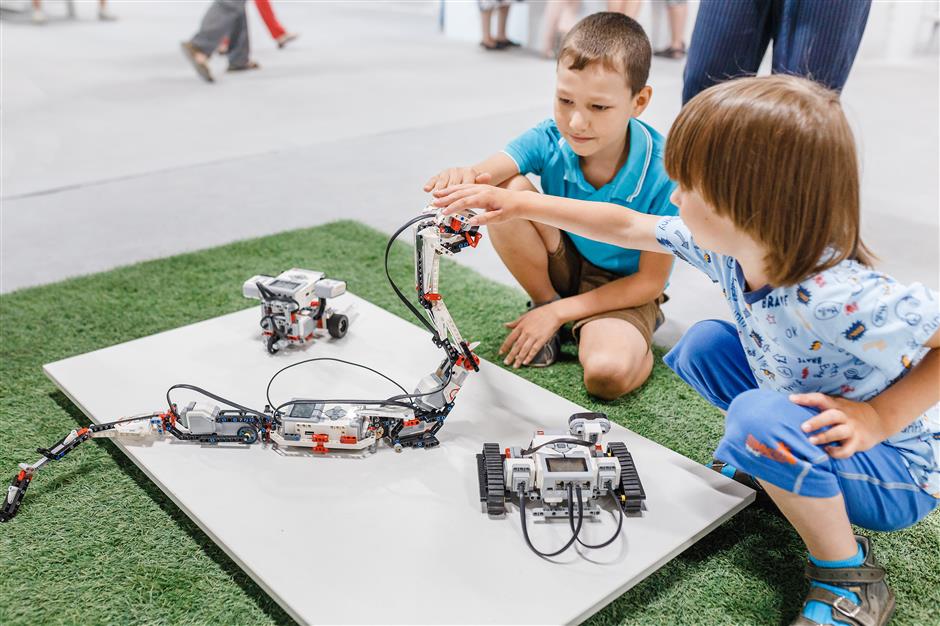 HelloRF
China's education market is expected to be worth 10 trillion yuan (US$1.5 trillion) by 2020. A number of tech startups have been tempted by a move into the market, hoping to sink their teeth into this gigantic pie.
The marriage of education and technology has gone through three phases in China. The first can be traced back to around 2000, when companies like New Oriental led the way in uploading courses for more students to access online.
The second phase took shape after 2010, when the advent of live-streaming and mobile Internet expanded teaching scenarios from physical classrooms to live-streaming platforms and WeChat's mini-programs.
The third, which is in full swing, has received a boost from a host of startups specializing in artificial intelligence (AI). Predictably, the trend we are witnessing is not just one of better, more mature technologies coming to the fore; rather, they are increasingly applied to enrich the forms and content of education.
Take AI as an example. It has proven benefits in education. Working as a "super brain" combining the collective wisdoms of top teachers, it trains students in a way that reveals patterns, habits and problems unmarked by the human eye in their daily studies.
AI-powered EdTech (education technology) services, however, are still in their infancy in China. This is reflected by their penetration levels.
With an average of several hundred thousand to several million users, these services are dwarfed by behemoths like Knewton, an adaptive learning company with a user base of 20 million across the globe.
Pang Jianxin, vice president of UBTECH, a Shenzhen-based AI company, believes that EdTech firms have to build an ecosystem comprising hardware, software and most importantly, qualified teachers, an AI lab and an evaluation mechanism for students. "Technology is only part of the story," he said.
The year 2017 saw an explosive growth of domestic online K12 (kindergarten through twelfth grade) English education. About half of the 26 language-related startups that received funding that year involved foreign tutors offering online one-on-one courses.
Despite the innovative format, many online in-person tutorials have yet to prove they are profitable. They also suffer from a dearth of teachers.
Although each operator claims that it hires tens of thousands of native speakers, the number pales in comparison to the estimated 400 million English learners within the country.
Looking to merge online and offline resources in a more seamless manner, pioneers like New Oriental have invented a mechanism whereby tutors give courses via live-streaming and assistants support them with more detailed instruction and interaction in a physical classroom.
Enormous social value
This has become a standard mode in some classrooms that embrace digitalization, but financial costs could be an obstacle. A set of equipment reportedly costs more than 100,000 yuan.

Besides, assistants cannot guarantee equal attention to every student, and they often struggle to coordinate with tutors.
This type of live-streaming has enormous social value, though.
It was reported last year that high school students in a far-away locality were given live-streamed courses by top-notch teachers in first-tier cities, with some of the beneficiaries even being admitted to top universities in the annual college entrance exam.
Commentators have since lauded the role of technology in leveling the educational playing field.
The next thing to be revolutionized by technology may well be textbooks and teaching tools.
Traditional printed textbooks lack the element of interactivity students have come to expect from smart gizmos.
Textbooks and teaching tools have an estimated market value of 50 billion yuan, only a twentieth of that of the training market, signaling tremendous room for growth.
According to a report released by BE Capital, a venture capital firm, in 2018, Chinese mainland households spend an average of US$42,900 on their children's education from primary school to university.
Expenditure on children's education jumped 13-fold to make up 30 percent of Chinese household spending from 1985 to 2012, the report shows. In Asia, after-school tutorials are all the rage, despite occasional official injunctions against them.
Strong demand has pushed up the valuation of tech startups in this field. Ning Boyu, a partner at BE Capital, predicted last year that China will have 100 education companies worth US$1 billion and more by 2025.
Source: SHINE Editor: Wang Qingchu Special Reports