United pays price for timidity in UCL exit
00:29 UTC+8, 2018-03-15
0
Manchester United had just exited the UEFA Champions League in the meekest fashion and the team's manager dealt with it with a shrug of the shoulders.
00:29 UTC+8, 2018-03-15
0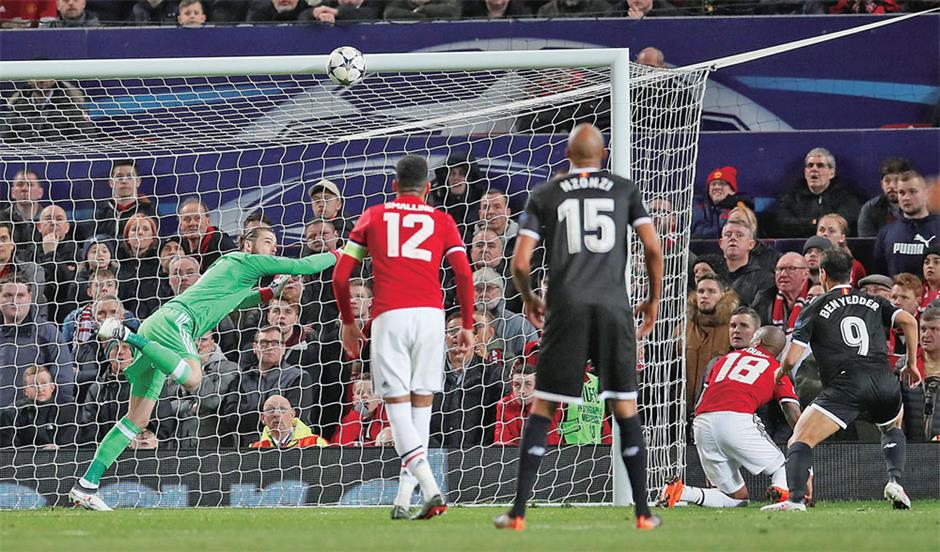 Reuters
IT was almost like Jose Mourinho didn't care.
Manchester United had just exited the UEFA Champions League in the meekest fashion and the team's manager dealt with it with a shrug of the shoulders.
"It's not the end of the world," he said.
No regrets. No genuine sadness. Indeed, Mourinho chose the occasion of one of United's most miserable nights in years to highlight his own past successes.
"I sat in this chair twice in the Champions League," Mourinho said. "I knock out Manchester United at home at Old Trafford. I sit in this chair with Porto (in 2004), Man United out. I sit in this chair with Real Madrid (in 2013), Man United out. I don't think it's something new for the club."
Hardly the words United fans would want to hear. Not after those two timid displays in the last 16 against Sevilla.
Playing with caution in the away leg three weeks ago was understandable, despite the general acceptance that a 0-0 draw away from home is not so great a result these days. To be honest, it was never really going to be any other way under Mourinho.
But at home? With United's traditions? With the attacking riches at Mourinho's disposal? That was never going to wash with United's supporters.
It felt there was anxiety in the air from the start of the 1-2 loss at Old Trafford on Tuesday, which began — somewhat fittingly — with a long ball lumped up toward Marouane Fellaini. By the midway point of the second half, Sevilla had grown into the game — Ever Banega and Steven Nzonzi controlling the midfield — and United's players knew they were in a precarious situation.
Then substitute Wissam Ben Yedder came on, gave Sevilla the cutting edge it was missing, and scored twice in four minutes. United needed a complete change in mentality, and had 12 minutes to score three goals. It was never going to happen.
"I don't have regrets," Mourinho said.
How about giving Fellaini a first start in any competition since November 22, in United's biggest game of the season? How about sending the team out with a cautious mindset? How about the latest disappointing display by new signing Alexis Sanchez?
"I did my best, the players did their best. We tried, we lost," he said. "That's football."
The stark facts are that United had four shots on target across both legs, against a team that conceded more goals (12) than any other side still in the UCL and five goals on two occasions in its past seven Spanish league games. Sevilla's 21 shots in the second leg was the most United had given up at home in a competitive match since 2013 — in that loss to Mourinho's Real.
Nemanja Matic did what Mourinho couldn't do and accepted that United was eliminated by the better team over the two legs. "There's no excuse," the Serbia midfielder said. "Sevilla were better than us, so they deserved it."
All the momentum built up from huge wins over Chelsea and Liverpool in the Premier League over the past two weeks has been lost. United fans will just about accept their team having 32 percent possession at home against Liverpool, as long as it results in a victory — like it did on Saturday in what was widely seen as a "Mourinho masterclass."
But when the team plays so conservatively and doesn't win, questions will be asked of Mourinho's methods that have always seemed at odds with United's heritage of entertaining soccer.
The fact that, across Manchester, rival City is playing some of the best soccer ever seen in the English game just puts United's style of play further under scrutiny.
Source: AP Editor: Zhang Shunyi Special Reports