Brazilian legend tips China to compete with football elite
11:30 UTC+8, 2018-05-31
0
Brazilian football legend Ronaldo believes China can compete on the world stage with football's aristocracy if it continues to invest in its youth structure.
11:30 UTC+8, 2018-05-31
0
Jiang Xiaowei / SHINE
Brazilian football legend Ronaldo believes China can compete on the world stage with football's aristocracy if it continues to invest in its youth structure.
The 41-year-old former striker was recently in Shanghai, interacting with local fans and playing soccer with students at Dulwich College, Pudong, thanks to King Bally Entertainment Group. He gave his opinions on Chinese football, which team will win this year's World Cup and, of course, his glittering international career.
The two-time World Cup winner is, unquestionably, one of the greatest footballers to have played the Beautiful Game. He claimed his first World Cup winner's medal as a part of Brazil's 1994 squad in the United States, although the then 17-year-old never kicked a ball in anger.
Four years later the fleet-footed striker arrived in France as the best footballer on the planet, and it was no surprise when he was named the player of the tournament. Unfortunately, the competition ended on a sour note when Ronaldo suffered from a convulsive fit prior to the final, which affected his performance as Brazil lost 0-3 to the host nation.
He put to bed the 1998 nightmare in 2002 when he led the line with Ronaldinho and Rivaldo to win the 2002 World Cup in South Korea and Japan. It is his happiest World Cup memory.
Ironically, China made its one and only World Cup appearance at that tournament and was in the same group as their illustrious Brazilian counterpart.
"We won 4-0. Roberto Carlos scored a fantastic goal from a free kick," recalls Ronaldo, who netted Brazil's fourth goal in the 55th minute.
In the final, his brace helped Brazil beat Germany 2-0 and claimed a fifth World Cup victory for the South American nation. He was also the tournament's top goalscorer with eight goals, which earned him the Golden Shoe.
"The year 2002 was the best World Cup memory for me," says Brazil's second-highest goalscorer after Pele. "Not only because we won the title, but also because of the history behind it. I was injured for two years before the World Cup and didn't know if I would go. But I played, played well and scored a lot of goals. We beat Germany, our great rival, for the title."
Ronaldo is a three-time FIFA World Player of the Year and also a two-time winner of the Ballon d'Or. He lit up the stage during the early stages of a glittering career at PSV, Barcelona and Inter Milan in the 1990s. By the age of 23, he had scored over 200 goals for clubs and country. However, he encountered serious career-threatening knee injuries, which saw almost three years of inactivity.
"I had such a beautiful career and I cannot complain," reflects the Brazilian. "I had many injuries, but they made me stronger, not only in football, but also in life. I learned a lot from the setbacks."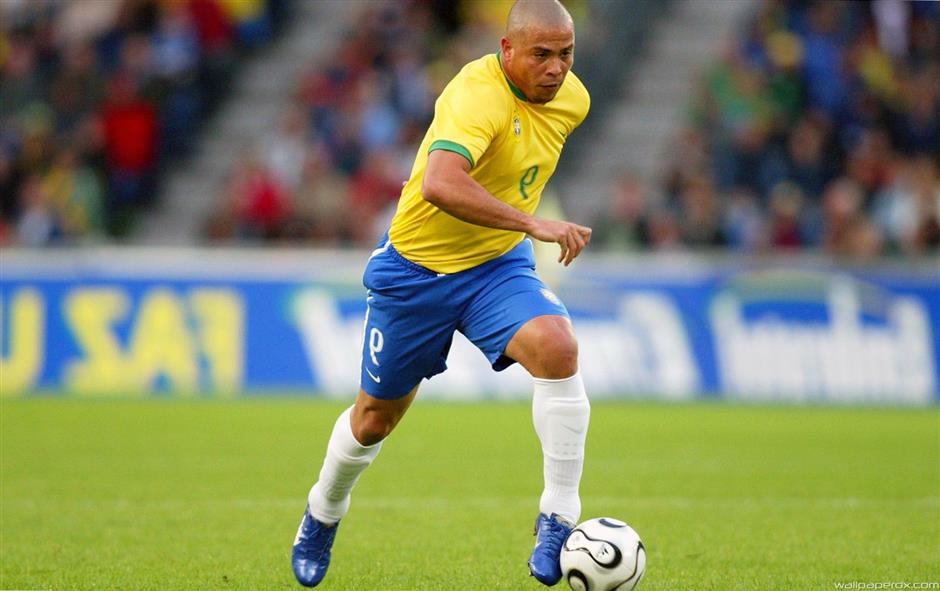 SHINE
It's of no surprise that the 1994 and 2002 World Cup winner would pick his home country as the overwhelming favorite to lift the trophy in the upcoming World Cup in Russia.
"Brazil is one of the favorites," he says. "Also, Spain is playing very well, and Germany is always strong. With Lionel Messi, Argentina also deserves attention. I don't think Portugal will go very far, even though they have Cristiano Ronaldo. It's going to be a fun competition.
"I think Brazil has a very good team. We changed a lot since winning the 2016 Olympic Games in Rio. It's always difficult to compare the current team with previous generations, but I think we have a good chance to win the title."
Brazil was whitewashed 1-7 by Germany in the semifinal of the 2014 World Cup, which still remains a bitter memory for Ronaldo.
"We didn't understand what was happening that day," says the former Real Madrid striker. "I was commentating for a Brazilian television channel and was shocked. But football is great in a sense that it gives everyone an opportunity. And that opportunity was for a strong Germany team."
Ronaldo has played with some of the best players in the world during a decorated career but believes his former Real Madrid teammate, Zinedine Zidane, was the best of the lot.
"I enjoyed playing with Zinedine," says Ronaldo, who cheered on his former colleague and team in its 3-1 Champions League triumph over Liverpool last weekend. "I spent a lot of time training and having fun together with him. He was amazing as a player and is now amazing as a manager."
However, unlike his old pal, Ronaldo says he would never consider becoming a coach.
"I still work a lot in football, but I will never be a coach, a life of training and traveling all the time, no thanks," he says. "I enjoy my retirement life with my family, though I still travel a lot being an ambassador for Real Madrid and Brazil."
When asked about whether China could eventually compete on the world stage with soccer's elite, the Brazilian was pragmatic but believes they can.
"I think China can improve a lot in football. I started playing very young. So (Chinese) kids have to start playing football from an early age and practice more. If they do that now and continue to do so, there will be a big generation of players ready to come through. It just takes time for that to happen.
"The Chinese clubs have bought and brought a lot of big names into the country, including Brazilian players, who have helped raise the profile of China's football. They have also helped to improve local players because they have a rich experience of playing in other big leagues in world football," Ronaldo says.
Jiang Xiaowei / SHINE
Source: SHINE Editor: Liu Qi Special Reports