Novak rules at Wimbledon again
00:01 UTC+8, 2018-07-16
0
Novak Djokovic claimed a fourth Wimbledon title in ruthless fashion as he beat giant South African Kevin Anderson 6-2, 6-2, 7-6 (3) at the All England Club yesterday.
00:01 UTC+8, 2018-07-16
0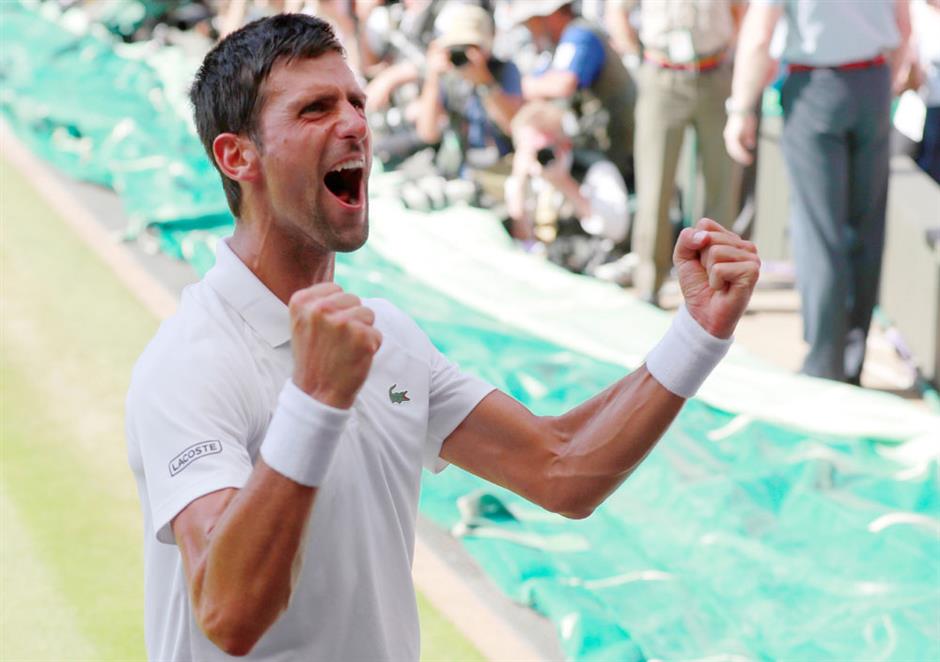 Reuters
Novak Djokovic claimed a fourth Wimbledon title in ruthless fashion as he beat giant South African Kevin Anderson 6-2, 6-2, 7-6 (3) on a sweltering Centre Court at the All England Club yesterday.
After the monumental drama provided by both men's semifinals, the two longest in Wimbledon history, the showpiece proved something of an anti-climax as Djokovic ended a two-year Grand Slam title drought.
Anderson, bidding to become the first South African to win the men's title, had spent 21 hours on court to reach his first Wimbledon final and his tank appeared to be empty in the opening two sets as a clinical Djokovic dominated.
Djokovic, who had been required to finish his epic semifinal with Rafael Nadal on Saturday, lost some intensity at times in the third set and saved five set points as Anderson hinted at an improbable comeback.
But he forged ahead in the tiebreak and could celebrate a 13th Grand Slam title when Anderson netted a return.
Djokovic, who had suffered a dip in form and fitness in the past two years and was seeded only 12th for the championships, made only 13 unforced errors in the final as he offered more evidence that he is back to his best.
"It feels amazing because for the first time in my life I have someone screaming 'Daddy, Daddy'," Djokovic said on court as he cradled the trophy with son Stefan having joined the rest of his family and entourage.
"This was my first Grand Slam final for a couple of years and there is no better place to make a comeback.
"Congratulations to Kevin, he has had an incredible run."
Djokovic's 13th major trophy is the fourth-highest total in the history of men's tennis, trailing only Roger Federer's 20, Nadal's 17 and Pete Sampras' 14.
But it's also Djokovic's first since he completed a career Grand Slam at the 2016 French Open.
During that time, he struggled with the first major injury of his professional career, one that forced him off the tour for the last half of 2017. He eventually had an operation this February, and as his losses accumulated, his ranking fell out of the top 20 for the first time in more than a decade.
At No. 21, Djokovic is the lowest-ranked Wimbledon titlist since Goran Ivanisevic in 2001.
Under a pale blue sky interrupted by only the occasional soft white puff of cloud, with the temperature at 30 degrees Celsius in London, Djokovic started so well, and Anderson shakily.
That might have been easy to anticipate beforehand.
This was, after all, the 22nd Grand Slam final for Djokovic, and the second for Anderson, a 6-foot-8 powerful server who was runner-up at last year's US Open.
By the conclusion of a third consecutive dud of a straight-set men's singles final at the All England Club, Anderson had made 32 unforced errors and was surprisingly broken four times.
Source: Agencies Editor: Zhang Shunyi Special Reports