The temple, which has a history of more than 1,700 years, stands like a shining golden beacon in a concrete forest on Nanjing Road W.
As a Vajrayana school Buddhist temple on the Chinese mainland, constructions in the temple are symmetrically distributed.
Although most of the buildings in the temple complex were rebuilt during late Qing Dynasty (1644-1911), stories passed down for centuries are still widely told among locals.
One of them concerns a well that has been at the temple for more than a millennium. The origin of the well, whose formal name is Feiquan, is unknown, but historical records say that hot spring water has gushed from it from time to time. Many scholars and writers wrote poems about the spring.
The original well was filled in during 1960s, and a new one was dug under the bell tower of the temple in 2003.
Across Nanjing Road W. from the temple is Jing'an Park. Originally a cemetery, especially for foreigners in late 19th century, the park is now one of the most popular greenery areas of Shanghai.
In the park, the ancient "Top 8 Jing'an Sceneries," most of which have disappeared, have been replicated to show visitors the history of the area. The sceneries are actually eight pieces of ancient relics, including a pulpit, a stone stele and a fort. Originally the relics were all in Jing'an Temple but were either lost in war or damaged by natural disasters.
Jing'an Temple
1686 Nanjing Rd W.
Jing'an Park
189 Huashan Rd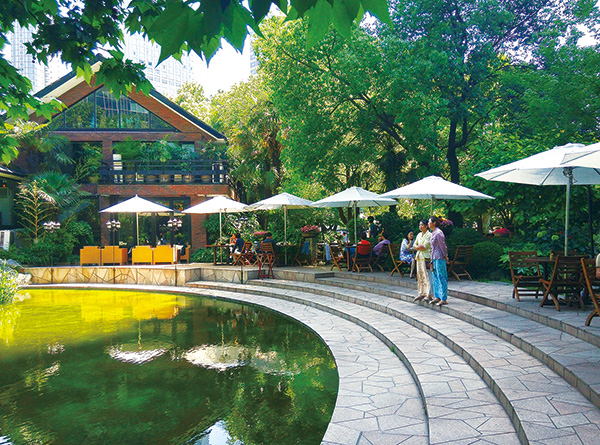 Where to grab a bite nearby:
The noodle house in Jing'an Temple gets good reviews. Pilgrims typically go to the temple to pray and worship Buddha in the morning, then enjoy a bowl of vegan noodles afterward.
The restaurant provides only two soup options: traditional noodle soup and a tomato noodle soup. The traditional one is especially popular because its various mushrooms add a special flavor to the soup and noodles.
The tomato one, on the other hand, gets mixed reviews. Some people say it tastes even better than the traditional one, but others don't like the Chinese yam it contains.
Address: 1686 Nanjing Rd W.