As the only well-preserved assembly hall built in late Qing Dynasty (1644-1911) in Shanghai, the Sanshan Assembly Hall was originally erected by a businessman from southeastern China's Fujian Province in 1909.
The venue has been turned into an exhibition hall displaying the history of the typical Fujian mansion of the late 19th century, with its traditional Chinese-style architecture and decor, with bits of Western touches here and there.
In the beginning, Fujian businessmen gathered in the mansion for trade negotiations.
A temple was also set up in the hall dedicated to Mazu, a god worshipped by people from southeastern China.
The mansion retains some of the old decor, including furniture, carved beams and pillars. It exemplifies Fujian culture, which is quite different from Shanghai's.
In the 1920s, the assembly hall was used as the headquarters for armed workers' uprisings. In 1926 and 1927, the Communist Party of China planned three uprisings in Shanghai to overturn the sovereignty of warlords. After two failures, the third uprising succeeded and a new government was established in 1927. Now, the memorabilia of the uprisings are displayed in the hall.
Not far from the mansion on the banks of the Huangpu River, a huge, eye-catching smokestack dominates the scene.
Resembling a gray cannon barrel aimed at the sky, the smokestack is a part of the former Nanshi Power Plant, which has been transformed into the Power Station of Art.
First built in 1897, the power plant operated for 110 years before finally closing. The building was subsequently modified into a pavilion for the 2010 Shanghai World Expo and transformed into an art gallery two years later.
As the venue of the Shanghai Biennale, China's most established and influential international biennale of contemporary art, the gallery is renowned for its dreamy, even surreal vibes.
Gray is the dominant hue — just as it was during the site's era as a power plant.
The museum's high ceilings, narrow windows, steel staircases and handrails form a cold, open space for artists to display their view of the world, often in stark realities.
The biennale ended two months ago, but the museum now still offers other exhibitions that continue the journey of soul exploration.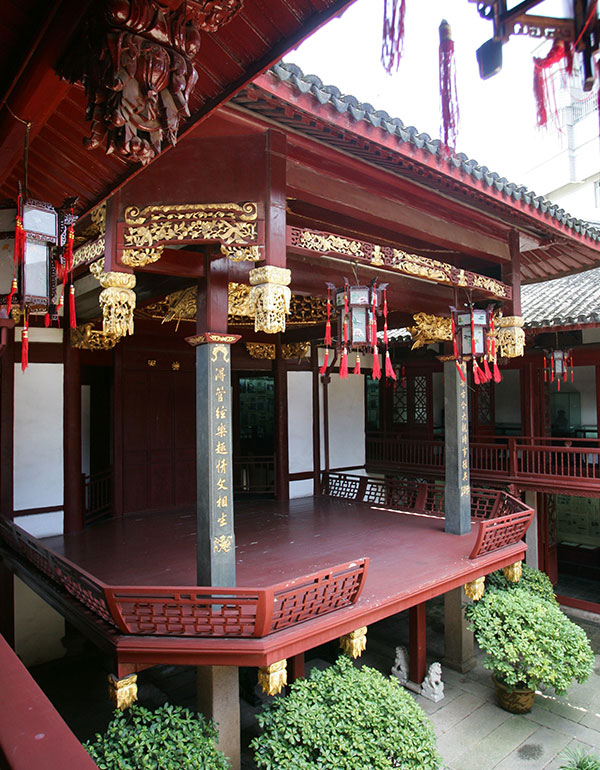 Sanshan Assembly Hall
Address: 1551 Zhongshan Rd S. (closed Mondays)
Power Station of Art
Address: 200 Huayuangang Rd (closed Mondays)
Where to grab a bite nearby:
Near the southern bank of Huangpu River, the Dongjiadu area is known for two things: tailored clothing and food streets. As one of the most popular seafood chains in the city, Shenjiamen Seafood stands out even in busy Dongjiadu. It serves seafood dishes in a variety of styles, such as sashimi, steamed, boiled and grilled.
Clams and crabs are the most recommended by frequent patrons, who praise the seafood as so fresh that it doesn't need much seasoning. Just a little soy sauce and vinegar bring out the natural sea flavor.
Shenjiamen Seafood
Address: 232 Duojia Rd