A photo spot for memories and romanticizing the shikumen
09:00 UTC+8, 2023-09-26
0
An old residential building wall along Suzhou Creek is now a famous photo site, and Zhangyuan Garden's pop-up exhibition has romanticized the century-old shikumen complex.
09:00 UTC+8, 2023-09-26
0
Sports fun
A self-service basketball court in the Jing'an Sculpture Park hosted a special sports meeting on September 9 where over 200 citizens competed in frisbee, rope skipping, mini golf and touhu, or arrow-throwing. Five-game challengers received a sports welfare lottery ticket.
Tea festival
The 28th Shanghai International Tea Culture Tourism Festival began on September 17 with an open-air tea market on Wujiang Road pedestrian street.
The famed Panyong Congou tea from Fujian Province's Tanyang hamlet, traditional Chinese herbal tea from centuries-old pharmacy Lei Yun Shang and trendy tea drinks from T9 Tea were among the products sold at the four-day event.
A survey by Shanghai Jiao Tong University and the University of Southern California found that Shanghai had the most coffee shops and tea houses among 50 cities, including New York, Paris and Tokyo.
Carnival on rooftop
People can enjoy the late summer wind at Jing'an Joy City mall's Ferris wheel-themed events.
Every weekend night through October 8, live bands, swing dance parties, craft beer tasting, pop-up exhibitions and other activities take place. Around the Ferris wheel is a gastronomic paradise. Zhu Yuguang Hotpot and Liu Dongliang Street Food stalls stay open till 2am.
Illuminated wall
An old residential building wall along Suzhou Creek has been turned into a popular photo spot.
The wall is located in Tianmu Road W. Subdistrict, northwest of 909 Guangfu Road, in the Anfeng residential compound. Every time someone crosses the Changping Road Bridge, the wall comes into view.
The wall has been painted with a giraffe, a squirrel and two birds set against a forest with fall foliage to improve its appearance and blend in with the magnificent waterfront surroundings. It is lit up at 7pm.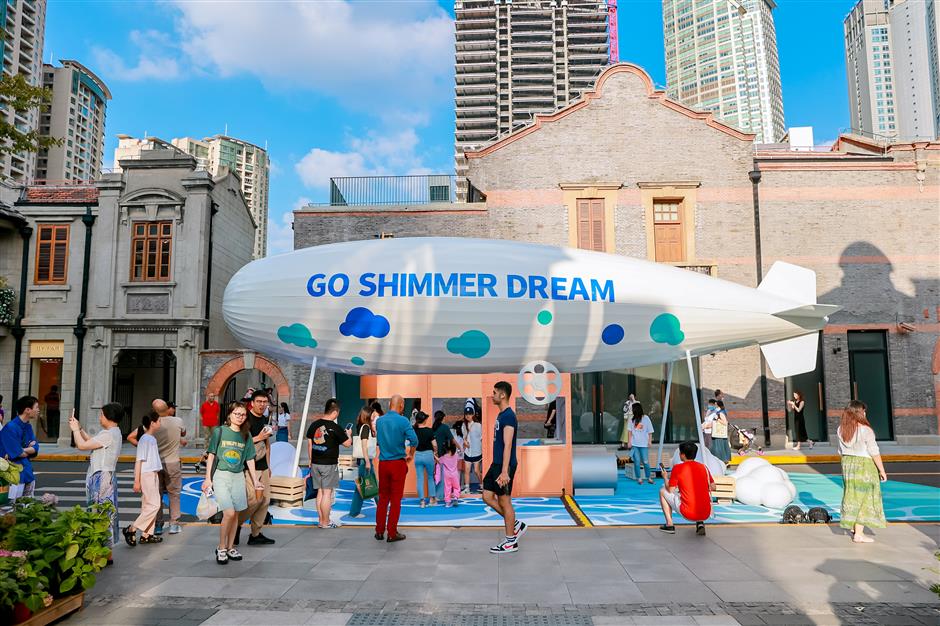 Zhangyuan exhibition
The Zhangyuan Garden's "Go Shimmer Dream" pop-up exhibition has added romanticism to the century-old shikumen (stone-gate) compound this month.
Large cloud, wave and airship art pieces have created a refuge from urban life.
As night falls, an open-air theater shows movies in narrow alleyways, reminding people of their childhood in old shikumen districts.
Stroll along the creek
More than 20 students from Shanghai Minli Middle School, Jing'an Experimental Middle School and the International Division of East China Normal University's No. 2 High School conducted a historical tour along Suzhou Creek to learn about local history and culture.

With architect Ding Guangji leading the way, they visited the Sihang Warehouse Battle Memorial, Zhejiang Road Bridge, Tianhou Palace and other historical sites.
"As I went down the river, I could hear stories about the structures. Actually, I've been here many times, but I had no idea the area had such a rich history," said Wang Xinyi, a senior at the Minli school.
Based on their knowledge of the subject, these students created a series of works, such as movies and cultural items, which will be displayed to the public at the end of the year.
Art class
A special art class has been held at the Shanghai Opera House as the district's latest effort to promote art to the public. A guided tour was organized for residents on September 21 to the opera house, one of nine cultural venues in Jing'an listed as the city's "social art education classrooms." The district has six such district-level sites, and it plans to increase the number to 20 by 2025.
Source: SHINE Editor: Cao Qian Special Reports