Record-breaking summer for China's film industry
17:49 UTC+8, 2023-08-29
0
Summer box office receipts in China exceeded 20 billion yuan (US$2.75 billion), increasing confidence in the film industry's revival.
17:49 UTC+8, 2023-08-29
0
China's summer film market continues to thrive, setting box office records.
The summer box office revenue has surpassed 20 billion yuan (US$2.75 billion), boosting confidence in the film industry's recovery in China.
According to box office tracker Dengta Data, suspense crime thriller "Lost in the Stars," anti-fraud drama "No More Bets," and fantasy film "Creation of the Gods I: Kingdom of Storms" are at the top of the box office chart, earning 3.5 billion yuan, 3.3 billion yuan, and 2.4 billion yuan, respectively.
The top six grossing films are all domestic productions, accounting for almost 70 percent of the total box office revenue. The number of film screenings nationwide set a new high of 33.7 million.
There have been significant improvements in ratings on Douban, Taopiaopiao, Maoyan, and other ticketing websites. Realistic films have also sparked passionate debates on social media sites on marriage, education, and anti-fraud strategies.
The summer movie season is coming to an end. However, moviegoers will continue to be treated to high-quality films in a range of genres.
The following are some of the most anticipated films set to be released in late August and September:
'Heart's Motive'
Release date: August 25

Huang Xiaoming and Yan Ni feature in the courtroom drama about a lawyer forced to choose between justice and fame. After being barred from practicing for revealing his law firm's dirty side, the lawyer returns to the courts and discovers that his new case is more complicated than it seems.
Each cinematic character has a narrative. The film's dramatic courtroom climax explores human complexity in the face of temptation.
'Gran Turismo'
Release date: September 1

The American biographical sports film, directed by Neill Blomkamp, is based on the PlayStation Studios computer game series of the same name and inspired by Jann Mardenborough, a teenage Gran Turismo player who wanted to race cars. The IMAX version features realistic race track details, stunning crashes, and thrilling overtaking on curves.
'Ripples of Life'
Release date: September 8

The film by Chinese director Wei Shujun premiered in the Director's Fortnight section at the 74th Cannes Film Festival. It follows a big celebrity who takes an ambitious film crew to her rural hometown to shoot. The film shows three separate perspectives: Everyone has choices, but these choices will inevitably compromise reality. The small town symbolizes the distance between ideas and reality.
'All Ears'
Release date: September 9

The film, directed by Liu Jiayin and produced by Cao Baoping, follows a scriptwriter who discovers new things in life after writing eulogies. The plot is partially based on director and scriptwriter Liu's life.
The protagonist is uncertain about his profession and life until he finds his true place. An excellent performance by lead actor Hu Ge earned him the Best Actor prize at the 25th Shanghai International Film Festival.
'A Haunting in Venice'
Release date: September 15

The supernatural mystery, based on Agatha Christie's "Hallowe'en Party," returns Hercule Poirot to a post-World War II setting.
Kenneth Branagh stars as Poirot, a knowledgeable and experienced sleuth who solves a murder case in Venice and finds the perpetrator. The same film crew was involved in the making of 2017's "Murder on the Orient Express" and 2022's "Death on the Nile."

'Tainted Love'
Release date: September 15

The crime thriller about fraud involves cyber criminals creating a romantic relationship on online dating sites. It is based on several true stories. Many victims of cyber crime have been distraught and ruined financially.
Award-winning actress Zhou Dongyu plays an urban white-collar worker duped out of 550,000 yuan in an online romance. She finds further evidence in two young men in a coastal village after following the clues left by the scammer.
'Under the Light'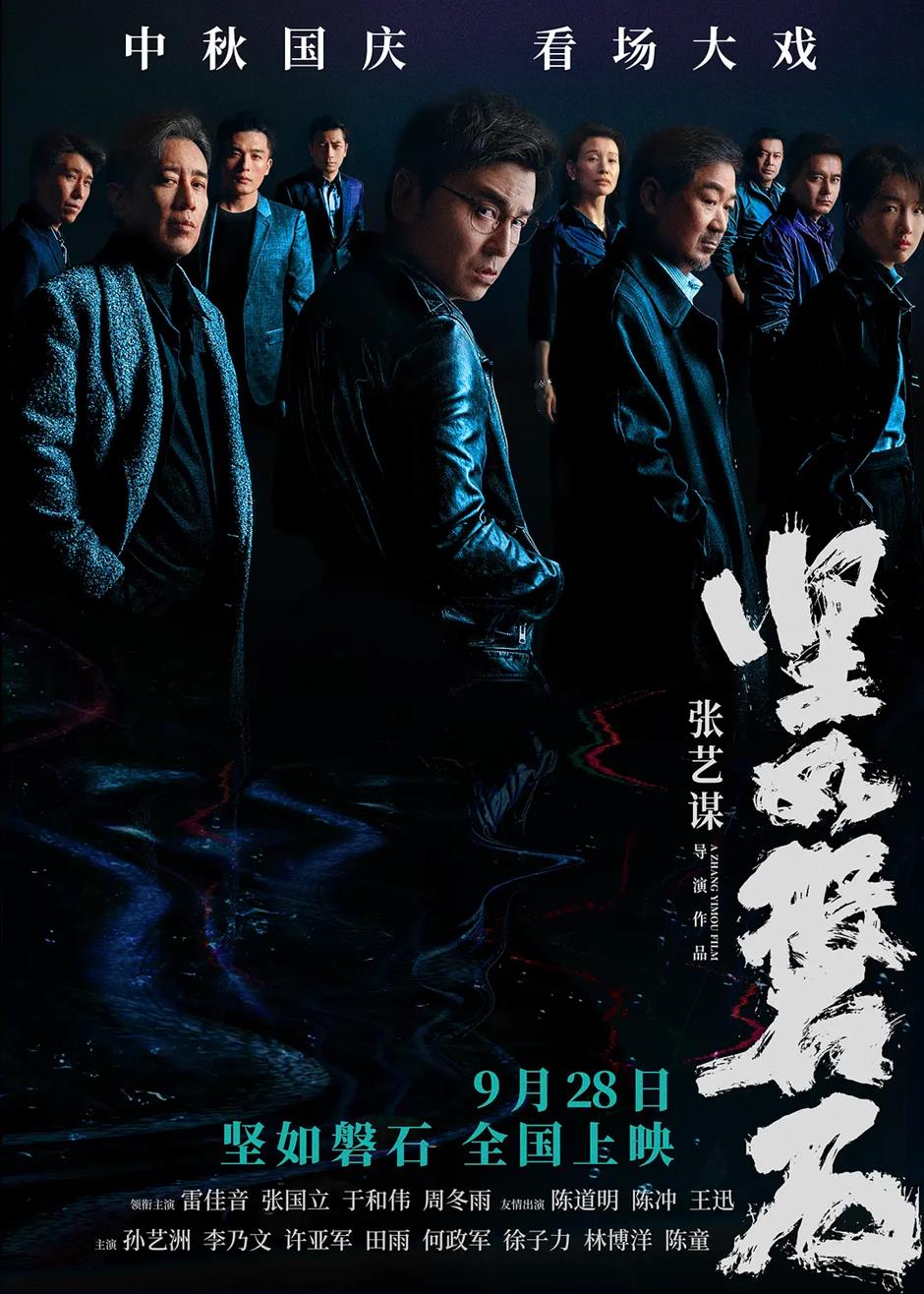 Release date: September 28

This is celebrated director Zhang Yimou's first foray into the urban crime film genre. The plot centers around the investigation of a criminal case involving multiple interest groups by two young cops.
As the cops uncover more and more clues, they become entangled in a massive chess game devised by the criminals. The film has an urban, modern, and stylish aesthetic that director Zhang has never attempted before.

'Ex 4: Marry Young'
Release date: September 28

This romantic comedy is the fourth installment of a popular Chinese film franchise. It focuses on two friends' emotional issues and confusion in their love relationships.

Meng Yun, who was enduring the consequences of a breakup, begins to search for real love at the suggestion of his family.

Yu Fei, his friend, is currently in a "marriage calmness period" with his girlfriend, preparing for various circumstances and challenges that may come after marriage.

'Moscow Mission'
Release date: September 29

Herman Yau's film is based on the 1993 Sino-Russian train robbery, which startled the world. For several days, gangsters tormented and insulted passengers aboard the train. The incident sparked a global manhunt that lasted 18 years before the offenders were apprehended. The film includes high-speed races, explosions, gun battles, and underwater fights that provide fascinating visuals.
'I Am Nezha II'
Release date: September 29

The animated film is based on ancient Chinese mythology and depicts Nezha's difficult route of rebirth and return following a battle with the prince of Dragon King.
His teacher takes his body to Qianyuan Mountain. However, at the key moment of rebirth, Nezha becomes entangled in a huge conspiracy that is orchestrated by Shen Gongbao and the Dragon King. The battle for the hero's return is about to begin.

Source: SHINE Editor: Su Yanxian Special Reports