Yoga trainer takes Rocket to China
13:34 UTC+8, 2018-10-26
0
American teacher, a leading figure impressed by development in Shanghai on his twice yearly visits.
13:34 UTC+8, 2018-10-26
0
Y+ Shanghai / Ti Gong
By his early 20s, American David Kyle had never tried yoga. He pictured it as "a class full of people learning how to stretch and balance," until he accepted his girlfriend's invitation to a Rocket yoga class in San Francisco. Its physical and mental challenges wore him down on the mat, but he also found himself free of ego and insecurities, and decided that he wanted to do more.
It was the first of many classes with Larry Schultz, founder of Rocket, before they embarked on a decade-long apprenticeship and friendship until Schultz's death in 2011.
At 38, Kyle, a native of Louisiana, is now one of Rocket yoga's leading figures, and divides his time in between his Ashtanga Yoga studio in Puerto Rico and directing teacher training around the world, including two trips a year to Shanghai's Y+ yoga studio, where he has been traveling every April and October since 2015.
He first visited Shanghai in 2010. Back then, he noticed that "yoga was new but already booming." And now, "I see China as one of the world leaders in supporting new yoga schools and conferences," he says.
Asked to explain Rocket, he says: "Rocket encourages more dynamic actions and focuses more on strengthening and stabilizing the body and joints," but then adds that "flexibility is not a requirement."
This free-of-demand sentiment, captured in Schultz's own words "no bind, no problem," sets Rocket apart from other styles, such as Iyengar yoga, which requires props like straps and chairs to ready students into the right posture.
And this is also what Kyle wants to pass on to his students ─ future Rocket teachers in China ─ this month in Shanghai along with power flows and handstands.
Q: What kind of people are a good fit for Rocket? Does practicing Rocket bring any benefits?
A: Anyone can practice Rocket. But everyone should take precautions when doing physical activities. Having said that, we encourage students to work at their individual level.

Rocket Vinyasa helps students build cardiovascular strength and produce a stronger muscular system. The benefits are numerous, but the goal is simple and there's no need to focus on anything but the practice. Stay on the path and the goal is always with you.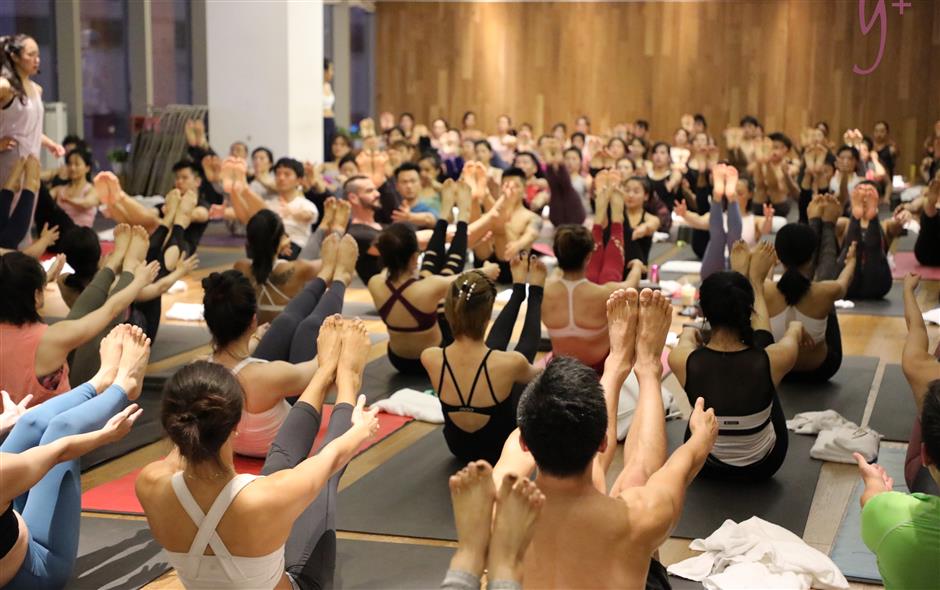 Y+ Shanghai / Ti Gong
Q. Any differences in between Chinese and Western Rocket yogis that you've noticed? If so, do each of them have their strengths and weaknesses?
We are all the same! Small differences in the amount of flexibility here in China. Western Yogis are stiff in the body, but wild and loose in the mind. Eastern Yogis are loose in the body, but conformed and stiff in the mind. We all need to balance both the body and mind.

Q: Have there been any particular problems you've had while training China's yoga teachers? Perhaps not so much with the language (you always have an interpreter) but with other aspects?
A: Again, same problems everywhere in the world — there is a growing trend that Yoga teacher training sessions are like retreats or vacations. Our training is physically and mentally challenging, and it's common for students not to realize the amount of work they have signed up for. But all students gain a deep understanding of themselves by the end of the course. They learn that to be a teacher, first you must become a true student.

Q: With all these yoga studios popping up in Shanghai and all over China (the nation has about 10 million yoga students in 2016), how do you think policy-makers can better regulate the market?
A: Regulation is tricky in a new market like China, but I think the regulation should first start separating yoga schools from yoga training institutions. I own a yoga studio and direct teacher training worldwide, things are regulated differently across the world, but in general yoga teacher training and yoga classes are seen as basically the same — they are not.

Ti Gong
Q: In the same vein, how can students choose a good studio?
A: Start by choosing a good teacher, then support the school or schools that supports those teachers.

Q: Will you offer some beginner tips to those who haven't tried Rocket before?
A: In any yoga method, make sure you start with beginners' classes. Rocket Vinyasa can become very intense very quickly, so its important not to show up to an advanced class before you are familiar with the different series and fundamental postures. Always start with a certified Rocket teacher, too.

Q: Where do you see Rocket going in China?
A: We have just started to build momentum in the last few years and we see the next few years Rocket Vinyasa becoming more accessible to all the major cities of China.

I've trained a lot of teachers from all over China, and know that many of them are already doing this, and there are more top teachers who come to Shanghai to train in the hope of bringing back to their home studios.
Source: SHINE Editor: Liu Qi Special Reports