Gold at last for China as Wu smashes record
02:04 UTC+8, 2018-02-23
0
Wu Dajing won China's first Olympic gold medal in the men's 500 meters short-track speedskating yesterday, setting a world-record time of 39.584 seconds.
02:04 UTC+8, 2018-02-23
0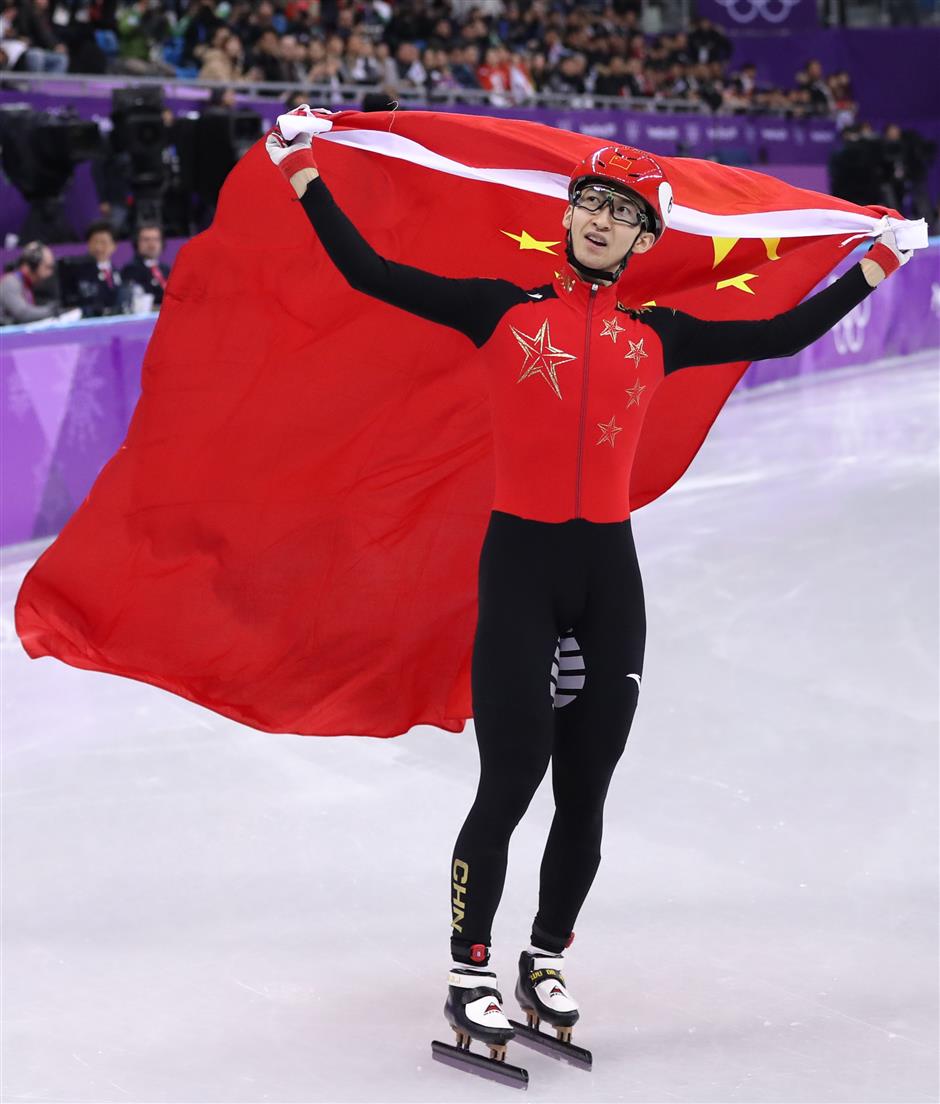 Xinhua
Wu Dajing won China's first Olympic gold medal in the men's 500 meters short-track speedskating yesterday, setting a world-record time of 39.584 seconds to beat South Korea's Hwang Dae-heon.
Wu, who in qualifying broke the previous record set by American John Celski in 2012, went 0.216 seconds faster in the final, with another South Korean, Lim Hyo-jun, taking the bronze medal.
The 23-year-old Chinese skater clenched his fists above his head in celebration as he took a victory lap around the rink at Gangneung Ice Arena.
"Today, I didn't give my competitors a chance and I kept my speed from the start," he said. "More importantly I think I believed in myself."
Wu won silver in 500 at the Sochi Olympics four years ago behind Russian Viktor Ahn, and he put in a flawless display in South Korea, leading the race from the start and finishing 0.27 seconds ahead of Hwang.
Wu has dominated the distance since Sochi, winning 10 men's 500 races at world championships and in the World Cup. He failed to make it to the final of either the 1,000 or 1,500 after picking up penalties in qualifying.
Wu's victory gave China its first gold medal of the Pyeongchang Games and it came in the sprint race the nation had never won at the Olympics.
"There definitely was pressure," Wu said. "The Chinese team didn't really perform to our potential and we came in today really determined.
"I'm very emotional and happy to have won China's first gold here."
Hungary had an historic night, too.
The Eastern European country secured its first Winter Olympic gold medal by winning the men's relay, taking the lead on the last lap of the 45-lap race in which 16 skaters tore around the rink. The team of brothers Liu Shaoang and Sandor Liu Shaolin, along with Viktor Knoch and Csaba Burjan, set an Olympic-record of 6 minutes, 31.971 seconds.
The Hungarians had previously earned six medals — all in figure skating and none since 1980 — at the Winter Games.
Led by Wu, China took silver. Canada earned bronze with a team that included Samuel Girard and veteran Charles Hamelin skating in his final Olympics.
The South Koreans were challenging for the lead with China when their skater crashed, taking down the nation's hopes with him and dulling the raucous atmosphere at the arena.
China and Canada traded the lead until there were four laps to go. Hungary moved up to second behind Canada with three to go and then Sandor Liu threaded his way to the lead and a history-making victory.
They celebrated wildly at the end, high-fiving and hugging their technical staff beside the track before skating around the rink holding their country's flag.
"It's such a big honor," Sandor Liu told reporters. "The journey was really long to get here. The team qualified for the Olympics in eighth position, the last position, and we made it count.
"I couldn't say anything (after crossing the line). I couldn't think anything. I was just screaming and I was trying to find my team."
China, also featuring Han Tianyu, Xu Hongzhi and Chen Dequan, finished 0.064 seconds behind.
"We had some issues with stamina and mistakes that led to this result. We came in wanting the gold," Wu said.
"As a team, we're quite united. We desire a better result, a breakthrough and we help each other and encourage each other a lot. We're really looking forward to Beijing 2022."
The South Koreans crashed with 23 laps to go, and the same fate befell gold-medal favorites Choi Min-jeong and Shim Suk-hee in the women's 1,000 final.
Suzanne Schulting of the Netherlands pulled off an upset in the event, giving the country better known for its long-track skating success a fourth medal in short track.
"I really can't believe it," said Schulting, who crossed the line with her mouth wide open in amazement.
Kim Boutin of Canada took silver for her third medal of the Games.
Arianna Fontana earned bronze, giving the Italian skater a complete set of hardware, having won gold in the 500 and silver in the 3,000 relay. She joined American Apolo Anton Ohno and Ahn of Russia as the most decorated short-track Olympians with eight career medals.
"I didn't think I was going to be here at these Olympics because after Sochi I thought I was going to retire," Fontana said. "I'm really happy that I didn't."
The United States team of Celski, John-Henry Krueger, Thomas Hong and Aaron Tran won the B relay final.
Source: Agencies Editor: Zhang Liuhao Special Reports