Covestro supports fight against epidemic with materials expertise
13:28 UTC+8, 2020-03-09
0
Covestro has been making every effort to maintain continuous production in a bid to ensure supply of raw materials, especially those for protective supplies for epidemic relief.
13:28 UTC+8, 2020-03-09
0
Materials manufacturer Covestro has been taking effective prevention measures against the novel coronavirus and leveraging its own cutting-edge expertise to support medical workers fighting the epidemic.

Facing the sudden outbreak, Covestro quickly established a crisis management team to formulate emergency policies and countermeasures to provide protection for all of its staff.
Meanwhile, Covestro has been making every effort to maintain continuous production in a bid to ensure supply of raw materials, especially those for protective supplies for epidemic relief. On top of that, the company also acted immediately to donate protective goggles and thermometers to frontline medical institutions.
"Covestro is committed to working with our partners to ensure the health and safety of frontline medical workers through our professional advantages as we deliver on our corporate social responsibility," said Holly Lei, president of Covestro China. "We see that governments at all levels in China are doing their best to control the epidemic through various measures. We believe that the difficulties are temporary and hope the epidemic will end soon. Covestro's investment in China is always long-term, and our confidence and commitment to the market remains unchanged."
In an attempt to address the shortage of medical and protective supplies in hospitals in Wuhan and across China, Covestro has donated more than 150,000 pairs of protective goggles and 2,000 thermometers, all made of its polycarbonate material, with a combined market value of 5.6 million yuan (US$810,000). The first batch of goggles arrived at hospitals in Wuhan on February 1.
This only became possible after Covestro employees managed to find goggle manufacturers and arrange urgent production at a time when factories were largely closed across China due to the Spring Festival and the viral outbreak.

Besides, Covestro's 3D printing team at its Asia Pacific Innovation Center in Shanghai also developed a 3D-printed mask regulator using thermoplastic polyurethane material, which can ease pain around the ears of medical workers who wear masks for long periods of time. Covestro first donated 50 such mask regulators to Xiaogan, one of the hardest-hit cities in Hubei, followed by another 500 regulators to a hospital in Shanghai.
Elsewhere, Covestro's polyurethanes team worked with Sinomax, a leading provider of high-tech sleeping comfort products, to donate 1,200 sets of neck and waist pillows to a hospital in Huanggang, Hubei, to help medical staff have better rest.
In another case, Covestro fulfilled a rush order for polycarbonate and thermoplastic polyurethanes from Hikvision. The Hangzhou, Zhejiang Province-based company needed the materials to produce infrared thermometers, which are in huge demand. It only took about 28 hours for the first batch of materials to reach Hikvision's factory.

Separately, Covestro has also completed a rush order for polycarbonate films from Chengdu CapitalBio to produce nucleic acid test kits for coronavirus testing. Covestro received the request on February 8 and managed to produce 1.1 tons of the material at its Thailand plant in just two days. The materials arrived in Chengdu on February 16, enabling Chengdu CapitalBio to produce the test kits without delay.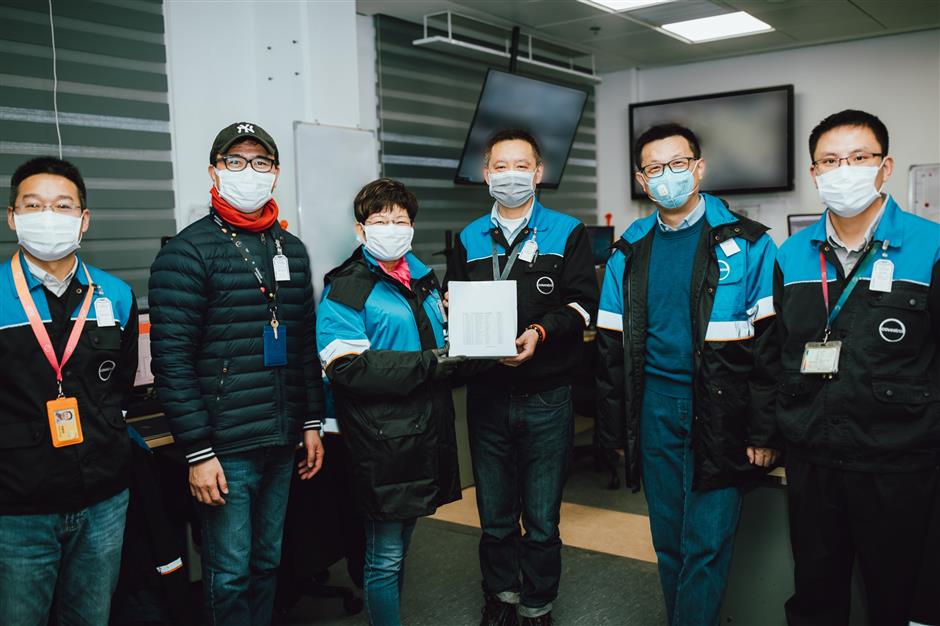 Apart from donations and external epidemic relief contribution, Covestro itself has been taking every possible means to ensure the health and safety of its employees.

The crisis management team has appointed emergency coordinators to every office and production site. Emergency response policies have been delivered to employees in a timely manner through digital channels.
Under Covestro's employee assistance program, staff and their families are provided with free psychological counseling and assistance around the clock. Covestro has also set up a special WeChat group for employees who are Wuhan natives or stranded in Wuhan to pass on related policies and offer support.
During the epidemic, Covestro has provided face masks, VC tablets and other protective supplies to all frontline workers, while frequently disinfecting shuttle buses, offices, canteens, and other areas to ensure hygiene.
Source: SHINE Editor: Cao Qian Special Reports