Keeping traditional cultural heritage alive
14:59 UTC+8, 2018-12-04
0
The 2018 China Craft Week, held in Hangzhou, showcased the best craftspeople in both China and abroad.
14:59 UTC+8, 2018-12-04
0
Imaginechina
In 2007 at the 57th Venice Biennial, artist and curator Qiu Zhijie showcased works from traditional craftspeople at the Chinese Pavilion. The festival saw shadow puppet crafts masters and Suzhou embroidery artisans work with contemporary artists to reproduce legendary stories and art traditions in a modern context.

The exhibition incurred much criticism at the time as critics claimed the craftspeople were being exploited, and the cooperation was unequal between them, the artists and the curator. Prices of Chinese contemporary art are continually soaring in auctions yet the value of the craftspeople is still undervalued.
The 2018 China Craft Week, held in Hangzhou recently, hoped to rectify previous criticisms and showcase craftspeople from both China and abroad.
The craft week was part of the 2nd Hangzhou Qiantang River Culture Festival this year. In a 3,000-square-meter exhibition hall at Hangzhou Creative Design Center, the organizers showcased both the techniques and products of local craftspeople and bespoke designer brands from the UK, Ireland, Italy and Thailand.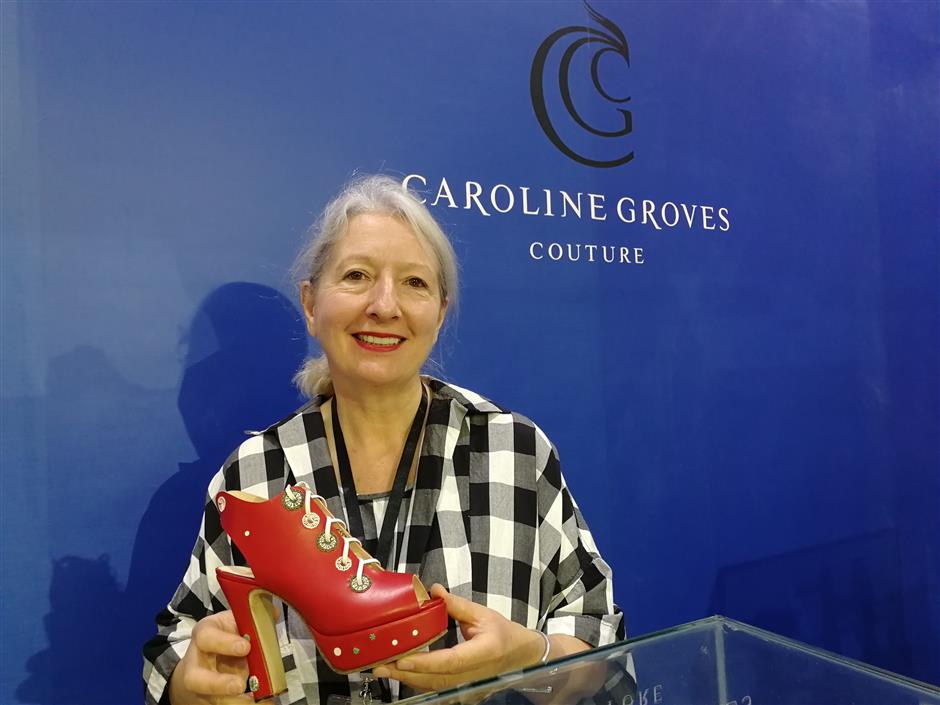 Shi Jia
In a parallel exhibition, held in the same place, installations featuring traditional craftsmanship of paper making, gilding and bamboo weaving were hoping to raise the awareness of safeguarding the nation's intangible cultural heritage.
"I'm not sure if I'm a good business woman, but I'm in business because I'm a craftsperson, not because I wanted to be a business person. I've learned how to be a business person otherwise I couldn't survive year after year," Caroline Groves, the bespoke women's shoemaker from the UK, told Shanghai Daily at the festival's opening.
The designer brought several pairs of her signature leather high-heels to the fair, including one made especially for London Craft Week in May, and three of which were made for the event in Hangzhou.
The one for London Craft Week, with a molded leather strap attached on the upper, is a tribute to late Italian couture designer Elsa Schiaparelli. Groves took inspiration from Schiaparelli's famous shoe hat and put the element of hat brim on her own shoes, with techniques she learned from decorative bookbinding.
The other three pairs, the blue-and-white, the yellow and the red, integrate colors and yin-and-yang patterns, which she thought represented China and Chinese art. Each heel has around 20 hours of hand-sewn embroidery on it.
She follows the tradition of the London "cordwainers," which has been there for more than 700 years. A cordwainer makes new shoes with quality leather. The process usually starts with making the lasts, the wooden foot shape for determining customers' measurements, and involves a lot of fitting.
"They (my shoes) are entirely made by hand. There are no man-made materials except leather. It's all by using craft techniques of wet, molding and drying, which helps the shoes retain in shape and also make them incredibly comfortable," stated Groves, who sells her shoes at around 5,000-8,000 pounds (US$6,377-10,204) a pair. Her clientele includes celebrities such as Dame Judi Dench and Whoopi Goldberg.
The designer's first customers were acquired by taking a big risk. She remortgaged her family house to buy a nearly closed women's shoemaking business in London's West End, so she inherited some of their clients.
"I think every craftsperson needs a patron," Groves said. "Sometimes a patron is one individual, with the money to buy your product and put a proper price on it. But sometimes a patron can be something like the craft week. It's an opportunity for craftspeople to come for a bigger public."
In China the patron is sometimes the local government.
Shi Jia
Wang Hui, a city-level craft master of Sichuan embroidery, was at the craft week showcasing her skills. She also brought some embroidery fans to the festival.
These fans were made by hearing or speech impaired students from special education schools in Chongqing in China's west. It is a government project, collaborating with Southwest University, to alleviate local poverty and offer aid to the disabled in the area.
These octagon-shaped fans, featuring the 12 Chinese zodiac animals, have quite modern designs with the copper-colored linen sewn on the black surface. And Wang was looking for buyers at the exhibition.
"We hope to offer these students a skill so they can make a living on their own when they graduate from schools," said Wang.
Sichuan Province used to be one of the four prominent places or hubs of embroidery in China with Suzhou, Hunan and Guangdong. However, there are not many craftspeople still involved in the business.
Part of Wang's work has been shifted to the inheritance and promotion of the craft. In 2015, she established a company and brand "Xiangyu." Apart from undertaking government-funded projects, they also offer training and workshops for people. They have developed an embroidery product line ranging from clothes, bags to brooches and other accessories.
"As one of the inheritors of this intangible cultural heritage, I have a responsibility to pass down my skills and knowledge. First of all we need more people to do it, to learn it. Secondly our products should cater to contemporary aesthetics and lifestyles," Wang told Shanghai Daily.
"Only when more people get to know about our embroidery, they will use it and there will be a demand and a market for what we do."
Shi Jia
Shi Jia
Shi Jia
Source: SHINE Editor: Su Yanxian Special Reports