Pilot freshmen get 'stunning' welcome
02:01 UTC+8, 2018-08-31
0
Aerobatic flights, model plane shows and hostage rescue by airborne troops ... This was not a military training or an air show.
02:01 UTC+8, 2018-08-31
0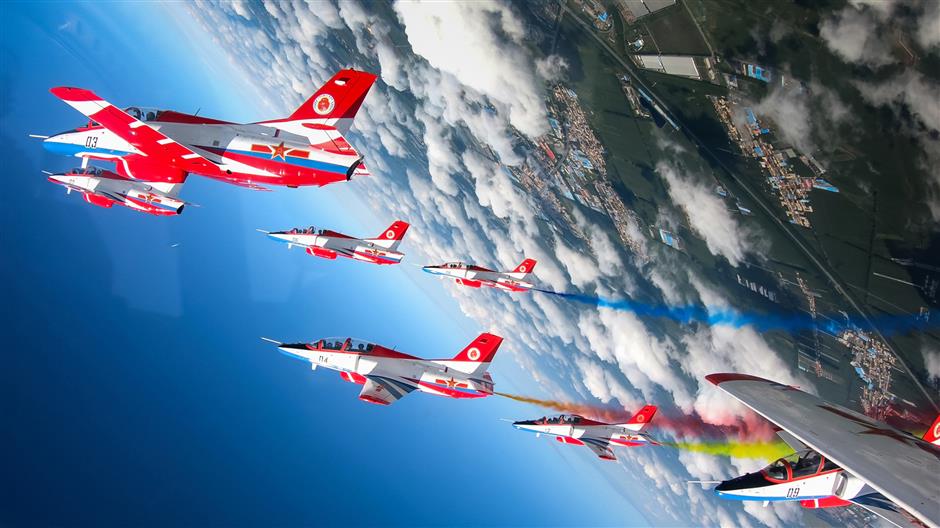 Xinhua
Aerobatic flights, model plane shows and hostage rescue by airborne troops ... This was not a military training or an air show, but a welcoming ceremony for freshmen at the Aviation University of Air Force in Changchun, capital of Jilin Province, yesterday.
Dubbed as a "most stunning ceremony," it impressed the audience with awesome stunts, attracting waves of applause and cheers.
The university is the country's only one training pilots, with more than 1,400 freshmen being admitted this year.
"Look, there's a helicopter!" A shout from the audience drew everyone's eyes to a distant roar from above.
A transport helicopter, escorted by an armed helicopter, hovered in the sky. A group of soldiers rappelled from the helicopter onto the ground.
This was a demonstration of hostage rescue by airborne troops. The troops changed tactical formations, swiftly approached a lone house where "terrorists" lived, broke into the house, shot the "terrorists" and rescued the hostages.
"This is so different from the movies. To see a hostage rescue myself is much more breathtaking," said Feng Xuan, a 27-year-old spectator.
Performances by the Sky Wing air demonstration team and other teams and individual planes brought the show to a climax with their visual feasts of speed, strength, passion and art. The planes soared and disappeared into a cloud and, within a second, emerged from the other side.
"Wow! Exciting!" Ten-year-old Duan Jiyang, an airplane fan, became exhilarated on hearing the deafening roar of fighter planes. His brother is one of the freshmen and he said he also wants to join the AUAF.
After watching the brilliant show, Fan Xinbo, a freshman, said: "I dreamed of being a pilot as a child. I have learned about flights before, but I was still deeply touched when I heard the fighter and saw the pilots wave their hands at us."
"I began to see myself as a pilot as I stepped into the university. Being a pilot is not just a job, it's more of an honor."
Wang Xiaohua, the mother of freshman Li Mingyang, came from the Inner Mongolia Autonomous Region to participate in her son's ceremony. "The show is so powerful. My son is going to join the air force. I'm so honored and thrilled.
"My son became fond of the air force when he was in middle school. He has been paying great attention to protecting his eyesight, building up his body and studying very hard. He got to this university after rounds of selections. It's never easy."
The air force equipment exhibition was packed with throngs of visitors.
Seventy-four-year-old Song Peijun and his wife came from the city of Tonghua in Jilin. He read the introductions of the fighters, bombers and all-terrain vehicles, and posed for photos with every piece of equipment. "After seeing the show, I feel that our air force is developing very fast. Now I feel assured of the strength of our air force, and I am very confident and proud," he said.
Source: Xinhua Editor: Zhang Liuhao Special Reports