Popular commodities market to pull shutters
11:24 UTC+8, 2019-01-31
0
Visitors on the lookout for bargains as shop owners prepare to move to make way for a modern residential development and a greenbelt.
11:24 UTC+8, 2019-01-31
0
Anqi'er Market, noteworthy for its trade in small commodities and its vibrant market over the past 20 years, is to close. More than 2,000 shops are expected to move out by tomorrow.

Owners are busy packing their products and looking for new locations in order to continue their business while local residents are flocking there to hunt for bargains. Most shops are holding clearance sales.
Huang Zhucong has run a hardware store for around 15 years. He is worried about losing his regular customers once he moves.
"I keep informing my regulars of my new address in Xiasha, hoping they could frequent my shop in the future," Huang told Shanghai Daily. "The closure of Anqi'er has really impacted my business, but we should support the government's construction plan."
Anqi'er is nestled along Gengshan Elevated Road W. and covers an area of 70,000 square meters. It was in 1998 that the local government revamped a former bicycle production factory and turned it into a wholesale market.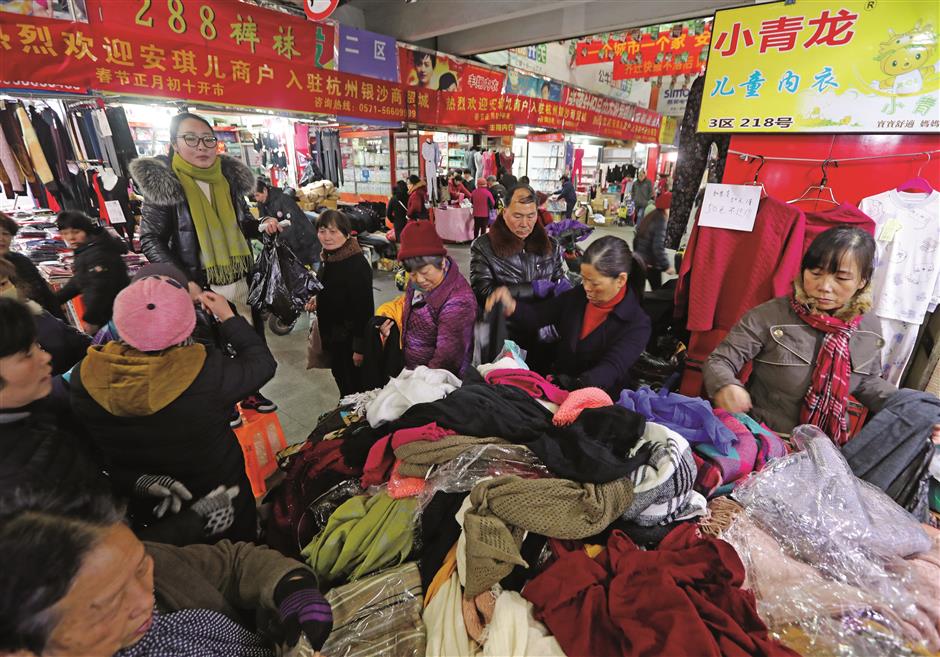 Imaginechina
Since its establishment, it has attracted vendors from all over Zhejiang Province thanks to its multifarious small commodity types, from toys and shoes to accessories and lamps. It gradually developed into the largest and most popular wholesale market in the area.
However, modern official buildings and elevated roads built around the market and its shabby buildings have underlined its unharmonious status in relation to city construction during the past few years.
"The fire safety facilities have become rather old, and security problems have been highlighted," said Lou Zhehong, leader of the demolition team. "We have started preparation work and officially informed shop owners in November. Most of them will be diverted to Jiubao Town and Xiasha."
Gengshan Elevated Road is one of the city's traffic arteries and, with the number of visitors and vehicles attracted to the market, local traffic has become more and more congested.
An urban village has formed alongside the development of market, which has led to security problems at the same time.
"The market makes our life convenient for 20 years, but it starts to drag down the level of infrastructure of our neighborhood. I support the plan to dismantle it and improve the area's sanitation and environment," said Wu Yan, a resident of the Zhanongkou Community.
The market management committee and government departments are providing subsidies and compensation for shop operators in a bid to reassure them and help them through the transition period.
"Subsidies vary according to different areas of shops. Meanwhile, we compensate the expenditure of moving, decoration and rent," said Tang Wenyi, another leader from the demolition team.
"I am subsidized with 93,000 yuan (US$13,750). That could cover two years of rent," Huang told Shanghai Daily. "I am satisfied with the compensation, so I soon signed the contract with the committee."
Lou Xiaohong, who has been selling rattan plaid bed mats for 18 years, has been granted subsidies worth more than 150,000 yuan.
"I signed the contract once the official announcement was released. The committee has provided me with another warehouse to store my mats before I find a new location. I really appreciate it," Lou said.
Not all operators are happy about moving. Many have a deep emotional link with the market that provides them with a living.
"It is heartbreaking to hear the news. I had a roadside stall to sell small commodities over the country, and finally settled down here years ago. The connection between the market and myself is profound," said one shop owner who didn't want to be named. "Nonetheless, the world keeps changing, and I need to adapt to the changing world."
After demolition is complete, Hangzhou Chengdong Xincheng Construction and Investment Co will take over the land. Residential buildings will be built, mainly for residents whose houses are being pulled down around the market, and a kindergarten and primary school will be built for local children.
"The highlight lies in a greening project. We will broaden the greenbelt along the promenade of the Grand Canal, and carve out a 30-meter-wide greenbelt between the complex and Gengshan Elevated Road," said Ni Jianhang, leader of the company's design department.
Other popular markets in Hanghzou
Evergreen Garment Wholesale Market
One of China's largest wholesale venues, it houses between 12,000 and 15,000 shops, offering everything from buttons to fine linen and cashmere clothing.
Address: 88 Hanghai Rd
Fengqi Flower and Fish Market
The 9,000-square-meter market is the largest fresh flower trade center in Zhejiang Province, where flower growers, suppliers and buyers gather every day from 2am, trading, dispatching and bargaining.
Address: 25 Fengqi Rd E. (south gate) and 198 Kaixuan Rd (west gate)
Wushan Flower and Bird Market
This old-fashioned market located at the east end of Hefang Street sells flowers on the first floor and plants and bonsai on the second.
Address: At the intersection of Hefang St and Laodong Rd
Dongxin Fruit Market
This large fruit market in downtown selling fruit about 30 percent cheaper than supermarkets offers an ideal place to stock up on New Year goodies.
Address: 62 Chaohui Rd
Source: SHINE Editor: Su Yanxian Special Reports