China Art Museum celebrates 5th anniversary
12:00 UTC+8, 2017-09-28
0
A series of exhibitions are being planned to mark the 5th anniversary of China Art Museum at the former World Expo site in Pudong. 
12:00 UTC+8, 2017-09-28
0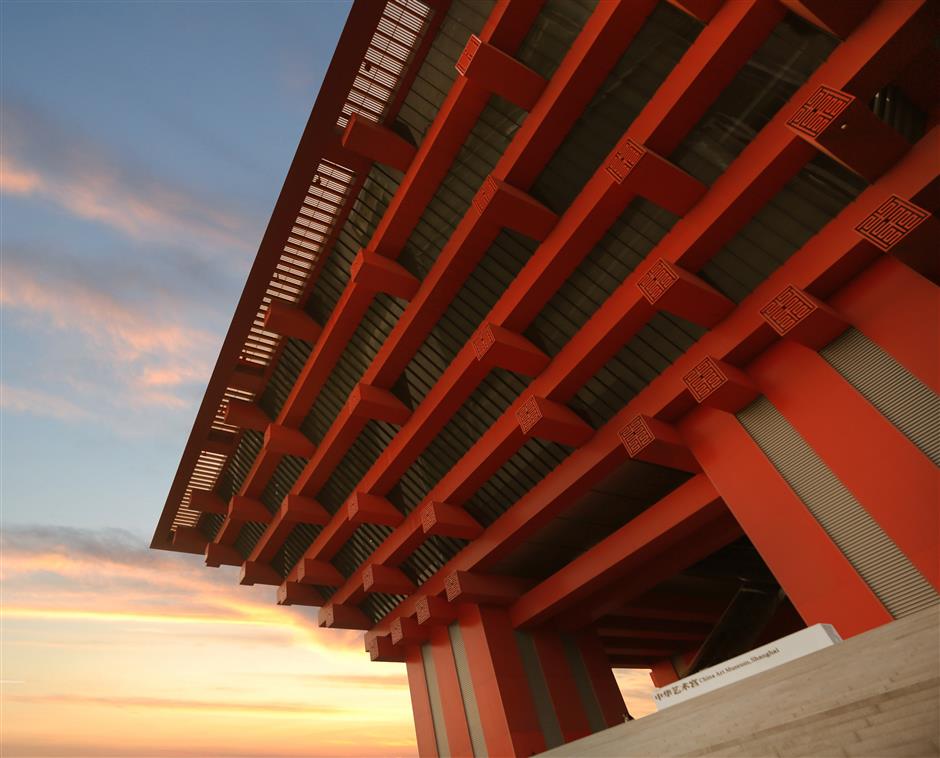 Ti Gong
Five years ago when Shanghai Art Museum relocated from Nanjing Road to the former China Pavilion at the World Expo 2010 site in Pudong, many feared it would lose its regular visitors due to the location.
But the rechristened China Art Museum has since then become a key art venue in the country, serving as a platform for public exhibitions, academic research, public education and international art exchange.
It will celebrate its 5th anniversary on National Day on Sunday. To mark the occasion, a series of exhibitions and activities have been planned. Among them is an ongoing large-scale exhibition of landscape ink-wash paintings by Shanghai artists.

About 120 paintings by different generations of artists — from the 1920s to the 1980s — are displayed, including works of big-name artists like Chen Peiqiu, Xiao Haichun and Lu Fusheng. The exhibition runs until October 7.
"There was very little research done on landscape paintings by Shanghai artists in the past," says Gu Cunyan, curator of the exhibition. "But this is actually the core of Shanghai culture. I am glad that finally we are presenting them to the public."

The highlight of the exhibition is the works of 95-year-old Chen, one of the masters of ink-wash painting in China.
Ti Gong
Born in Nanyang, Henan Province, she showed an early interest in art, but unlike many of her contemporaries who gravitated toward Western realism, she became fascinated with traditional Chinese art.
Chen sees the Song Dynasty (960-1279) as the golden age of ancient Chinese art, so she engaged herself in copying the flower-and-bird paintings from this period. After decades of learning, she has developed her own signature color and free-hand style, which also references the light and shade as seen in Western impressionism.
Over the past five years, China Art Museum received 1.23 million visitors for its 180 exhibitions and 760 public art activities. Among the highlights were the exhibition on loan from Musée d'Orsay in Paris, works by Peter Paul Rubens and Anthony van Dyck from the Liechtenstein royal family, and Fernando Botero's exhibition.
The museum has 27 halls stretching about 64,000 square meters.
"We have worked with many important art museums in the world. Our aim is to conduct a dialogue between the East and the West," says Li Lei, director of the museum.
Usually the number of collections is one of the criteria to evaluate an art museum. That's also the task that China Art Museum faces.
Based on 16,000 art pieces on its collection list, China Art Museum has developed its own strategy in attracting more donation.
So far it has received about 750 pieces of artworks from family members of some masters such as Xu Beihong (1895-1953), and now it is expanding its scope to include some promising Chinese artists.
Wang Yuhong is one of them.
"Although it's not decided yet whether my work will be selected, I still feel honored that the China Art Museum is interested in my art," she says. "It is a recognition for me and my art. Actually I have already chosen three of my representative pieces for the museum. Of course, I can sell them at a high price, but it is more meaningful to show them to the public. In my eyes, that's a real artist."
Ti Gong
Director Li adds, "We encourage donations from artists and their families, because a top art museum is always the best place to display the works."
Besides exhibition, Li and his team have another responsibility — public education. A variety of events varying from lectures, films, concerts, parent-child activities are regularly held at the museum.
Tang Yilei, a white-collar worker, took her 10-year-old daughter for an ink-wash painting class there.
"It was very inspiring for my daughter, and she started to learn the charm of traditional art," Tang says.
"I always keep an eye on the museum's activities," she adds. "On October 2, there's a white-collar salon on Dunhuang murals. I will come for the lecture and learn more about Dunhuang.
"There will also be a paper-cutting and an ink-wash painting class on October 1. I am sure my daughter will be interested."
"We want to nurture the younger generation," Li says. "In addition to children-themed exhibitions, we also invite artists to teach young visitors how to paint and inspire them."
Li also thinks highly of the museum's 1,300 volunteers who not only play an important role in introducing the artworks on display, but also assist the curating team at the museum.

China Art Museum is now honing its digital technology. Visitors can either scan the QR code alongside with the art piece to learn more about the work, or they can download the museum's app for a 3D map to ensure an easy tour.
"It is very easy to get lost in such a daunting-sized museum, but we are trying every means to make sure that not a single visitor gets lost here," says Wu Wenwen, vice director of the museum's information center.
China Art Museum
Opening hours: Tuesdays-Sundays, 10am-6pm (no entry after 5pm)

Address: 205 Shangnan Rd, Pudong New Area
Ti Gong
Source: SHINE Editor: Liu Qi Special Reports