Luxury consumer brands fail in Year of the Rat product theme
00:00 UTC+8, 2020-02-14
0
The rat is not as loved as other animals in the Chinese zodiac, therefore posing a great design challenge for big brands trying to market for Chinese consumers. 
00:00 UTC+8, 2020-02-14
0
The Year of the Rat has got off to a bad start. The novel coronavirus has infected thousands since the outbreak in Wuhan, Hubei Province, in December, leaving China in a somber mood.
Only two months before the outbreak, the country was bathed in a festive atmosphere and ready to embrace the new year.
Traditionally, big luxury brands launch new zodiac animal-themed products each Lunar New Year. But, because the rat is not a likable animal in Chinese culture, this has been problematic.
The rat has connotations and symbols of theft, treachery and disease, and is not as loved as other animals in the Chinese zodiac, therefore posing a great design challenge for big brands trying to market for Chinese consumers.
Givenchy celebrated the Year of the Rat with a limited-edition rat motif collection: a four-lobed design comprising four rats in an undulating profile, overlaid with graphic lines for a labyrinthine effect.
The well-designed motif, however, looks like two bats at first glance, an animal that is regarded as an auspicious image of good blessings and longevity in China but now blamed to be a natural reservoir of the novel coronavirus.
For most big brands, the easiest way is to team up with some of the world's best-known, deeply rooted mice and their adorable faces.
Gucci went with Mickey Mouse, and released an entire collection with Disney in time for the Year of the Rat in a new campaign shot by photographer and director Harmony Korine.
Gucci's New Year greeting is appreciated but it might not be accepted by trypophobia people (who have a pathological fear of holes). Seeing numerous mice in lines and circles on the skirts, silk pajamas, hats and handbags might freak some people out.
Jerry, from "Tom and Jerry," said Happy Chinese New Year from Etro in a more restrained way.
Tom is nowhere to be seen, by the way.
The Italian brand introduced Jerry mouse to star, alone and lonely, in its special capsule collection dedicated to the Year of the Rat with special mixed paisley prints on bags, scarves, T-shirts, sweatshirts and shirts.
Watchmaker Blancpain created its first porcelain dial for the Year of the Rat.
This special edition, featuring an effigy of three rats, painted in a realistic approach without much artistic adaptation, like the rats you want to get rid of in the attic.
Louis Vuitton kept things to a minimum this year.
Rather than splashing out on a full collection, they've created a black luggage charm in the shape of a rat, printed with their monogram and a stud detail.
The designer appears to be paying tribute to the villain rat "one ear," who loses his ear in a theft, in the Chinese cartoon "Detective Black Cat" issued 30 years ago.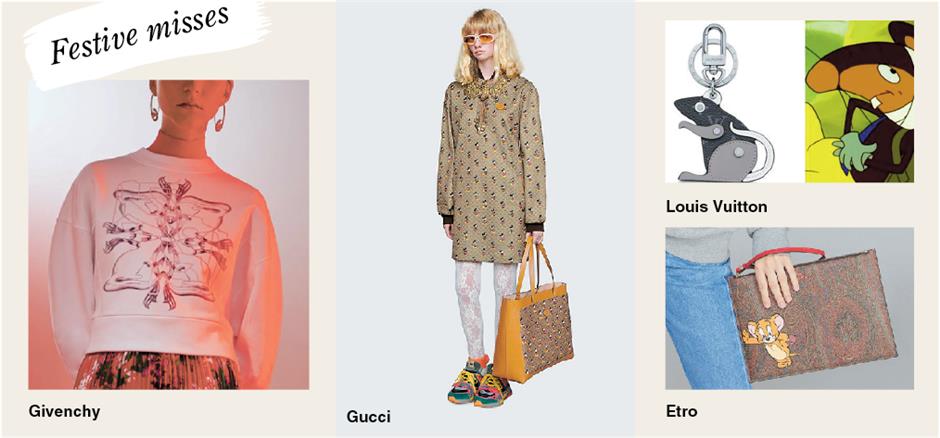 However, some luxury brands hit a high score on the rat test.
Chopard released a watch with a rather adorable image of a mouse, in collaboration with a Japanese studio that specializes in urushi, a lacquer painting technique.
Chloe's Chinese New Year collection features a cute, artistic rat in a light watercolor illustration and gold mouse-shaped accessories. It goes well with the soft, sweet spring daydream theme.
You can never go wrong with red on Chinese New Year if the rat is hard to handle.
Estee Lauder launched its red-packed advanced night repair, while Burberry also played the safe red card to drop an entire red collection for both men and women after it stirred up some controversy with their 2019 Chinese New Year ad campaign that was criticized by netizens as "somber and creepy."
Source: SHINE Editor: Zhang Liuhao Special Reports