Booming video game industry is music to the ears of academy students
20:14 UTC+8, 2023-03-20
0
A video game music composition contest dropped curtain in Shanghai last week, with organizers hoping it can help young composers improve and better connect with the market.
20:14 UTC+8, 2023-03-20
0
Quality music is an essential part of a good game, and the industry is keen to find more professionals adept at both.
Last week, a video game music composition contest dropped curtain at Shangyin Opera House in the form of a concert, during which 15 award-winning original works by composers from all over the world were performed.
Organized by the Shanghai Conservatory of Music, the contest, in its second edition, attracted some 300 global contestants in the preliminary round, 15 of whom made it to the final after being selected by the judging panel.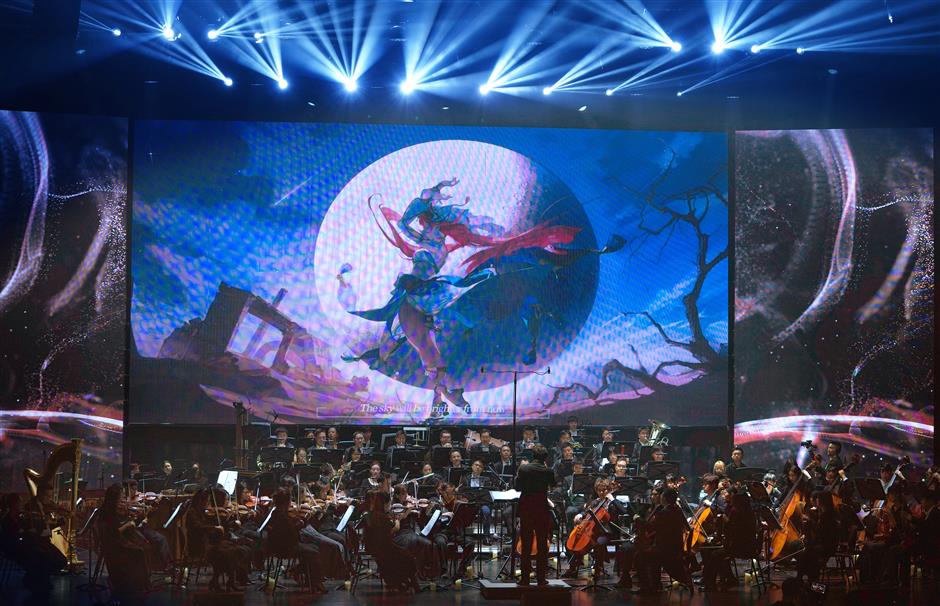 Ti Gong
Eventually, Brazilian competitor Antonio Ibrahine Gomes claimed the top award for his original composition "Moment of Life and Death," pocketing the 100,000-yuan (US$14,520) top prize money.
"Students and young composers are showing increasing interest in video game music composition, and the conservatory noticed it," An Dong, a professor at the Shanghai Conservatory of Music, told Shanghai Daily. " We hope to cultivate such talent and help connect them to the international market through such activities."
The contest set two second-prize and three third-prize spots. Among the top six winners, two were from China. Peng Jiaxing, a junior student of the Shanghai Conservatory of Music, won the third prize for his original composition "Welcoming the Spring Festival" for RPG game "Genshin Impact."
According to contest rules, finalists have to choose one from the few provided video game clips and compose music accordingly. Each clip is attached with a paragraph of test description to explain the setting of the game scene. The composition shall be completed within a month.
Ti Gong
"I chose the clip because I sensed a strong festival phenomenon," Peng told Shanghai Daily. "I wanted to create a joyful atmosphere at the contest as we have all experienced difficult times in 2022."
Peng spent some time deciding on suitable instruments for his work.
"I borrowed elements from Peking Opera percussion, used erhu and bamboo flute in the main tune for a long-span sound layer so as to create a sense of impact," he said.
Peng's schoolmate Wang Haoze, another finalist of this year's contest, is in his freshman year. The 19-year-old was also the youngest competitor.
Wang's choice of game clip relied much on his instincts.
"When I saw the game scene, I immediately had a melody in mind," he pointed out. "But in the procedure, I had hesitations and composed six copies before deciding on the final one."
Both Peng and Wang are majoring in music engineering. According to professor An, students from composition and music engineering majors are more likely to choose digital and video game music as their career development direction.
"Digital music requires technical skills, which is engineering students' strong suit, while composition major students are familiar with orchestral composition patterns," explained An, who is also the artistic director of the contest.
"The purpose of organizing such a contest is to show the conservatory's support for young people's exploration in this area," he said. "Digital music, including video game music, is a fast growing industry in China. Game music composers are responsible for game developers and users. Apart from professional skills, they have to know about market rules, too. We hope to cultivate such students who can adapt themselves well in society with the help of their skills."
According to a 2022 report by digital and mobile analysis agent Sensor Tower, half of the top 10 grossing games worldwide are made in China.
"Some China-produced games, like 'Genshin Impact' have more overseas players than domestic ones. To involve Chinese elements into all creation aspects of the game is also a efficient way of exporting culture," said An.
Ti Gong
The booming video game industry is music to the ears for domestic bands, record labels, as well as young composers like Peng and Wang.
"We are very familiar with digital music not only because of our major, but also our interest and confidence in the promising prospect of digital music," said Peng. "Movie, short videos, animation, these are all application areas of digital music."
The video game music composition contest is only in its second year. Professor An said he witnessed improvement of Chinese contestants, but the gap between Chinese composers and their foreign counterparts is still obvious.
"The top two winners are foreigners," said An. "We noticed that Chinese composers are often influenced by existing works, and their creations are of similar style. There is a lack of innovation and distinctive personality in their music. The contest can help domestic creators find problems and improve."
Source: SHINE Editor: Wang Yanlin Special Reports