Art Deco apartment's film-theme focus
13:02 UTC+8, 2020-05-12
0
Exotic decor, stylish ambience and delicate French touches not only appear in classic movies, they have been recreated in Chinese couple Tony Zheng and Wang Xiaoqiu's apartment.
13:02 UTC+8, 2020-05-12
0
Exotic decor, stylish ambience and delicate French touches not only appear in classic movies like "Der Liebhaber," "Indochine," and "Out of Africa," they have been recreated in Chinese couple Tony Zheng and Wang Xiaoqiu's newly renovated apartment in the city's historic downtown area.
The couple were tired of living in a high-rise apartment and wanted something different. And despite having busy schedules, they love to travel and watch movies in their spare time, so they wanted to incorporate that theme in a classic apartment. Fortunately, they didn't have to wait long to realize their dream.
"It was so different from our previous living situation. And it's on the top floor, which is rare for an old apartment," Zheng said. "We are both busy and don't travel a lot but wanted to create a traveling theme in our new apartment. Our brief was simple: We told our interior designer to get to work with the movies that we love — "Der Liebhaber," "Indochine" and "Out of Africa."

Courtesy of Baptiste Bohu / Ti Gong
The apartment is on the top floor of a 1920s Art Deco-style building, on the corner of the city's most beautiful tree-lined street, dotted with boutiques and cafes.
French designer Baptiste Bohu was thrilled to take on the project as his aesthetics fit perfectly with the couple's wishes.
"The apartment's layout was not easy to work with. It is on a corner and has a U-shaped layout around the central staircase of the building. We had to rework a little on the layout because some rooms were too small and it has a crucial lack of storage space for modern living," Bohu said.
It was important to retain as much of the original features as possible or to rebuild authentically.
"We did some research on the building so we could match the interior structure with the outside. The challenge was to accommodate modern living into an authentic style and to include floor heating, a smart system and AC without losing its 1920s charm," he said.
The general interior style of the apartment is designed on a traveling theme, with routes from China, India to Africa. The designer used many objects sourced worldwide for an exotic look keeping the real Shanghainese identity that he loves. Different elements are harmoniously balanced in different sections of the apartment.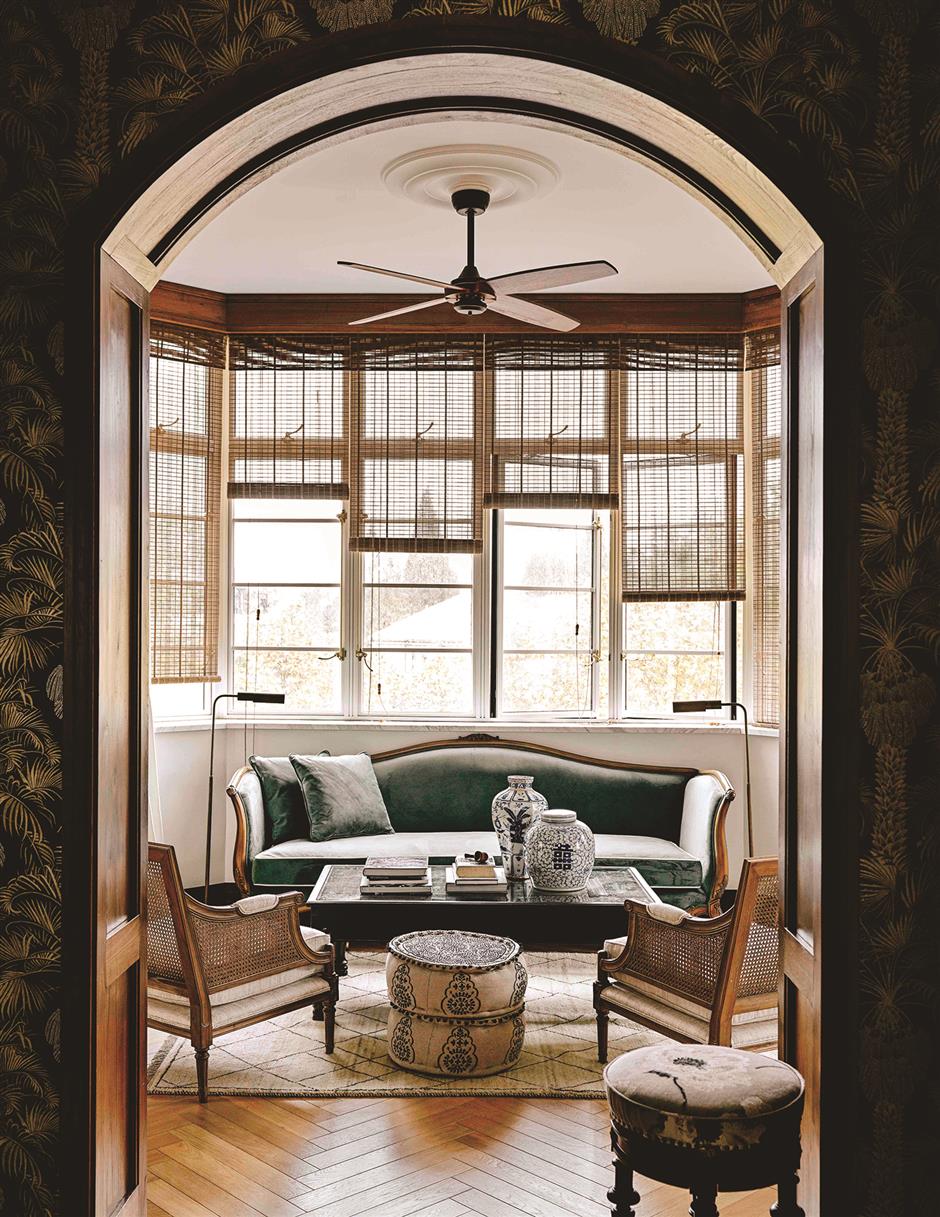 Courtesy of Baptiste Bohu / Ti Gong
Shanghai in the 1920s is recreated in the emerald green and ivory white marble mosaic floor pattern at the entrance, which was popular in that era. They covered the walls with a wallpaper from Cole & Son, designed by Martyn Lawrence, with palm tree patterns and designed the entrance cabinet with safari luggage.
The entrance gives way to a corridor and to the main living room. The living room features a soft brown wooden floor and a large Moroccan- style rug from Carpetsan.
"We designed and produced most of the furniture to create a safari traveler tent style. You can see some shelves from India, stools from Morocco and decorative pieces from Bali, Indonesia," Bohu said.
The wallpaper, by French brand Ananbo, is inspired by the Bali landscape, thus giving off a tropical vibe. The designer loves the mix of objects in this room. One side of the living room leads to a reading area with a white lounge chair and another side to the dining room.

Courtesy of Baptiste Bohu / Ti Gong
"We also created two amazing wooden and glass doors inspired by 19th century Belgium interiors. I wanted to give an open feeling in the apartment and still keep the privacy of different spaces," Bohu said.
The master bedroom has a four-poster bed with beautiful white linen curtains to establish a romantic tone. The bed head is creatively made of an antique Indian door frame and bed cover from Iran, casting a warm and exotic touch to the room. The desk facing the bed is a British design, inspired by an old traveler's desk.
Next to the bedroom is a gorgeous bathroom with an Art Deco-style mosaic floor pattern, and a bathtub from Kallista placed in the center.
Bohu manages to conjure exotic designs against soothing backdrops. Whether it is the rich detail of a porcelain vase or an antique frame, he realized the potential of local cultural sources and design elements to impart magical moods in the settings.

Courtesy of Baptiste Bohu / Ti Gong
On the other side of the main living room, there is a second lounge area that can be used for reading, computer work, movies and as a guest room. It has an original well-kept Art Deco fireplace in stone and the designer used a Moroccan technique to paint the walls in beige tasdelakt.
"Overall this apartment gives the feeling that you are traveling in time. It still feels very authentic and belongs in Shanghai but with a collection of furniture and objects sourced or inspired by many countries. It is a cultural exchange within a living space," said Bohu.
"As a designer, Bohu really understood what we were trying to achieve. His exploration is not just limited to what style we like but who we are as people.
"He dug deep into our personalities and hobbies and then transferred them into his design. Every corner of the apartment is a beautiful frame of a movie set," said Zheng.
Courtesy of Baptiste Bohu / Ti Gong
Source: SHINE Editor: Fu Rong Special Reports