Shops without cashiers: a boon or a bust?
14:55 UTC+8, 2018-07-31
0
Consumer curiosity, even enthusiasm, that greeted the onset of cashier-free stores seems to be slowly fading and store operators are diversifying their offerings. 
14:55 UTC+8, 2018-07-31
0
SHINE
Consumer curiosity, even enthusiasm, that greeted the onset of cashier-free stores seems to be slowly fading.
Xing Bianli, Bingo Box and other much-hyped shops that rely on technology instead of humans to ring up sales and take payment just don't seem to offer a shopping experience that people understand or want.
In fact, some consumers complain that the "new retail format" isn't really much different from using automated vending machines that have been around for more than a decade.
Shanghai office worker Claire Chen said she sometimes shopped at a Bingo Box store in the Yangpu District during lunch breaks but hasn't visited lately.
"I can buy similar products at a nearby convenience store or even from a vending machine inside my office building," she said. "Why walk further if I don't have to? "
Cashier-less shops aware of their waning popularity are now trying to tinker with the business model to make it more attractive to consumers.
Shanghai-based Xing Bianli, one of those operators, is seeking to diversify its offerings. It is adding more house brand snacks and tea drinks.
Ten Xing Bianli shops have opened in Shanghai, allowing self-service check-out of prepackaged food and fresh cooked meals. Shoppers can order and pay for items by phone, then pick up their purchases later. They can also order for delivery in a 500-meter radius of any store.
Last November, Xing Bianli raised 380 million yuan (US$56.7 million) from Sequoia Capital, China Renaissance and other investors to upgrade its vending machines, and earlier this year, it also received strategic funding from Alibaba's financial affiliate Ant Financial.
Since the preparation of fresh-cooked meals still requires some staff on site, two employees are normally present in a Xing Bianli outlet during peak hours.
Players in the cashier-less shopping scene need to acquire a technological advantage over rivals or need to expand their business territory to cover as many as potential users as possible.
Competition is mounting from small supermarkets and convenience stores as some of them are now allowed to process food instead of just selling prepackaged food. That change came under a new policy from Shanghai's food and drug authorities, which has given officer workers wanting a quick bite more choices.
According to a recent study by Kantar Worldpanel, as many as 52 percent of urban shoppers purchase goods from both online channels and brick-and-mortar stores. This category of shoppers tends to make purchases more frequently and spend more money, compared with those who shop only in supermarkets.
Shanghai-based fresh orange juice vendor Vingoo Juice recently combined machines selling juice, coffee, fresh-baked croissants, pizza and other snacks in a new shopping space inside the People's Square Metro station.
After a consumer chooses items from the vending machines, the total purchase value is automatically calculated and a payment can be made through Alipay or WeChat accounts.
"It takes just half a minute to grab a cup of coffee, which is much faster than waiting in a line for a cashier in most convenience stores during rush hour," said Shanghai office worker Crystal Cheng, who is in her late 20s.
She said she wishes vending machines offered even more food and beverage choices.
Most snacks and drinks sold in Vingoo Juice's machines cost about 15 yuan, which is about a third more expensive than similar items sold at traditional convenience stores like FamilyMart or 7-11.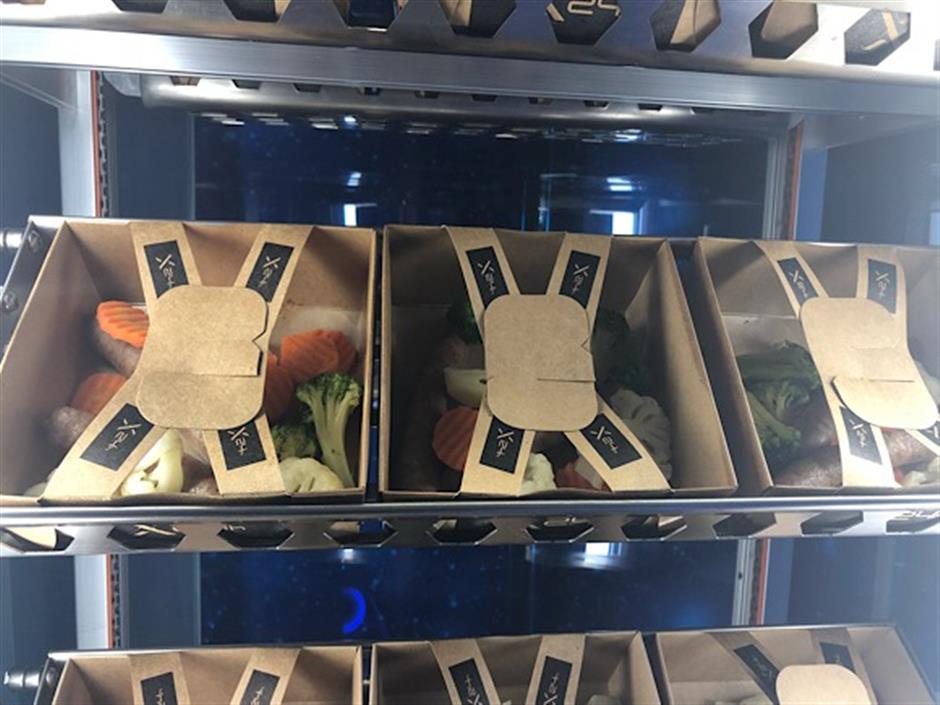 Ding Yining / SHINE
Last November, Shanghai Geant Investment, which developed and promotes the Vingoo Juice machines, raised 400 million yuan to expand product lines in its vending machines.
Jason Ding, a partner at Bain & Company, where he heads consumer products, retail and digital operations in China, said cashier-less shops offer relatively little value for the retail industry. Only limited efficiency is gained by speeding up the check-out process and saving labor cost, he said.
Self-service check-out doesn't mitigate the need for logistics and merchandising personnel, and cashier-less shops can be more prone to lost products, bringing extra cost for store operators.
"The introduction of self-service check-out is still quite some way from the 'smart retail' model ballyhooed by operators of cashier-less shops," Ding added.
Automated vending machines have already proven to be a stable business model with potential growth, thanks to mobile payment infrastructure in China.
Newcomers to the cashier-less realm still need to identify what their target consumer groups want, instead of just splashing out new ideas without addressing the real concerns of shoppers.
Internet companies are seeking to target vendors and smaller businesses by offering digital technologies that can ultimately help them expand their reach to a wider body of consumers.
Alibaba lifestyle service affiliate Koubei aims to link with as many as 1 million canteens and restaurants to help them raise operational efficiency and provide them with self-service order and check-out services.
Chief executive officer Fan Chi said vendors can no longer rely on discounts to attract consumers must adopt new strategies, such as digitalizing menus.
JD.com's on-demand delivery unit JD Daojia said it's upgrading to a new generation of automated vending machine and hopes to add 5,000 locations to its network by the end of this year.
How to monitor the safety and quality of food sold through vending machines remains a challenge for food safety watchdog.
Source: SHINE Editor: Zhang Yi Special Reports