A breath of fresh air for Milan fashion week
16:09 UTC+8, 2017-09-29
0
One trend is clearly all the rage this season — open-air fashion shows.
16:09 UTC+8, 2017-09-29
0
Designers are breathing fresh air into Milan Fashion Week, quite literally
Fashion houses are showing their collections outdoors this season, or at least throwing open windows on their grand palazzi venues, betting on Mother Nature with open-air shows.

Giorgio Armani

When the times go dark, Giorgio Armani goes bright.

The 83-year-old designer's collection for next spring and summer bursts with florals and color, often on a background of black. The silhouette is loose and feminine, with short skirts featuring leg-revealing tulip hemlines, sheer organza pantsuits with an easy cut and casual apron dress with abstract florals.
The designer often layered florals and prints over dark underlays — perhaps a message to see the brighter side of things. At other times he placed a sheer layer over prints, creating a smoky effect. Silken printed skirts opened over a black dress, or a long, draping foulard tucked across the front of a cocktail dress. The prints were inspired by painters, the designer won't say whom.
"I respond to sadness with color," ANSA quoted the designer as saying.
The primary color combinations for daywear are red and purple with black accents, segueing into grays for formal suits and black for evening.
Despite the designer's intentions, long black veils over cocktail dresses had a funereal feel, and somehow the pompoms bouncing on scarves and bedecking caps failed to provide levity. The prevalent bangle shape: Teardrops.
AFP
AFP
AFP
AFP
Moschino
It all ended in a floral flourish. Jeremy Scott's latest collection for Moschino celebrated the confluence of strength and femininity, mixing biker elements with dancer's tutus, studs contrasting with ostrich feathers.
The tone changed and there was a literal deflowering as a model attired as a tulip let her petals flutter into the fashion crowd. And so followed a bouquet of looks inspired by flowers, from an orchid to a floral bouquet to a bunch of roses.
The collection also included a capsule collection available immediately featuring "My Little Pony," including a jersey and lurex bomber, a biker bag, backpack and T-shirts decorated with bows, stars, rainbows and butterflies.
AFP
AFP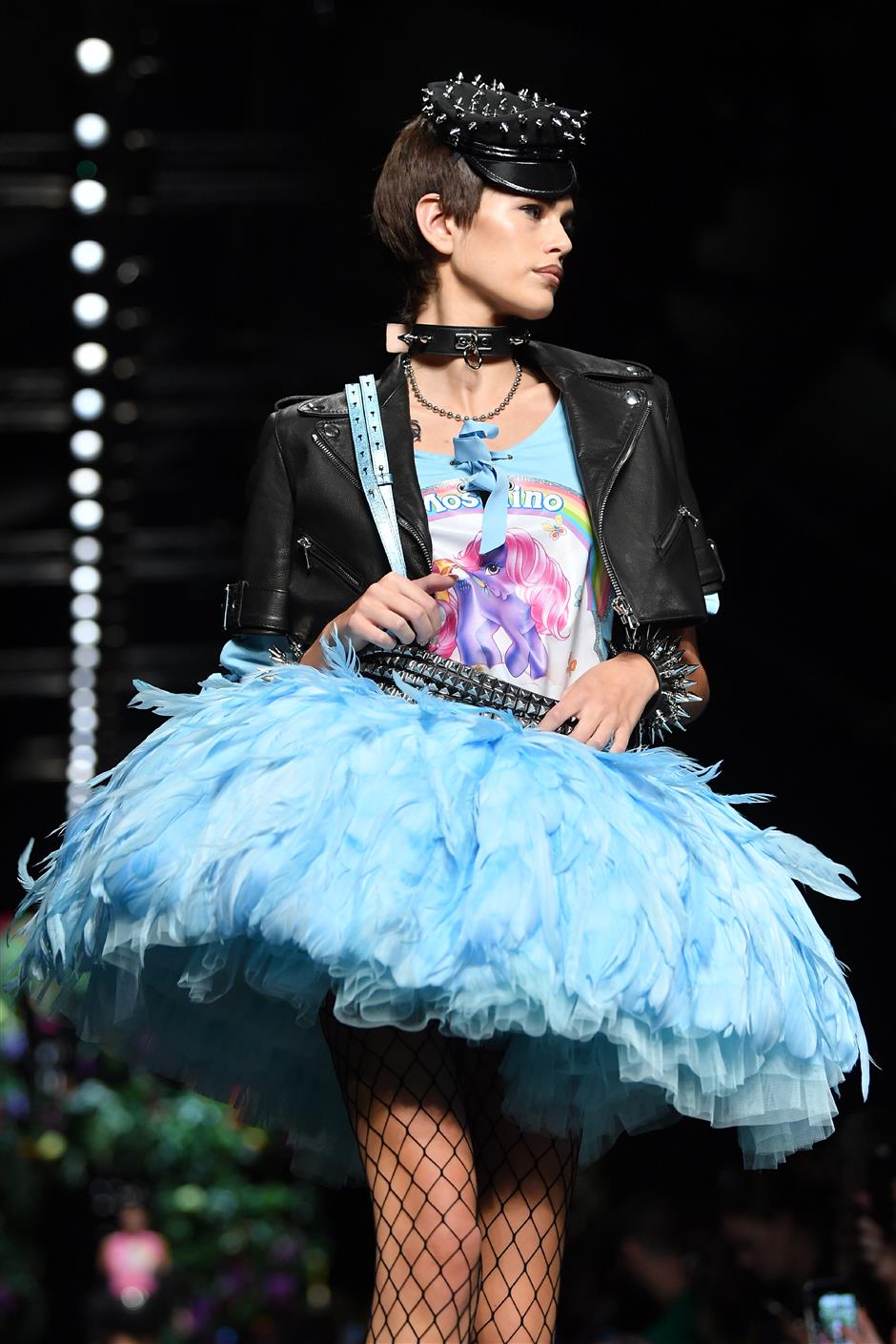 AFP
AFP
AFP
AFP
Prada
Miuccia Prada wants to inspire, if not incite, women to claim their own power. Her medium is, of course, clothing.
Backstage, the designer said her message is "for women to be strong, because there is still so much against us. And so we need a lot of cleverness, intelligence and strength."
Her collection was literally drawn on a white canvass on which she constructed the new manifesto, inspired by female graphic artists from the 1940s and 1960s who helped the designer realize "that through these comics, who can tell in a light way so much more than if you are serious."
On these white garments, she printed panels comics by and about women, just one of the devices she used to recall and provoke female action.
An overcoat is a reconstructed men's overcoat, worn backward, with a new opening up front. It is hers now. She dresses in no-nonsense black trousers and a blue-and-white striped shirt, then, claiming her femininity, her childhood sense of freedom, she wears over it a brocade dress or bustier.
Jacket panels were covered with studs, her toughness. Or with pins, her memories. Or with animal prints, her rebellion.
She's a rebel, she's a punk, she's a rocker, she's a campfire girl, and her wardrobe represents a collage of her life. She is writing her own story.
Prada acknowledges a sense of anger underlining the collection.
"I feel we really should start combatting. I am really encouraging strength. Particularly now."
AFP
AFP
AFP
AFP
Dolce&Gabbana
There was something for everyone on Dolce&Gabbana's "Queen of Hearts" runway — even an elaborate, colorful applique jacket reminiscent of the $51,000 number that Melania Trump famously wore to a summit in Sicily.
Could the message be that there is a queen — or first lady — in everyone?
While Domenico Dolce and Stefano Gabbana maintained their pact to supply the world with sexy dresses for day and evening, they also gave the collection some decidedly off-beat touches.
The Melania floral jacket, for example, was worn over a vegetable print dress that is unlikely to attract the First Lady's eye for clean lines.
Dolce&Gabbana's Queen of Hearts was a central theme for the season, appearing in its most elaborate version in heavily bejeweled dresses or as brightly sequined tops and leggings.
But prints featuring vegetables, Sicilian deserts or animals of the savannah certainly competed for billing — paired with funky eyewear featuring fringe or tiny jeweled hands or ornamental earrings shaped like eggplants or holiday decorations.
In a more unusual turn for the designers, a wrap dress with an abstract print was paired with yellow tights with oversized blue polka dots — a more eccentric, or perhaps just more youthful, combo than usual Dolce&Gabbana look. It suggests the designers are taking some cues from the Millennials who have packed their front rows in recent season.
A raffia weave top in primary colors definitely fits the duo's Sicily vibe, but a rainbow weave corset over a matching diaphanous evening gown had Harlequin feel that veered toward costume.
AFP
AFP
AFP
AFP
AFP
AFP
AFP
AFP
AFP
AFP
AFP
AFP
Source: Agencies Editor: Fu Rong Special Reports