The season of smiles, love and giving back
13:50 UTC+8, 2019-12-05
0
Diantha Chong talks to three volunteers with a desire to give back to the community by helping underprivileged youths, sick children and abandoned orphans.
13:50 UTC+8, 2019-12-05
0
As winter creeps in, we look forward to a Christmas season of good food, gifts and quality time with loved ones. But let's not forget the people who may not have the same opportunities. Diantha Chong talks to three volunteers with a desire to give back to the community by helping underprivileged youths, sick children and abandoned orphans.
Courtesy of Baby's Home
Courtesy of Baby's Home
A smile that transcends language
No words were needed to persuade a Singaporean volunteer to give back to the community. For Lilly Wong, a child's smile is enough to captivate her heart. This started her journey in supporting charity organizations such as Baby's Home in Shanghai.
Baby's Home was founded by 11 Shanghai mothers in 2008 who wanted to help orphan children with urgent medical needs. Baby's Home was born to help give them access to medical care and a loving environment in which to heal.
Wong engages with these children as often as her schedule allows. She has also spearheaded various fundraising projects such as CEO Charity Kayaking (2017) and Run4Love (2019) — with all the money raised going to Baby's Home.
Wong says her background as an adoptive parent inspired her to contribute and support charities such as Baby's Home. Its cause is something she holds dear.
Asked why she decided to adopt or support the cause of helping abandoned children, she simply says "it was the smile of my son."
A simple smile that kindled her passion to give back to the community and make an impact on these abandoned children's lives.
Courtesy of Shanghai Young Bakers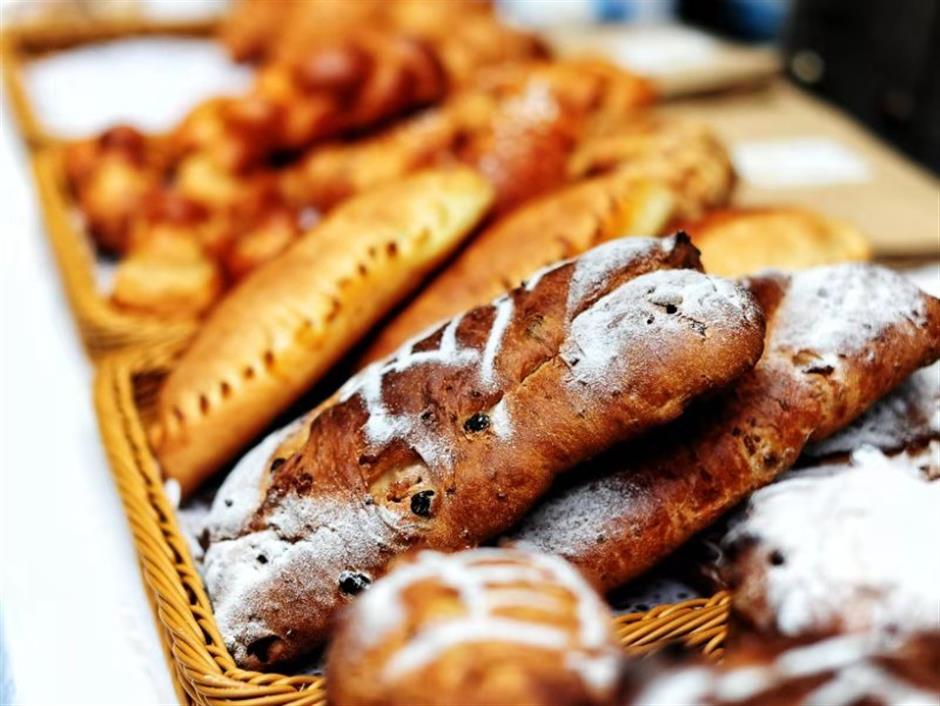 Courtesy of Shanghai Young Bakers
How bread helps underprivileged youth turn their lives around
A love for bread started a 30-year-old professional's journey as a volunteer. Chen Mengxin, who is in the pharmaceutical industry, is a regular volunteer with Shanghai Young Bakers.
Despite her full-time job, she sells bread made by graduates of SYB's training program at a weekend market on Jiashan Road.
Chen, an active volunteer with SYB since 2015, was initially drawn to the "aroma of freshly baked French bread" and then realized the program was "very inspiring because it combines bread and charity which is different from other charity programs in China."
SYB was started by 12 French volunteers who were inspired by a social bakery in Vietnam. With a one-year baking training program, SYB aims to empower underprivileged youths with the technical skills they need to live independent lives after graduation. Chen said she could truly feel her efforts had made a positive impact on the students in the program.
"Our students often help out in the market, I remember how they were initially very shy and not willing to speak out. However, after much encouragement from the volunteers, they gain courage and confidence to communicate with foreign customers, even if it is a simple thank you."
Chen said one of the most direct impacts she could see from her efforts was a surge in revenue. This is especially rewarding because the proceeds from the market would go back to sponsoring future aspiring bakers.
The increase in sales is also a confidence boost for the young bakers.
Chen said many market volunteers, including herself, had made new connections with students and customers. Some customers had even become regular volunteers with SYB.
Courtesy of H2H
Courtesy of H2H
Saving a child's life
Karen Harrington is executive director of Shanghai-based charity Heart to Heart (a special fund of the Rende Foundation). It helps provide corrective surgery for Chinese children suffering from congenital heart disease.
Even though the executive director, Harrington considers herself a long-time volunteer because Heart to Heart is fully run by passionate volunteers who don't take a salary.
The charity operates without any operating budget or reimbursement. Its sole purpose? Simply to "save children's lives."
This was the reason for her decision to start volunteering full-time with H2H almost 12 years ago. "I didn't want to take a salary when that salary would have taken away the funds that could be earmarked for children to have their surgeries. H2H doesn't pay any salaries so it was what I was looking for there." Currently, Harrington leads about 100 volunteers (about 40 percent of them local Chinese) who volunteer for three or more hours a month. She says H2H "literally helps to change the children and their families' outlooks on life."
H2H is often the last ray of hope for many children.
Karen has witnessed how "some are close to death when they come to hospitals for surgery."
"Whether the surgeries we do are simple procedures or complex open heart surgeries that requires further more surgeries over the years, the children's lives are saved."
However, Harrington said H2H does not only stop at saving children's lives. There are still bills that need to be paid.
Prior to surgery, the children and their families were caught in a poverty trap. The parents were not able to work because they had to be full-time caregivers. They were riddled with debt due to mounting medical bills. With fully sponsored medical treatment, the vicious poverty cycle is broken as the children are able to go to school and their parents can return to work.
Harrington said the most rewarding part was seeing renewed hope in the children. "They almost always tell us that they now have a desire to help others and see the importance of it. They have hope because they know that strangers have cared enough to help them."
H2H has sponsored over 1,528 children for heart surgery and transformed the lives of the children and their families. For Harrington, "it was an amazing transformation to watch" and "when you can save someone's life through volunteering, it's a beautiful thing."
How you can give back
Baby's home
Gift your gift of time, consider volunteering with Baby's Home and be a part of the children's lives. Volunteering is a long-term commitment, so do be prepared to set aside time in your schedule to help these children. Alternatively, you could also make monetary donations to the organization.
To find out more you can contact them by email: contact@shbabyhome.org.cn.
Tel: 18017913529
WeChat: shanghaibabyhome
Website: www.shbabyhome.org.cn
Shanghai Young Bakers (SYB)
Pop by SYB's market store and buy a gift your loved ones with freshly baked bread this Christmas. Bread and pastries are freshly baked by SYB's graduates at Village 127 – a social bakery and café. All sale proceeds will go back to sponsoring underprivileged youths in SYB's training programs.
Venue: Jiashan Market
Date: 11am-5pm, 7 December
Address: 550 Shaanxi Rd N.
Alternatively, if you are inspired by their mission, you can be part of the SYB's volunteers team or make a monetary donation.
To find out more you could contact them by email: communication@shanghaiyoungbakers.com (for volunteering enquiries); development@shanghaiyoungbakers.com (for monetary donation enquiries).
WeChat: shanghaiyoungbakers
Website: www.shanghaiyoungbakers.com
Heart to Heart (H2H)
This Christmas, you can support H2H at the Paulaner Christmas Market. H2H will be selling their Heart Bears, which have personalized nametags of the children who have received sponsorship for heart surgeries. These heart bears are handmade by volunteers and help to raise awareness of H2H's cause.
Venue: Paulaner Christmas Market
Dates: 3-10pm, 6-8 December
Tickets: 30 yuan/US$4.25 (Entry tickets are exchangeable for food and drinks.)
Address: 555 Shibo Ave
If you want to become involved as a long-term volunteer, you can find out more about H2H's volunteering opportunities with projects such as "Playroom Project" where volunteers get to interact with children recovering from surgery. Alternatively, you could consider making a monetary donation.
For more information you could contact them by email info@h2hsh.net (for general information enquiries); groupvolunteers@h2hsh.net (for group volunteering enquiries); donations@h2hsh.net (for monetary donations enquiries).
Tel: 13916295852
WeChat: H2H上海心连心
Website: www.h2hsh.com
Source: SHINE Editor: Fu Rong Special Reports