Chinese fantasy animated short film collection wins wide acclaim
23:30 UTC+8, 2023-01-18
0
Since its debut on Bilibili, "Yao-Chinese Folktales", an 8-episode series, has turned out to be one of the most-viewed Chinese animations, with more than 110 million view counts.
23:30 UTC+8, 2023-01-18
0
Ti Gong
The popularity of Chinese fantasy animated short film collection "Yao-Chinese Folktales" has not only evoked people's enthusiasm for traditional Chinese culture and arts, but also enhanced Shanghai Film Group's confidence in developing a complete franchise and cultural IP.

Since its debut on the streaming platform Bilibili on January 1, the eight-episode series has turned out to be one of the most-viewed Chinese animations with more than 110 million view counts contributed by around 4.42 million netizens.
A joint effort of Shanghai Animation Film Studio and Bilibili, the 4K series features eight Chinese fantasy stories that are inspired by traditional Chinese literature works. They combine to offer a new definition and interpretation of folktales.
A total of 11 directors, mostly in their 30s and 40s, have displayed their imagination, passion and philosophical thoughts on diverse subjects like homeland, humanity, nature, universe and many unknown fields.
On Douban, a Chinese film and TV review website, the series got a 9.4 rating out of 10 for innovative storytelling and diverse elements of Chinese culture, such as puppetry, watercolor painting, paper cutting and traditional opera.
People have been amazed by the series' artistry and philosophies, saying that it has revived the past glories of Shanghai Animation Film Studio. In the history of Chinese cinema, the studio is known for creating a slew of classic animated images on the big screen like the Monkey King, Mr Black and Ne Zha.
Ti Gong
Ti Gong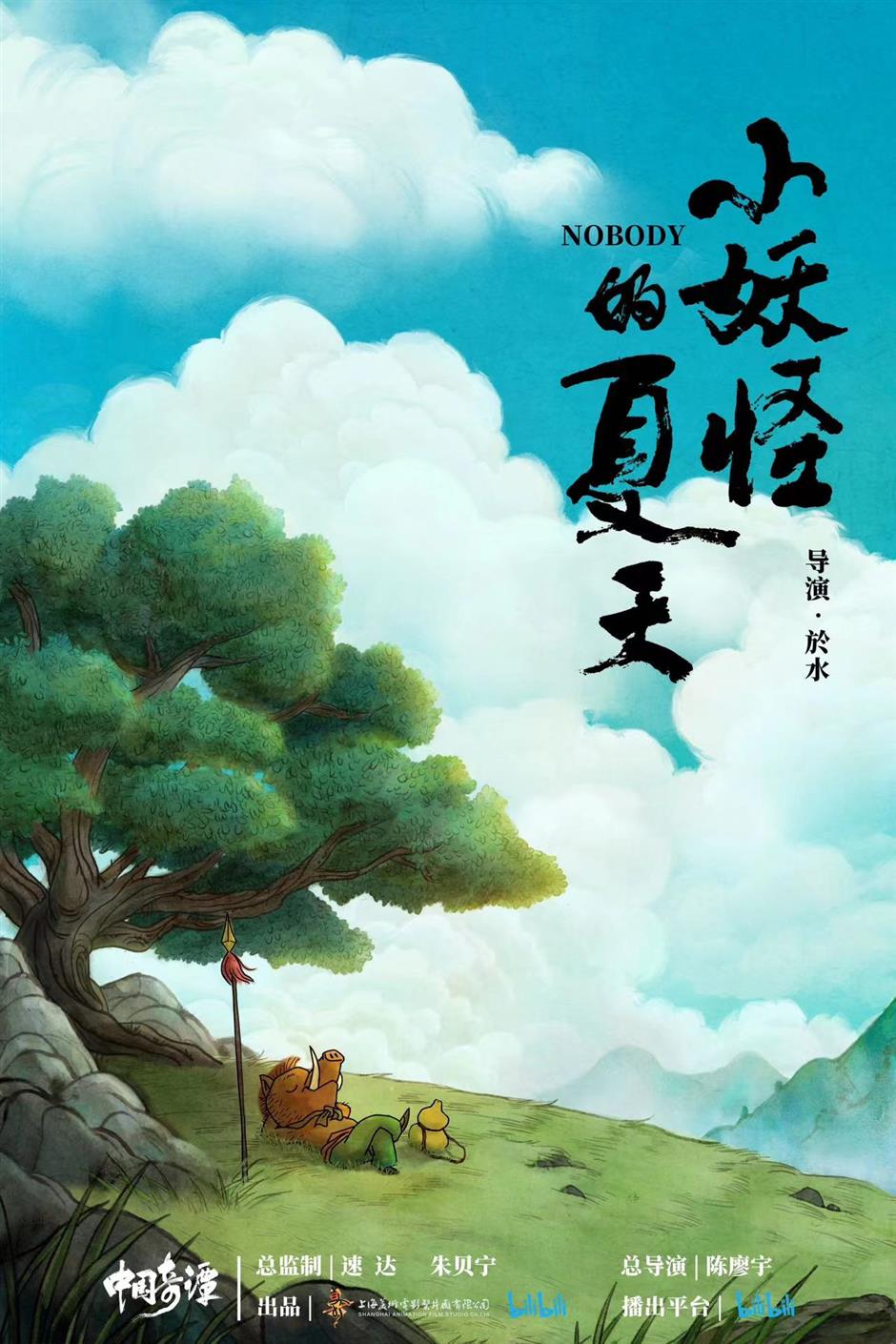 Ti Gong
Netizen "Beijing Scholar" said on Douban that the series has reignited his passion for Chinese animation. As a child, he was a big fan of the studio's works. He waited in front of the TV set every night for the studio's new releases. The current thought-provoking series, shot in varied cinematic styles, remains an allure for him.
According to Wang Jian'er, chairman of Shanghai Film Group, it took them two years to conceive and produce the series.
"We gathered a batch of excellent animation directors and encouraged them to interpret the charm and vitality of traditional culture anew," Wang said.
However, the directors' creations were not just limited to ancient Chinese folklores and mythologies. Many have combined contemporary urban fables with the time-honored stories and characters to present a novel and realistic flavor of today.
For instance, from the perspective of a pig monster, a "small potato," the episode "Nobody" reimagines the world of the famous "Journey to the West" in a different way. Monsters are depicted as hard-working employees who try their best to avoid being scolded by the boss, just like many ordinary people in modern society.
The only one who cares about the pig is his mom. She babbles on about his son's bad habit of drinking too little water, and worries about the fact that he has become a little bald because of stress. This heartwarming scene has resonated with many netizens. To take roots in a fast-paced society, many people are too busy to remember the most important persons or things in their life.
Yu Shui, director of this episode, said that he hopes to change people's stereotypes about "Journey to the West." In his eyes, "yao," literally meaning demon or monster in Chinese, are not all evil. They're just different species from human beings. They can be lovely, upset and heroic on the screen.
"Goose Mountain" is adapted from a short fantasy novel written 1,500 years ago by ancient Chinese writer Wu Jun. The original novel of only 546 words has been developed into a short animation film with more than 200 imaginative and artistic shots.
Without any dialogues, it is a thriller about temptation and desire. On the way to a village to send two geese, a peddler encounters a fox scholar who eats up his geese but invites him to drink some wine. With many metaphors to explore the truth about humanity, viewers may have different opinions on whether the peddler really loses himself in the Goose Mountain.
"She Wolf" is a sentimental story about a wolf pup's short-lived friendship with a hunter's son. When the hunter is chasing the little wolf, his mom sacrifices her life to protect the pup. Years later, the grown-up wolf and the hunter's son stand on the opposite banks of a river, staring at each other for a long time.
Ti Gong
Ti Gong
A sequel is planned for the series. In the future, Shanghai Film Group will also set up a company particularly to foster IP development of the franchise, including big movies and stylish spin-offs.
The series is also a tribute to the older generations of Chinese animators who created China's trademark animation style of watercolor painting.
After a century of development, Chinese animation has impressed the world with many original popular hits, including "Uproar in Heaven," "The Legend of Sealed Book," "Ne Zha," "White Snake" and "New Gods: Yang Jian."
In recent years, domestic animators have made remarkable progress in storytelling and visual technologies. The animation market in China is flourishing and is no longer dominated by Hollywood blockbusters. From 2015 to 2021, animated films earned 4.5 billion yuan (US$665 million) at China's box office. Around 70 percent of the revenue came from homegrown productions.
Ti Gong
Chen Liaoyu, chief director of "Yao-Chinese Folktales," attributes the achievements of Chinese animation to generations of animators' endeavors, exploration and innovation. He anticipates that a lot more vivid and diverse styles of Chinese animation will emerge to amaze audiences.
"China has a profound history and brilliant culture," Chen noted. "Chinese cultural traditions, customs, lifestyles and philosophies can provide a rich source of inspiration for our works. However, just like what our predecessors did, innovation will always take center stage in our future creation."
Ti Gong
Ti Gong
Source: SHINE Editor: Xu Qing Special Reports