Holiday box office a sneak preview of what's ahead in the movie market
17:05 UTC+8, 2023-01-28
0
The good times are rolling again as film buffs return to cinemas and theater operators say the worst days of coronavirus are behind them.
17:05 UTC+8, 2023-01-28
0
Imaginechina
This year's Lunar New Year holiday proved to be a bonanza at the box office as China's movie market rebounded from the poor ticket sales during the months of coronavirus.
Seven domestic films led the holiday comeback, attracting 129 million moviegoers with a rich menu of offerings, including a costume suspense drama from renowned director Zhang Yimou's and a sci-fi blockbuster from Guo Fan.
Despite a slightly lower average ticket price of around US$7.90, the box office nationally for the holiday period raked in more than 6.7 billion yuan (US$988 million), according to tracker Dengta Data – the second highest gross receipts on record.
Cinemas in Shanghai topped all cities in China with a holiday box office of about 250 million yuan. The city provided subsidies that reduced the price of tickets by US$2.95 each.
"With such a robust opening, 2023 will definitely be an extraordinary year for China's film market," said Ding Rong, a manager with Peace Cinema in Shanghai.
Ti Gong
Zhang's "Full River Red" was the highest grossing movie during the holidays, with 2.6 billion yuan in ticket sales. Guo's sci-fi "The Wandering Earth II" was second at 2.2 billion yuan.
"Full River Red" chronicles a mystery at the onset of the Southern Song Dynasty (1127-1279). "The Wandering Earth II" is a prequel that shows mankind building gigantic engines to propel Earth to a new solar system as its own sun rapidly burns out.
Two Shanghai-produced movies – the spy thriller "Hidden Blade" and the family comedy "Five Hundred Miles" – also performed well, with combined ticket revenue of over 800 million yuan at the box office.
Ti Gong
Ti Gong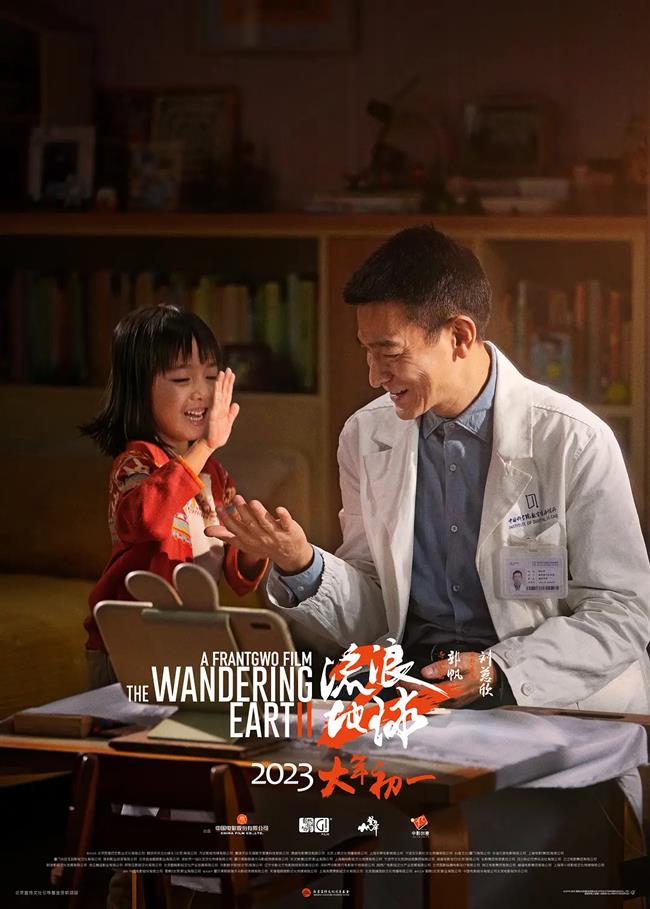 Ti Gong
Ti Gong
China's more than 11,500 cinemas have basically returned to regular operation after weathering coronavirus lockdowns, restricted seating numbers and a ban of snacks. And that, say movie experts, bodes well for the future.
"High-quality movies with good storytelling and beautiful cinematography will continue to draw people to theaters," said Professor Liu Haibo of Shanghai University. "In addition to commercial hits, Chinese filmmakers should never stop exploring the opportunities of art-house movies. Diversity is vital to the whole film industry."
All the optimistic talk this year is in sharp contrast to the last three years.
In 2022, China's box office income slipped about a third from a year earlier to 30 billion yuan. About 85 percent of earnings came from only three productions: "The Battle at Lake Changjin II," "Moon Man" and "Nice View."
Ti Gong
Some cinemas used the pandemic down time to undertake renovations and reposition themselves as cultural and entertainment complexes, adding extras like live performances of children's plays, small concerts, art exhibitions and bookshops.
Other theaters broadened their offerings to include live broadcasts of World Cup games, e-sports competitions and packages built around romantic proposals.
Li Ying, a regional marketing manager with Wanda Cinema Line, said her group offered live action role-playing games and stand-up comedy last year – both attractions favorably received by young people.
Last November, Chengdu Rainer Stars Cinema in the southwestern province of Sichuan, initiated lunch break services for the weary. Every weekday from noon to 2pm, customers could pay about 19 yuan to nap or just relax in the theater's auditorium, with steam eye masks and a hot drink provided.
In an interview with China Newsweek, Chen Yan, manager at the Chengdu cinema, said theaters had to find ways to weather the coronavirus crisis. China's decision to abolish most pandemic controls has been welcomed by the industry, she said.
"We are grateful to have survived the impact of the pandemic on the film industry worldwide," said Chen. "Some cinemas were forced to close permanently when box-office takings slumped. Some of my friends in the industry switched to other jobs."
Chen said she her colleagues were forced to sell popcorn and beverages online after their large orders of snacks for the cinema fizzled out under pandemic controls.
Imaginechina
Governments have been sympathetic to the plight of cinemas hit by virus controls, often providing ticket subsidies to help get theaters back on their feet. However, rent remains a major overhead expense. In big cities, most cinemas have to attract some 700 moviegoers a day to cover rent alone.
According to Peace Cinema's Ding, his group had to sublet space to conferences and other activities last year to try to make ends meet.
During the recent Spring Festival holiday, occupancy rates for afternoon and evening screenings exceeded 90 percent at Peace Cinema, he said, attributing the success of the holiday box office to the artistry of China's film industry and government support policies.
Ti Gong
Beyond traditional cinemas, online films also flourished during the Spring Festival holiday.
Major streaming platforms in China offered new productions especially tailored for online viewing, such as Donnie Yen's latest martial arts offering "Sakra," and the films "Northeastern Bro 2" and "Look Up and See Joy." Viewers were charged additional fees for these online movies.
Statistics from iQiyi showed that aggregate revenue for "Sakra" and "Northeastern Bro 2" has surpassed 13.6 million yuan.
During the height of the pandemic, premium video on demand became a successful model for filmmakers to earn some money.
Ti Gong
Ti Gong
Source: SHINE Editor: Xu Qing Special Reports