Backing down in fashion apparel industry
17:42 UTC+8, 2019-03-13
0
Bosideng, China's largest down clothing maker, paraded its stylish apparel during New York Fashion Week last year. It's seeking to make down wear popular beyond the ski slopes.
17:42 UTC+8, 2019-03-13
0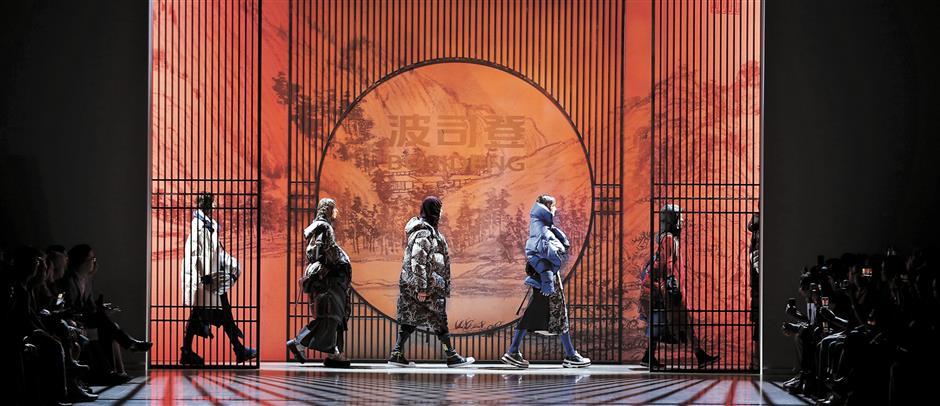 Ti Gong
Down apparel is traditionally bulky. Warm in winter, yes, but not fashionably chic in the eyes of consumers who aren't winter sports enthusiasts.

Shanghai-based Bosideng, China's largest down-clothing maker, is out to show that down garments can make a fashion statement beyond just on the ski slopes.
Bosideng International Holdings Ltd, the listed arm of the company, was a star performer on the Hong Kong stock exchange last year. The company has more than 7,000 retail outlets.
After several years of expansion in non-core businesses such as casual wear and the acquisition of overseas garment brands, Bosideng has started to divest businesses that are under-performing or lack market profile. Instead, the compa- ny is focusing on its namesake Bosideng instead of others with smaller sales vol- ume such as Snow Flying, Kangbo and Bengen.
"People seek to show their personality, taste and status through fashion items they wear," said Alina Ma, director of research at Mintel China. "They also care about how they purchase fashion because they want the experience to be fun and relaxed."
Bosideng said it plans to double its research and development spending in the coming year after its down apparel business of the Bosideng brand recorded more than a 35 percent sales increase last year.
As of late February, accumulated re- tail sales of down apparel under the Bosideng brand in the fiscal year end- ing March 30 exceeded 10 billion yuan (US$1.47 billion).
The company also said it will increase spending on marketing by 50 percent and continue to upgrade its retail outlets.
Fashion weeks have been staged to stress the point that the warm-weather apparel is fashionable beyond the world of fashionistas on the ski slopes. The company is also embracing modern retail strategies such as online sales, celebrity endorsements and pop-up stores at popular shopping areas dur- ing autumn and winter.
"Global brands such as Canada Goose and Moncler have posed strong competi- tion, and sportswear, fast fashion and luxury brands are also moving to offer down jackets," said Rui Jinsong, execu- tive director and senior vice president of the company.
"we've been enhancing consumers' perceptions of Bosideng as a leading brand for down jackets, despite strong competition from rivals at home and abroad," he added. "our designer col- lections have proven popular with consumers."
Chen Jie / SHINE
The company was founded by Gao De- kang, a former tailor.
Mintel said fashion-consciousness in China is moving the apparel market to- ward more diversified, affordable and innovative items.
For success in global expansion, factory lines must be adapted to new formats and design elements, and com- panies need to merge international trends with domestic preferences.
"opening up flagship stores in key business districts in major international cities has reaffirmed our brand image and contributed to booming sales," Rui noted.
Restructuring brick-and-mortar out- lets has helped average store sales rise as much as 20 percent.
So far, the company's efforts have paid off well. In the nine months ended De- cember, retail sales of its core Bosideng brand jumped more than 30 percent from a year earlier. As many as 2,600 stores have been remodeled in the past year, and nearly 700 non-performing sites were closed.
Shanghai resident Silky Xie said she bought a 1,500-yuan Bosideng down coat before her trip to the northeastern prov- ince of Jilin in December.
"Although it's obviously not for every- day use during winter days in Shanghai, it does provide protection against ex- treme cold, and the styling looks way better than the down jackets of other brands," she said.
China's retail sales of textiles and gar- ments rose 8 percent in the past year, with total sales volume at 1.37 trillion yuan.
Euromonitor said it expected the ap- parel market to hit 1.59 trillion yuan this year, with the women's-wear seg- ment growing faster than the market as a whole.
one major competitor for Bosideng is Japan-based Uniqlo. one of its signature products is a lightweight down jacket that has been on the market for at least seven years.
Uniqlo has said it hopes to target con- sumers who want winter apparel to fit more than one occasion, and that looks chic and light.
Many consumers still regard down as a must-have during cold seasons, and they want an affordable average price of about 500 yuan.
"It's my go-to spot when I need new down coats or vests, and its style stays consistent," said Beijing resident Sammy Chen of Uniqlo apparel. "I want to make sure there's no mistake when I wear this apparel to work or on busi- ness trips."
The company's light down jacket comes in a dozen colors and fits with almost all kinds of casual wear. Some of the lines have adopted new materials and coating to make the jackets even lighter and easier to be folded up and put away.
Last year, Uniqlo's parent Fast Retail- ing reported a double-digit gain in profit on China's mainland.
Bosideng, on the other hand, is more focused on the high end of the market. only about 12 percent of its down jack- ets now cost less than 1,000 yuan. A winter parka that costs more than 1,800 yuan accounts for nearly a fifth of its merchandise.
Both Uniqlo and Bosideng were among the top-selling brands for both men's and women's apparel during last november's Singles Day Tmall shopping festival.
Source: SHINE Editor: Wang Yanlin Special Reports