Young experts reflect on why China holds dear to them
20:29 UTC+8, 2017-09-22
0
A group of 30 scholars recently spent a month in Shanghai to learn about China. Three of them talk about the time they spent here and of their experiences and expectations.
20:29 UTC+8, 2017-09-22
0
Ti Gong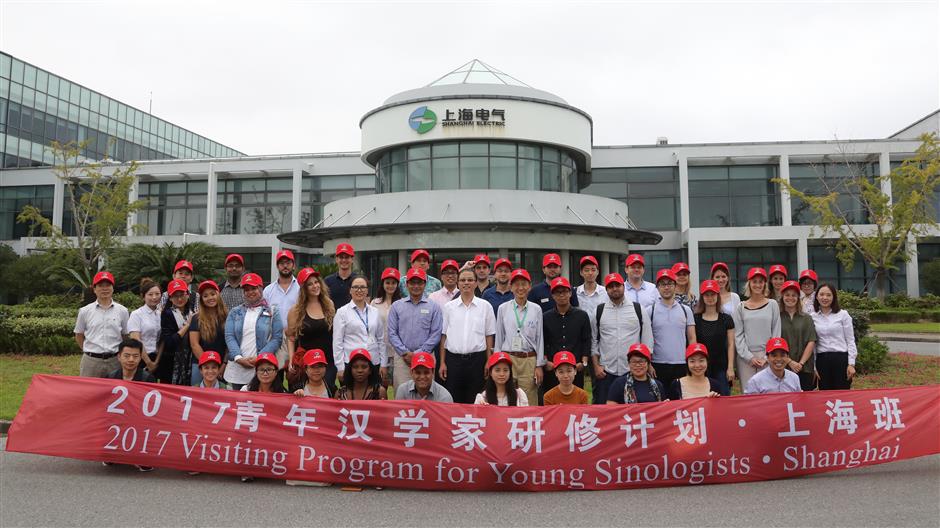 Ti Gong
A group of 30 scholars from 29 countries and regions were in Shanghai earlier this month for the Visiting Program for Young Sinologists organized by China's Ministry of Culture. During their stay here, the sinologists traveled to the Chongming Island, visited the Shanghai Electric Co Ltd and attended lectures organized by the Shanghai Academy of Social Sciences.
Some of the participants were students of Chinese culture, politics and economy while others studied in Chinese universities.

They spent a month in Shanghai to learn more about the country with experts at the Shanghai Academy of Sciences.

Some of them spoke to Shanghai Daily about their experiences.
Amane Tanaka (Japan)
Tanaka traveled with the group around downtown Shanghai, visited suburbs and spent three days at Yellow Mountain in Anhui Province.

More importantly, he sought out information on Silk Road, a subject he has been studying for years.
A visiting fellow at the Institute of Contemporary Chinese Studies of Waseda University, Tanaka says he has been fascinated by Silk Road since his younger days.
"I'm interested in everything about Silk Road — its history, the people living in the area and the art they created," he says. "I always had a strong will to learn from them."
As a youngster, Tanaka loved to read Chinese classical novels. He enjoyed historical novels such as "Romance of the Three Kingdoms" by Luo Guanzhong (1280-1360) and "Water Margin" by Shi Nai'an (1296-1372).
Although the real history was different from the stories he read in the books, Tanaka was still able to grasp some basic information about the ancient Chinese culture and became familiar with Chinese proverbs.
In high school, Tanaka came across "Tun-huang," or "Dunhuang," a book written by Japanese author Yasushi Inoue (1907-91).

Inoue's fictional story is set in ancient China's Northern Dynasty (960-1126) and deals with a young intellectual who travels around western China after missing the imperial examination.
Many Japanese readers, fascinated by the story, traveled to Dunhuang in northwest China's Gansu Province to find the historical traces mentioned in the novel. It also ignited Tanaka's interest in Silk Road, a passageway that linked China and Europe.
That was why he chose anthropology and history as his major for his undergraduate course at Waseda University. People, especially Uygur people living in Xinjiang Uygur Autonomous Region, were his main subjects of study.
"In my sophomore year, I set off on a long journey to Dunhuang — I traveled by ferry to Shanghai, then I went by train to Dunhuang," Tanaka recalls. "I will never forget my first impression of the Mogao Caves."

In Dunhuang, Tanaka spent a lot of time with his Chinese friends. They chatted under the high, starry sky and watched children playing on the riverbank.
"Whenever I traveled in China, local people were all warm and friendly," says Tanaka. "There was this one time when I was kissed by a camel. That was an unforgettable experience."
After visiting Dunhuang, Tanaka continued his journey along Xinjiang's oases, which inspired his undergraduate thesis, which focused on people's lives in the area. To complete the thesis, he carried out several field works in Xinjiang.
After graduation, Tanaka felt his road to becoming a researcher had just begun. He enrolled at Waseda University's graduate school of political science for his postgraduate study. He was taught by Professor Kazuko Mori, a leading expert on Chinese politics and Sino-Japanese relations.
He focused on China's ethnic policy, especially about the Uygur.
With China's latest Belt and Road Initiative, it once again reignited Tanaka's passion for the Silk Road after two decades.
"I want to study what impact it will have on Xinjiang and the Central Asian countries," he says. "That will be the subject of my doctoral thesis."

"One day, I would like to write a book about the Silk Road, a story about how people used to travel from China, across Central Asia, to Europe; a story about continuity and the changes over time," says Tanaka.

Mbangose Shawa Mambwe (Zambia)
Mambwe prefers to be called Shawa, known as Xia Wa in Chinese, which is Eve from the Bible. She is an entrepreneur and consultant and studied at Shanghai's East China Normal University about 15 years ago. The Chinese name has stuck since her time as student days here.

But her association with China was much longer than that. When she was young, her father would take the family to watch Chinese movies.

"My father often took us to cinemas to watch kung fu and his favorite actor was Bruce Lee," she recalls. "He also encouraged me to study in China and promised to attend my graduation. Unfortunately, in May 2005, just a month before my graduation ceremony, he passed away."
She was the only woman in a group of eight students selected in Zambia to study in China. Shawa landed in Beijing first and took a slow train, which took 24 hours then to reach Shanghai. She was quite nervous as she had no knowledge of Chinese back then. But she was instantly amazed by the beauty of Shanghai.
"I marveled at the elaborate blend of ancient-style Chinese buildings, pagodas and numerous modern skyscrapers," she says. "The tallest buildings I had ever seen in my entire life loomed over me. For a moment I was overwhelmed, claustrophobic and feared the buildings might collapse above me.
"I also observed that the Chinese were the most disciplined students I had met in all my years of study," she says. "I found that they were even dedicated and hardworking after graduation."

Shawa says she took great pride in being associated with the second-largest economy in the world. And she was more keen to learn how China became such an economic powerhouse in a short period of time and what it meant for the future.
"I believe China's accredited universities are the best place to study world economics and I am honored to have studied in such an exemplary country," she says.
Marta Aureli (Italy)
In 2008, an 18-year-old Aureli made a life-changing decision. Instead of choosing Italian studies as her major, she picked Chinese language.

That was because China was hosting the Olympic Games for the first time in Beijing. Italian TV was flooded with documentaries, news stories and movies about China. It sparked Aureli's interest in the ancient country.
"I got to know about a new culture that was so different from mine, a language so complicated, a history that I had barely heard about before, a political system so different from the one I had grown up in, a concept of art I had never seen before," she says.
It inspired her to come to China for a PhD program at the Shanghai International Studies University.

"I made this decision because I wanted to stay in China for a long time. I wanted to delve deep down to understand the differences between my culture and the Chinese one," says Aureli.
She researched about the multicultural atmosphere in Harbin, particularly of the well-established Jewish community. After she moved to Shanghai, she decided to shift her studies from Jewish community to other communities.

"What I found interesting was not only a moment in history that was not known enough — it really came as a surprise to discover the benevolence shown to the oppressed Jews of Europe by China in the last century — but also to discover how the international communities of Jews in Shanghai, Harbin and Tianjin influenced the town they were living in, the people they were living with side by side and maybe the influence they also received from China," she says.

"This is what I am passionate about — to understand the features that characterize the clash of civilizations inside these international cities. If I understand that, I will also be able to understand so many things about my life as an expat in an international city like Shanghai," she adds.
Source: SHINE Editor: Liu Qi Special Reports