Documentary filmmaker emerges as self-taught artist
10:30 UTC+8, 2017-11-02
0
Xia Zhenya achieved fame as a documentary filmmaker, but he has also thrived as an artist.
10:30 UTC+8, 2017-11-02
0
Ti Gong
In the 1980s, filmmaker Xia Zhenya shot to fame with a three-part documentary titled "The Art Masters in Shanghai."
The documentary, which captured some of the precious images of 20 art masters including Liu Haisu (1896-1994), Guan Liang (1900-86), Lin Fengmian (1900-91), Xie Zhiliu (1910-97) and Liu Danzhai (1931-2011), promoted ink-wash painting as an ancient art genre to the public.
The film not only won Xia a national award from the Ministry of Culture, but also sparked his interest in traditional painting and calligraphy. He was greatly attracted to the charm of the rice paper. For decades afterward, he has treated ink-wash painting and calligraphy as his biggest hobby.
His artworks have been recognized by the masters themselves. Artist Xie Zhiliu once named Xia's studio "The Studio of Three Dwellings," referring to his achievements in documentary, art and literature.

A solo exhibition of Xia's works is currently running at No. 1 Xintiandi Gallery (No. 1, North Block, 181 Taicang Road) featuring his ink-wash paintings and calligraphy.
The wild brushstrokes in black and white show his full understanding of beauty and reflects his special talent in art.

Xia was born in 1941 in Funing, Jiangsu Province, into a rich family. But due to various reasons, the family fortune declined later on. However, Xia was ambitious enough to pursue his dream outside his hometown. He was admitted into the photography department of Shanghai Film College. After graduation, he was assigned to work at Shanghai Science Film Studio.
Besides "The Art Masters in Shanghai," Xia's documentary "Flower" won him a Golden Rooster Award, China's equivalent of Oscars. The versatile man also published several books on his friendship with the art masters.
Ti Gong
Q: What prompted you to make a documentary about the art masters in Shanghai?
A: It was in 1983. I paid a visit to Wang Geyi, a veteran artist in Shanghai. We talked about master Wu Changshuo (1844-1927). I was very curious about how Wu looked like. Then Wang showed me an old photo of Wu.
Wu and Wang were national treasures in China. But it was a shame that the next generation could only be able to know about them through a blurred picture. So I felt it was my duty to let the public know about them, their art and their life through a documentary.

Q: Who impressed you most in the documentary?
A: Definitely Liu Haisu, because we almost had a quarrel on our first meeting. Liu was interested in my project, but he suggested that the documentary only focus on him, not the other artists.
I told him that I definitely wanted the other masters even if he had finally to drop him. Guess what, I won! But of course, Liu was the first artist to appear in the documentary.

Q: Do you have any regrets about making this film?
A: Yes. As the documentary cost the whole team years to make, some masters passed away during the process. It was a pity that they were unable to see themselves on the screen.

Q: When did you begin to paint?
A: I started painting in the late 1980s. As a filmmaker, I had a tight schedule during the day, and I felt my mind was too full.
No matter how late I reached home, I would splash ink on the rice paper as a kind of emotional release. The more I indulged in the ink-wash world, the more soothing it was to my heart.

Q: As a self-taught artist, how do you view your achievements in art?
A: Yes, you can call me a self-taught artist, but all my achievements came from the guidance of these masters. Because of the film, I became good friends with them and sometimes they would teach me and give me some suggestions. I am the kind of person who is good at observing. I always watched how they painted.

Today, I feel grateful to these masters because they opened another window for me. In this exhibition, visitors can see the paintings that they worked with me, which is a mission impossible today.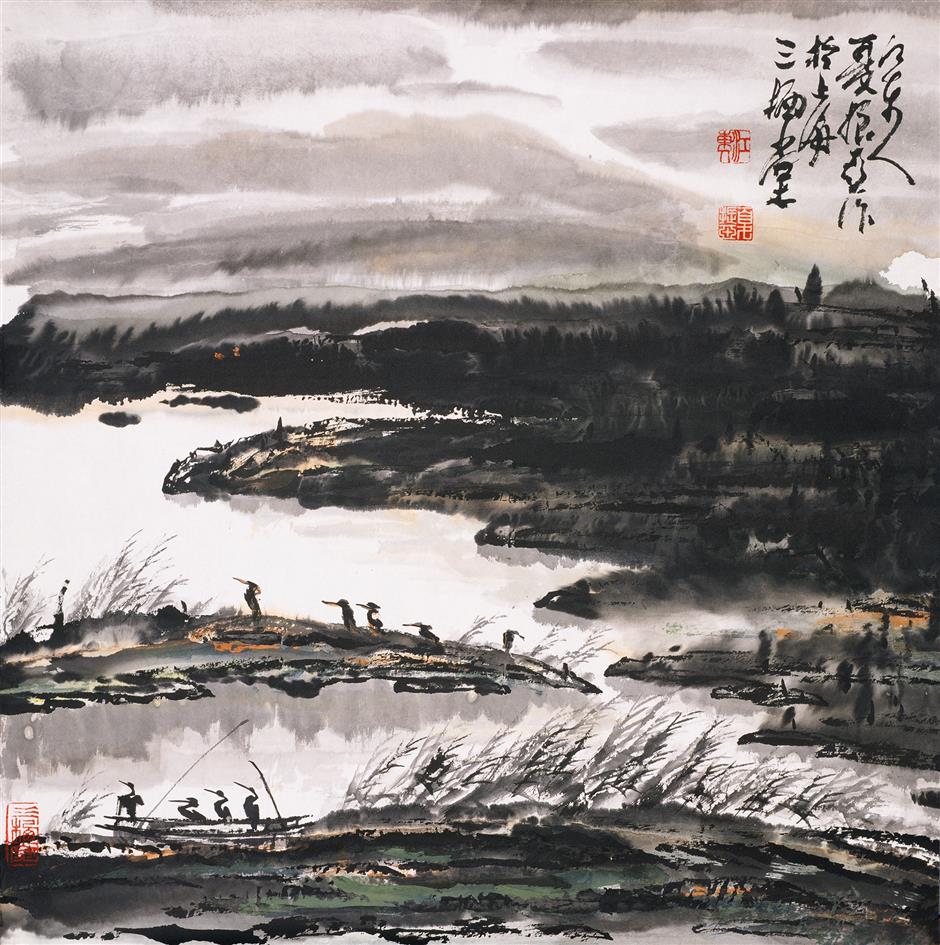 Ti Gong
Q: Reed marshes and cormorant are your favorite subjects. Why?
A: For me, the two are the icons of my hometown. Deep inside, I always miss everything there. Perhaps it's a way for me to relieve my homesickness. Although I came to Shanghai at the age of 18, I still have a strong emotional link with Funing.

Q: You always prefer to use black, white and gray. Why?
A: This is my attitude toward ink-wash painting. In my eyes, the gradient hues from black to white are the most elegant colors reflected under the brushstrokes.

Q: You have many friends from different areas such as monks, movie stars and scientists. How can you achieve that?
A: I am a very straightforward, sincere and optimistic person. As a documentary director, I often encountered different people from different areas, such as medicine and natural science. Every time I learned a new subject for a documentary, it seemed as if I was entering a new university.

I never believe that a scientist is only interested in science. In fact many of them are also good at art.
Art is a never weary subject in our talk.
Ti Gong
Source: SHINE Editor: Liu Qi Special Reports