Monk Biancai remembered as new Longjing tea picking season begins
17:16 UTC+8, 2023-03-21
0
Biancai, a Buddhist master, is credited with creating Longjing tea. During the Song Dynasty (960–1279), he cleared the hill slopes, laying the groundwork for tea plantations.
17:16 UTC+8, 2023-03-21
0
When the new Longjing tea picking season began this month in Hangzhou, local farmers held a ritual to honor Monk Biancai. In the Biancai Pavilion, the first glass of freshly fried Longjing tea was brewed in front of the Biancai statue.
Biancai, a Buddhist master, is believed to have invented Longjing tea. His practice of making tea for visiting scholars contributed to Hangzhou becoming a point of interest for travelers. He led the Tianzhu Temple to clear hill slopes for tea cultivation during the Song Dynasty (960-1279), laying the groundwork for today's Longjing tea plantations.
Tianzhu Temple is still teeming with devout believers today, but only a few people are aware of the connection between Biancai and Longjing tea. Last year, local farmers began hosting etiquettes in Biancai Pavilion to commemorate the Buddhist master.
In 2011, the pavilion was rebuilt in the Ancient Longjing Imperial Plantation to mark Biancai's 1,000th birthday. That plantation contains the 18 oldest Longjing tea trees, which will be harvested this year and auctioned off to benefit social charities. At the auction in 2015, 100 grams of tea harvested from the 18 trees were sold for 145,600 yuan (US$21,102).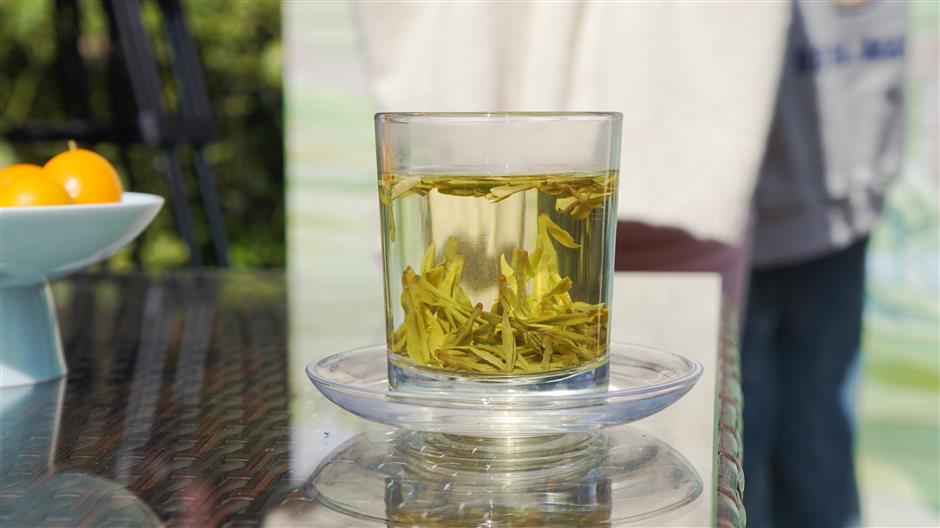 Guoxi, another pavilion near the Biancai Pavilion, was built nearly 1,000 years ago to celebrate the friendship of Chinese scholars Su Shi and Monk Biancai.
Biancai built a bridge over a stream when he lived nearby. He made it a rule not to cross the bridge while escorting departing guests. However, as Su was leaving, they had such a pleasant conversation that the monk unwittingly led Su over the bridge. As a result, at the bridge's end, people built the Guoxi Pavilion, which means "crossing the stream."
China's traditional tea-making was added to the United Nations Educational, Scientific, and Cultural Organization's list of intangible cultural heritage in November. The item – traditional tea processing techniques and associated social practices in China – contains 44 Chinese national tea-related cultural heritages, including West Lake Longjing tea and the Jingshan tea ceremony in Hangzhou.
"Longjing tea is a precious legacy left to us by our forefathers. It is now our responsibility to carry on the tea-making tradition," said Longjing Village Party secretary Xu Shengqiang. "We made the first glass of tea in 2023 to pay our respects to master Biancai."
Aside from inheritors of national-level intangible cultural heritage, the ritual also invited young people working in the tea industry.
"In recent years, the industry has attracted an increasing number of young people. Hosting a ritual is an excellent way to pique people's interest in traditional craftsmanship," said Fu Xiaoting, who has been learning to fry tea for two years.
Years of practice are often required when frying tea leaves. For many years, middle-aged and elderly people have dominated tea-frying competitions, with few young people participating. The skills used in frying have an impact on the aroma of the tea leaves because it is a key procedure during the processing.
Hangzhou has organized a tea-frying training project to introduce frying techniques to young people in order to protect this national intangible cultural heritage and boost the city's tea industry.
The local government established five tea-frying centers in 2020 and hired top technicians to train young people, which was a successful strategy because one of the trainees won first place in the citywide tea-frying competition.
To fry the tea leaves, local plantations have established 25 production centers, employing over 1,100 professional technicians. Previously, only people in their 40s and 50s could do the job. Young technicians have now injected new energy into the industry.
Local departments have also devised a novel method of engaging citizens in the cultivation of tea trees. Last week, 18 citizens adopted 18 tea tree plots for a year, during which they can participate in tea frying, picking and ceremony activities organized by local authorities.
Source: SHINE Editor: Su Yanxian Special Reports