Rare exhibit of ancient Chinese ink-wash paintings draws crowds in Hangzhou museum
15:11 UTC+8, 2023-03-24
0
The China Academy of Art Museum is holding an exhibition of Song Dynasty masterpieces, with 13 of China's most renown ink-wash paintings. Much of the work is rarely displayed.
15:11 UTC+8, 2023-03-24
0
Ti Gong
It's not often that people line up for an exhibition on a weekday, but that's exactly what's happening at the China Academy of Art Museum, where 13 top national ink-wash paintings on loan from various museums are on display until April 16. This is an unparalleled opportunity for museum-goers.
The highlight of the exhibition is Huang Gongwang's surviving work, "Dwelling in the Fuchun Mountains," which is considered one of the top artistic paintings in China. Huang was inspired by the serene water and poetic views along Hangzhou's Fuchun River, and painted the masterpiece between 1348 and 1350. It was literally burned into two pieces during the reign of Emperor Shunzhi (1644-1661) in the Qing Dynasty (1644-1911).
Its last keeper, Wu Hongyu, loved the painting so much that he ordered it to be burned so he could take it to the afterlife when he died. Wu's nephew rescued the painting, which was already split into two parts. The first smaller piece, slightly more than half a meter in length, was renamed "The Broken Mountain" (or "Sheng Shan Tu" 剩山图) and made its way into the Zhejiang Museum in Hangzhou, while the other went to the Palace Museum in Taipei. In 2011, the first section of the painting was loaned to the Palace Museum in Taipei where the two pieces were reunited for the first time since their separation more than three and a half centuries ago. Since then, "Sheng Shan Tu" has rarely been shown to the public. Visitors are highly recommended to seize the opportunity to see this masterpiece.
Ti Gong
Among the 13 top-notch paintings, 10 pieces are painted in the Song Dynasty (960-1279). As the pinnacle of ancient Chinese art, Song ink-wash paintings are considered the hallmark of traditional aesthetics. Another highlight comes from Ma Yuan and Xia Gui.
Very little is known about Xia's life, and only a few of his paintings survive, but he is generally considered one of China's greatest artists. Together with Ma, he founded the so-called Ma-Xia school. In history, the two Hangzhou painters were famous for painting landscapes. Their work features a few strokes and leaves a lot of blank space, presenting a simple, plain style and a poetic feel. They often depicted secluded landscapes of hills and dales, shoals and waterbirds, small waterfalls running over ragged cliffs, and pine trees of strange and irregular shape.
In their paintings, people can also be seen drinking tea, playing Chinese instruments, or entertaining friends. Usually, human figures only account for a small part of these paintings, highlighting man's insignificance against nature and the painters' detached attitude toward life.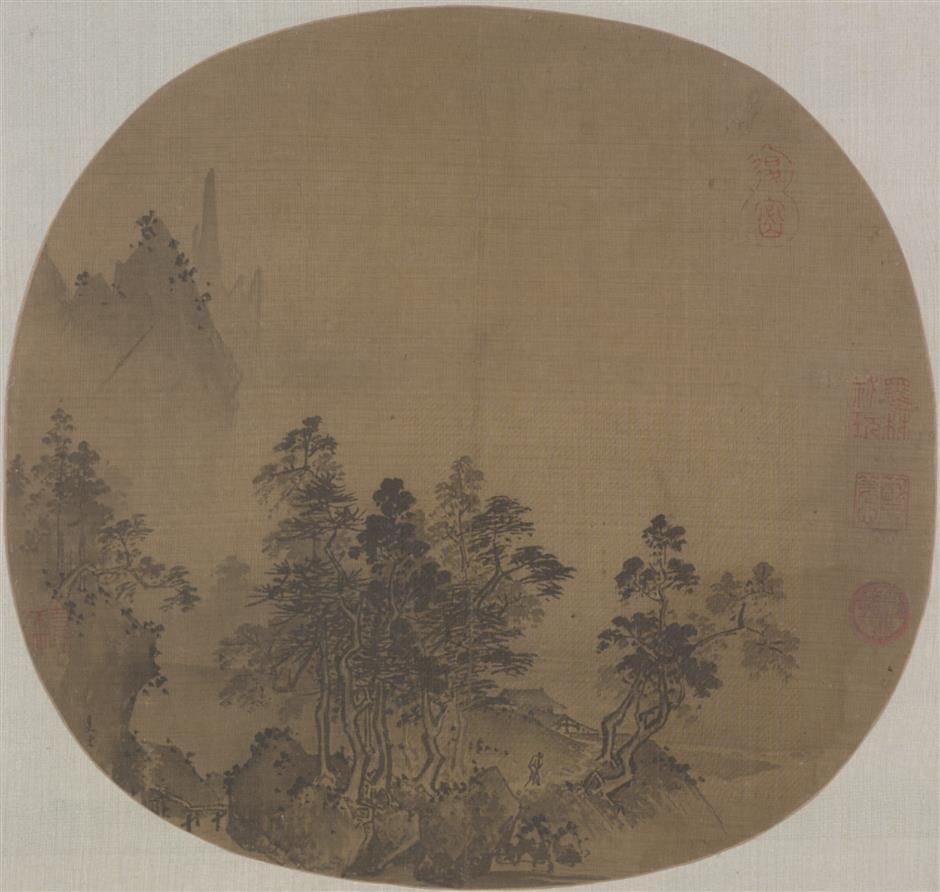 Ti Gong
Ti Gong
Liu Songnian, another Song Dynasty painter living in ancient Hangzhou, was famous for the masterpiece "Four-season Landscape of West Lake," which portrays an idyllic view of the West Lake. Lush vegetation covers traditional houses and remote hills are obscured by mist. It provides historians with a precious archive to study the changes of the lake. This top-level work is collected in the Palace Museum in Beijing and seldom exhibited.
Guo Xi was the imperial painter of the Northern Song Dynasty (960-1127). Like most Song artists, few of his paintings survive. The painting "Traveling among Creeks and Hills" collected by the Yunnan Province Museum is displayed in Zhejiang Province for the first time. Guo was a representative painter of landscapes, well known for depicting mountains, rivers, and forests in winter. He used different shades of ink and magnificent composition to express his open and high artistic conception. This displayed piece features extremely subtle, graded ink washes and overlapping brushstrokes with atmospheric effects of mist, sky, and infinity.
Another highlight comes from Li Tang, a painter living through the transition of Northern and Southern Song (1127-1279) dynasties. His work reflects the changes of painting skills and different aesthetics during the two epochs. Li had many followers. He represented a vital link between the Northern Song School, including Guo and Fan Kuan, and the later Southern Song painters, such as Ma and Xia. He developed and perfected the technique of the so-called "ax-cut" brushstrokes, which gave rocks and mountains a particularly fine quality, which could be evidenced by the exhibit.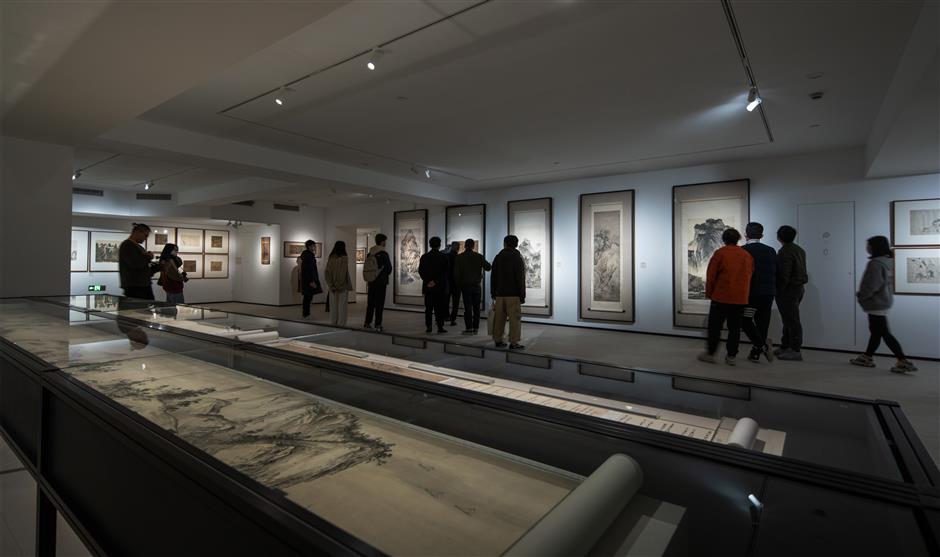 Ti Gong
Ti Gong
Exhibition info:
Date: Through April 16, closed on Mondays

Address: 218 Nanshan Rd

南山路218号
Admission: 60 yuan, booking beforehand on the WeChat account of China Academy of Art
Source: SHINE Editor: Su Yanxian Special Reports