Simple lessons in life on a trip to the countryside
10:30 UTC+8, 2018-07-20
0
Weekend excursion points the way to a more sustainable way of living as author highlights his findings from 10 years in rural Japan.
10:30 UTC+8, 2018-07-20
0
A recent trip into the countryside organized by the Green Initiatives was a welcome break from the stresses of city life.

The foreigners and Chinese on the bus ride to Yingchuan — a village hidden in the hills near the Qingliang Peak mountain range on the border of Anhui and Zhejiang provinces, a five-hour drive from Shanghai — all live and work in Shanghai and were looking for an escape into nature and lessons in a simpler way of life.
Andy Couturier, author of "The Abundance of Less," hosted an evening event during the weekend, sharing his lessons in simple living that he learned from rural Japan between 2000 and 2010.

Winner of this year's Nautilus Book Award in the green living and sustainability category, the book profiles some Japanese men and women who left mainstream life in urban Japan to live surrounded by the luxuries of nature, art, friends, delicious food and an abundance of time.
Ti Gong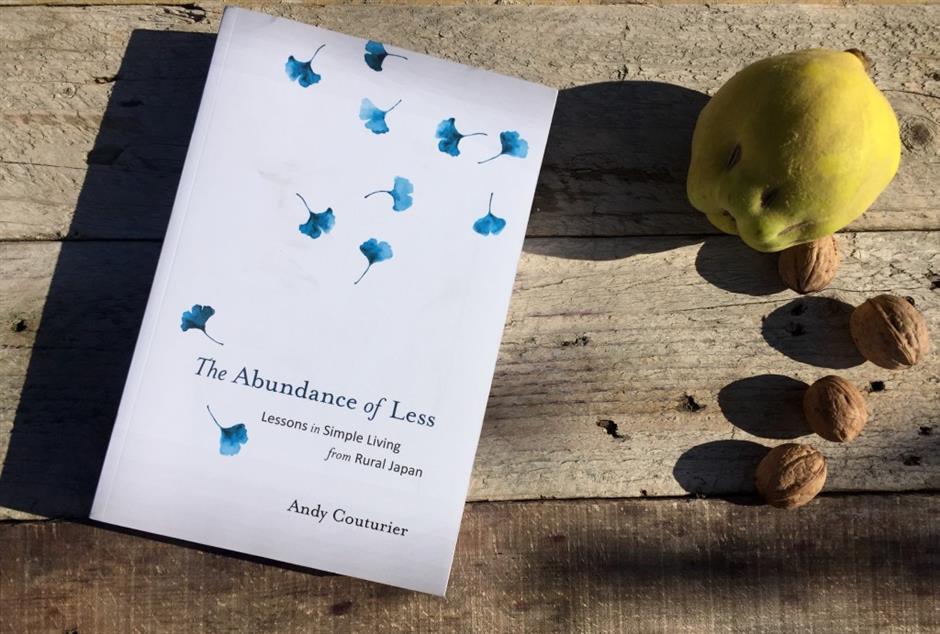 Ti Gong
Among them, Atsuko Watanabe is a homeschooler who loves to spend hours looking at the moon, musing about philosophical questions while raising her two daughters in an old farmhouse.
Osamu Nakamura is a woodblock craftsman who discovers that making things with one's own hands cultivates a certain generosity and openness of the heart.
Kogan Murata grows rice and crafts elegant bamboo flutes.
Drawing on traditional Eastern spiritual wisdom and culture, these people described the profound personal transformations they underwent as they escaped stress, consumerism and dependence on modern technology.
Their stories and philosophies do not sound unfamiliar in China.
"The Peach Blossom Land," a fable written by Chinese scholar Tao Yuanming in AD 421 about an ethereal utopia where people lead an ideal existence in harmony with nature, has long been used as a popular phrase to refer to a lifelong pursuit of a slow but fulfilling life in the countryside.
However, the realities of modern-day life seem to be pulling people further away from their heart's desire.
"That's why we invited Andy on this book tour to bring the ideas back to the Chinese," says Knut Wimberger, a Green Initiatives advisor, who read about the book on his trip to Japan in 2016 and wrote to Couturier for help.
Having lived in Shanghai for the past 17 years, Wimberger says what he took from the book was "the satisfaction from the peace of mind, the humbleness from the willingness to subject to something bigger than self and the courage to choose the way of life off the beaten path."
Ti Gong
Ti Gong
"It's not that people aren't willing to do something, but just that people don't know enough, or what's really right or wrong, or how to make the right choices," says Nitin Dani, organizer of the weekend excursion. "Our schools have not taught us about things that are truly valuable, like staying healthy, eating well, how to keep our environment healthy or how to live a life that matters."
As participants gradually unwound in the beautiful countryside, taking dips in crystal-clear waters of ponds along the creek behind the village and talking with Couturier, they began to see the essence of a simple life — do little and need little.
Be it ancient wisdom or a new style of modernity, such an economic cycle of life might be an important part of the solution to sustainability in a time of world ecological crisis.
Green Initiatives, launched in 2011, is an organization focused on spreading awareness about environmental issues, providing education and creating local solutions. Founder Nitin Dani tells Shanghai Daily what he is passionate about and his understanding of sustainability.
Q: Can you give a brief introduction of Green Initiatives?
A: It all started simply to have a group in Shanghai that was focused on conversations on environmental issues. Back in 2009 we started as Green Drinks Shanghai, as the local chapter of the global Green Drinks organization (www.greendrinks.org).

However, with time we saw more people and companies interested in such issues People were naturally getting more aware of global warming, as well as local environmental problems and needed someone they could connect or collaborate with.
Ti Gong
Q: Is there a steady growth of influence over the past decade?
A: We have seen more and more organizations wanting to support community work and turn to more sustainable practices in their own offices — be it waste reduction or employee engagement on environmental issues.

We also see more Chinese people becoming a part of community initiatives and action groups, and often have enquiries from people who want to volunteer with our organization and support us with their time and skills.
Q: Has language been a problem while working with the Chinese-speaking volunteers?
A: While language hasn't been a problem as such so far — simply because corporate social responsibility hasn't really taken off in Chinese companies. I believe this is all set to change, and we need to be prepared for this change by having a local team ready to interact and implement projects with local organizations.

In the past we also had Chinese volunteers who have been very passionate about running our initiatives in Chinese in the community or in companies. But yes, we definitely need to work further on this and work closely with Chinese influencers, organizations and companies.
Q: What does sustainability mean to you?
A: I don't really have a fixed answer. Sustainability means different things to different people. I am always reminded of Mahatma Gandhi's quote: "The Earth has enough for man's need, but not enough for man's greed."
I look at it as consuming only as much as rationally necessary, and within natural resource limits without damaging our environment. So for me, it's about being mindful of the resources we consume.
Source: SHINE Editor: Liu Qi Special Reports