A modern chic abode – cool, cozy, authentic
15:18 UTC+8, 2019-07-05
0
Philippe Nipshagen recently moved into a 1930s apartment on Yanqing Road and was overwhelmed by its coziness and authenticity.
15:18 UTC+8, 2019-07-05
0
Philippe Nipshagen recently moved into a 1930s apartment on Yanqing Road and was overwhelmed by its coziness and authenticity.
The lease was up on his previous apartment and, when the landlord informed him of an increase in rent, the Dutchman decided to investigate some of the cool apartments on the market. He quickly found what he was looking for.
"I truly wished it had a larger balcony to fit my BBQ. As it's small I opted for two chairs and a small table instead of my grill," he said.
As a long-time resident in Shanghai, the Dutch entrepreneur knows a trick or two about searching for an ideal space.
"I always give a long list of requirements, describing the perfect place. If most are met, you can make your choice. There's always a trade-off, whether it's location versus price, or size versus style and comfort. However, I always take my time and never settle for less," he said.
As the two-level apartment was recently renovated, the Casa Pagoda general manager only removed a few items from the landlord and reorganized his belongings.

Dong Jun / SHINE
"Although smaller than the previous flat, I made sure key pieces such as a sofa and dining table definitely could fit where I wanted those," he said.
Nipshagen loves the high roof in the living room and upstairs he finds the master bedroom sends out a holiday vibe.
"When you lie in bed, you see only the sky, no buildings obstructing the view," the 37-year-old said. "The angled roof provokes a bungalow similarity — hidden storage and walk-in closets don't draw attention away from its main purpose.
"Each space is different, and therefore requires a level of customization or styling. With white floors, natural wooden support beams as design elements, as well as a high ceiling, allows some room to play around with the concept."
The color scheme starts from the white-painted wooden floor.
"Often you see cherry or light colored lacquered floors in the city's apartments. Should it have been a reddish or mahogany tone finished floor, it wouldn't have attracted me. I even played with the idea to paint everything bright white but eventually decided not to," Nipshagen said.
The atmosphere he wanted to create is functional, aesthetically pleasing and, above all, comfortable.

Dong Jun / SHINE
Owning a furniture store means it's not a challenging task to create a cozy home.
"Having access to limitless suppliers allows you to let your imagination run wild so you have the ability to have anything you might want made. For example, the painting in the stairway as you walk up has a cute story," he said.
"The crying lady" was painted on the antiquated pages of a book, "Pride and Prejudice." The book has the right spacing between sentences to make a suitable background. The bright blue color used for the tears spoke to him, as he thought the accent color stands out and be brought back both in other deco accessories and art.
Then there is a print of a 17th century man and lady gracing the living room wall.
"I would not hang (prints) in my living room unless it had a modern fun touch, like the metallic bright blue and pink feature covering half of the painting," Nipshagen said.
"The frame's cover also brings it into our time, where art is appreciated in the eyes of its beholder, which is when it becomes meaningful. I love these and I painted over the blue and pink part of the image and frame myself.

Dong Jun / SHINE
"My interior style is somewhat eclectic, but unlike my furniture business, I try to match more than mix. When it comes to my preferences, I can recognize elements of completely different decoration styles in my own home: traditional, contemporary, eclectic and old world at the same time," he said.
Nipshagen believes traditional design feature furnishings need to be consistent and familiar in style. It may not be an unexpected look, but it's timeless and it can still look effortlessly fresh.
"Opt for a traditional color palette by balancing pastel and earthy tones with darker ones such as shades of brown and tan. You can enhance these hues with bronze accents and warm woods to create an inviting interior, like this cozy living space," he said.
Clean and streamlined modern style is also found at his place featuring strong geometric shapes and asymmetry.
"The most common features of a modern interior are white walls and neutral tone-on-tone color schemes," he said.
Nipshagen doesn't want to have one style in his living space, he likes an eclectic mix of styles and periods.
He is an expert of pulling together the look through matching similar textures, finishes and colors, as well as combining a multitude of accessories and design touches. And he often gives home decoration advice to his clients and friends.
"It's important to give yourself a moment to think outside of the box," Nipshagen said. "Discuss with your partner or friend, or fantasize on your own about some crazy elements, accents or details you've seen before, loved elsewhere or something you would just enjoy seeing every day."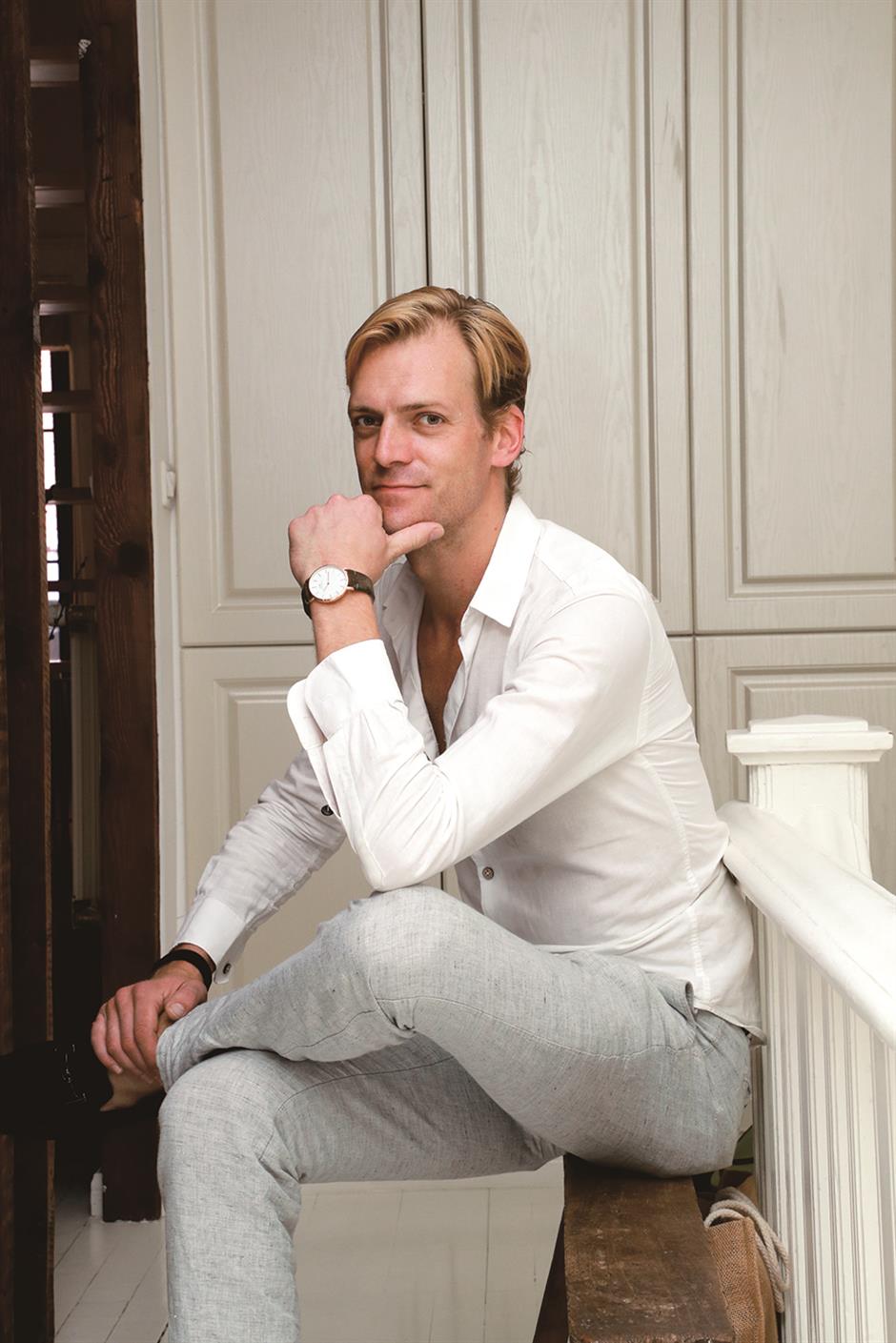 Dong Jun
Source: SHINE Editor: Fu Rong Special Reports