A French-Italian's go-to tips for good life on Xingfu Road
14:07 UTC+8, 2023-05-19
0
Fabiola Liacy De Felip has been fascinated by life in Shanghai since moving to the city in 2017.
14:07 UTC+8, 2023-05-19
0
Insider's Guide
This section is designed for foreigners living in Shanghai to share their experiences and insights on daily life in their local communities. From hidden gems to popular spots, they will introduce you to the best food, drink, entertainment, and more in their neighborhoods.

Courtesy of Fabiola Liacy De Felip / Ti Gong
French-Italian Fabiola Liacy De Felip has been fascinated by life in Shanghai since moving to the city in 2017. She has pursued her passion for photography and has been captivated by the amazing stories that pop up on different corners of the Shanghai streets. She lives in a compound on Xingfu Road in Changning District.
Fabiola Liacy De Felip / Ti Gong
Please introduce the neighborhood you live in.
Our neighborhood is located in Changning District within a few minutes walk of Jiao Tong University. Our nearby streets include Xingfu Road, Huashan Road, Pingwu Road, Fahuazhen Road, Panyu Road and Xinhua Road. The area feels like a genuine village hidden from the crowds. Locals mingle at Huashan Greenland. The warm lifestyle here shows the spirit of harmony, and the convenience to obtain daily necessities enables better communal living.
Fabiola Liacy De Felip / Ti Gong
What's the best thing about living in this neighborhood?
There is a nice mixture between preserved old lanes, local shops and modern buildings, cool cafes and restaurants. I love this convenient location close to Metro Line 10 and 11 and the Huashan Greenland with lush greenery is the highlight! The greenland has a great atmosphere with locals practicing tai chi or dance, singing or walking around the running path inside the green area.
I love walking or running through the nearby streets and stop on my way back home to pick up some fruits and veggies in local shops on Panyu Road as well as grabbing a coffee or a small snack in a fancy bakery. I can also easily get a quick hair cut and blow dry in one of the hairdressers in the neighborhood.
Fabiola Liacy De Felip / Ti Gong
What's the unmissable attraction here?
I would say Xing Fu Lane (a little walking street with a few good restaurants and cafes, there is also BodyConcept where I have been practicing yoga for some years), Columbia Circle (a historic compound with restored structures and its beautiful outdoor swimming pool and a very nice Japanese bookstore) and the Huashan Greenland.
Courtesy of Luneurs / Ti Gong
What's your favorite cafe near home?
Luneurs (Unit 107, Block E) inside Xing Fu Lane. I was there since their very first day of opening. I love their bread and pretzels, the interior design and the lovely terrace. I always enjoy their cappuccinos, the special affogato coffee, and special mention to their lemongrass ginger tea! There are plenty of bakeries I visit time to time but the only baguette for my family is the one from Luneurs.
Where to eat around here?
Alimentari Piccolo, Pirata, El Bodegon, Villa le Bec, Epicerie Le Bec, O'mills Light, Sapore di Pane, and Ginger (a little bit further on Xingguo road). I also love to eat at very local places when I am craving some good Jiaozi (200 Panyu Road), buns (235 Fahuazhen Road), or Chinese crepes (129 Pingwu Road).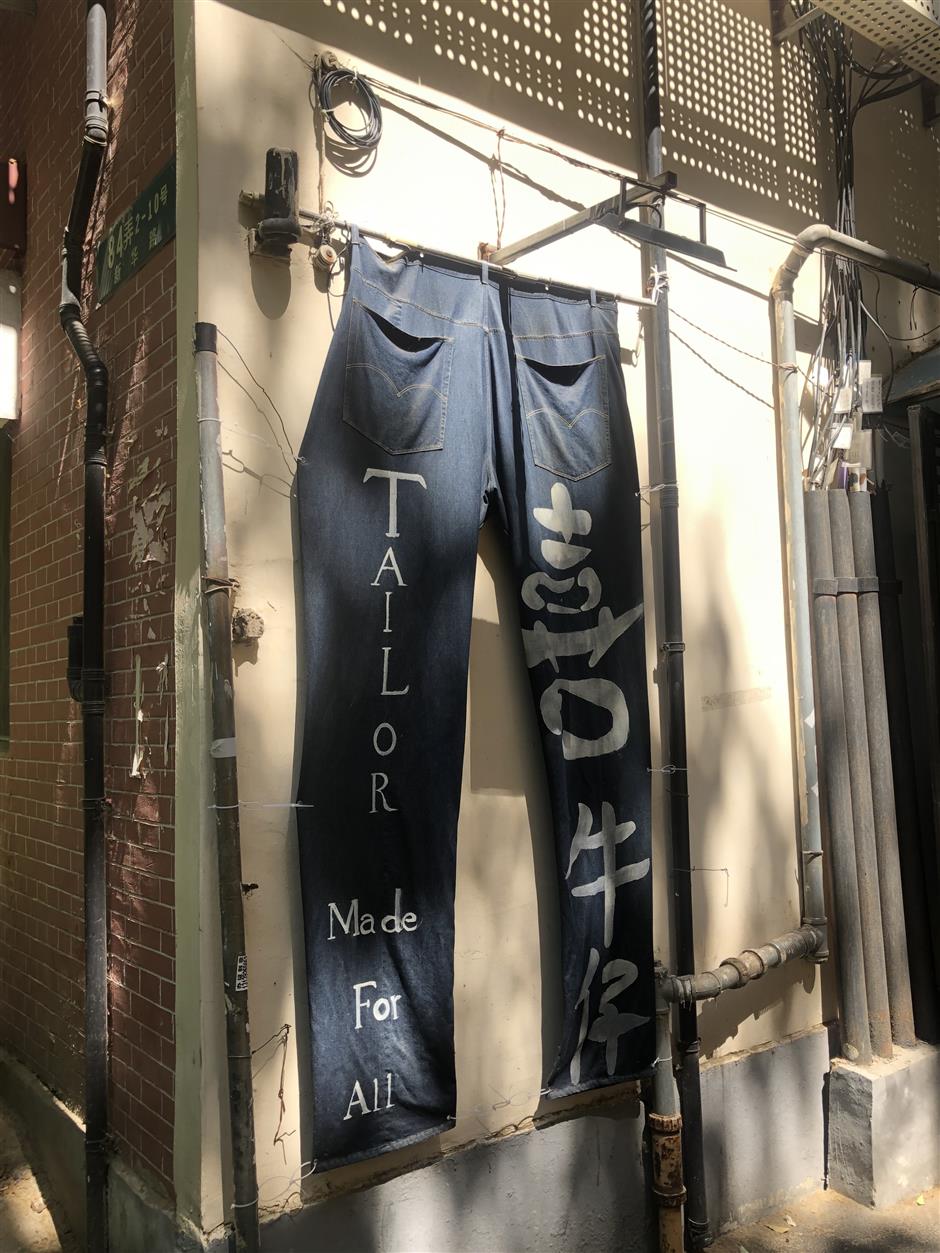 Fabiola Liacy De Felip / Ti Gong
From high fashion to emerging designers, from flowers to fresh produce, where do you shop in your neighborhood?
I shop for groceries at Panyu Road and in Best for imported food at 42 Xingfu Road and I do know a little hidden shop Hei Denim( 喜牛仔) tucked in a lane on Xinhua Road (close to Panyu Road) which sells denim jackets and jeans. The price for jeans is around 300 to 400 yuan.(US$46-62)
Fabiola Liacy De Felip / Ti Gong
Any neighborhood place for a night out or simply a drink after work?
The Tipsy Fiddlfer Irish pub is our neighborhood pub (135 Fahuazhen Road) that often has live music and live sports plus a daily happy hour. Not to be miss there is St Patrick event every March.
Alimentari Piccolo (390 Panyu Road) for Italian aperitivo. It offers a great choice of wines, Italian cocktails and even kombuchas. I also head to Pirata for some sangria and tapas every so often.
Any new discovery in your neighborhood lately?

The latest incarnation of that basement spot at 298 Xingfu Road is Club Roza that opened in March 2023 where the famous club Celia used to be. It's now a house/disco club that closes at 4am sharp. Also, the arrival of Pain Chaud is a new addition to the amazing selection of bakeries and cafes we already have!
Source: SHINE Editor: Fu Rong Special Reports