The new bar Dentree takes a sustainable approach, with a menu to match
21:14 UTC+8, 2023-02-16
0
Tucked away in a residential lane in Jing'an, the new bar Dentree features a sustainable approach that extends from it's construction to its operation, and even its menu.
21:14 UTC+8, 2023-02-16
0
Sustainability is a growing concept in Shanghai's bars and restaurants.
Hidden in a local residential lane off Zhenning Road, Dentree, the newly opened bar, comes to us riding a big title, "the world's first sustainable bar presented by Remy Cointreau and Hope & Sesame."
The name comes from the concept of "den tree" – a large tree that serves as an oasis for the local birds and mammals to nest in. Its Chinese name "Shù Lí Xiàng" is also a fusion of Oriental and French culture epitomized.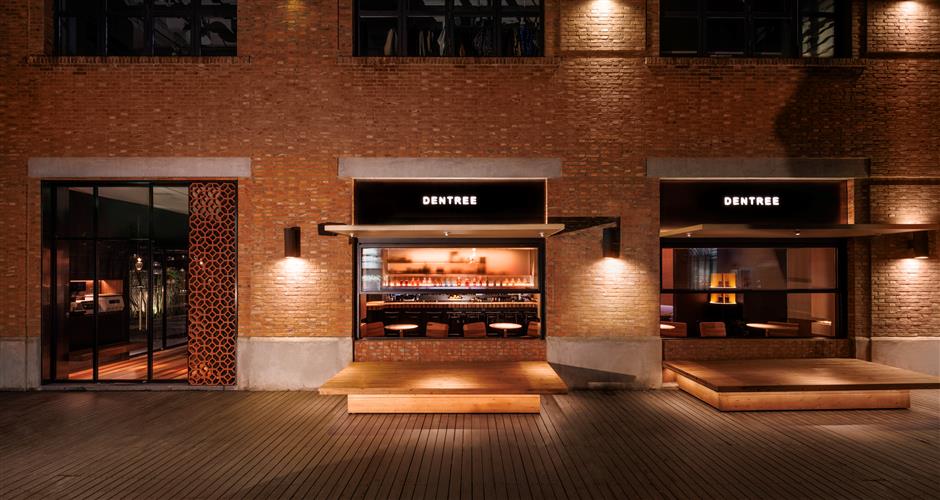 The sustainability concept and initiatives are embedded in every detail of the bar, from its location, decoration and materials to the way in which guests are greeted and served, and the wider network of sustainability-oriented communities that has formed around the bar.
The mission statement on the first page of the menu elucidates that they're doing things like reducing plastics, growing their own herbs and spices, installing solar panels for energy, and employing a "Head of Sustainability" to institute positive changes to the operation whenever possible.
We can also experience the rooftop garden and witness how it supports the bar's efforts toward self-sufficiency and sustainability with homegrown plants and composting facilities, and of course the menu.
Signature cocktails break out in categories with sustainable concepts like "Forward," "Adaptogens," "Hybrid," "Supply Food" and "Locally Sourced."
The "Adjusted Bamboo" cocktail makes use of underused proteins such as insects, and has a bit of a salty and umami flavor. "Come What May" combines single origin and locally sourced ingredients such as Yunnan coffee beans and Hainan cacao beans.
The underused protein also features in the bar bites section. "The Odd Bits" includes venison heart, sturgeon caaviar and bone marrow, cockscomb, pig's brain, bamboo worms and even sweetbreads. It's quite an adventure, but they taste great, at least it's hard to tell what the ingredients are. The pig's brain is cut into small pieces and fried. It looks like fried chicken in a way, with a soft and hot after-taste. Venison heart is presented as tartar, served with fried sweet potato slices, and contains a unique texture.
Hope & Sesame won international acclaim as Guangzhou's first speakeasy, opening back in 2016, and has for the past three years popped up on Asia's Top 50 Bars list. They're known for pyrotechnics in cocktail glasses – infusions, clarifications and in-house distillation. The magic continues to Dentree, where you can enjoy a completely unique bar experience, such as distilling a glass of your own cocktail.
As certified by RESET, the world's leading performance-driven building certification program, the bar is the first in China to be certified carbon neutral for construction.
The bar is also targeting carbon neutrality in operations, to be granted after the first year of operation. By carefully selecting materials and prioritizing circularity, the bar achieved an embodied carbon footprint that is 29.3 percent lower than the industry average, with the rest being offset by Chinese Certified Emission Reduction (CCER) credits. The bar also achieved a level of circularity that is 8.3 times better than the baseline, with 39.2 percent of the bar being realistically recyclable or biodegradable at the end of life.
Beyond the sustainable concept, Dentree is surely an interesting new spot to check out the locally sourced, organic, low-waste menu and cocktails. Cocktails are between 98 yuan (US$14) and 118 yuan. The iconic "Adjusted Bamboo" is priced at 108 yuan, and food goes for around 60 yuan to 128 yuan per plate. It will start lunch service in March.
If you go:
Opening hours: 6pm-1am
Address: No. 181, Lane 465, Zhenning Rd
镇宁路465弄181号
Source: SHINE Editor: Su Yanxian Special Reports