Five dead, Grand Prix postponed after flooding in northern Italy
20:27 UTC+8, 2023-05-17
0
"The city is on its knees, devastated and in pain," said Gian Luca Zattini, the mayor of Forli, a city near Bologna where three people died.
20:27 UTC+8, 2023-05-17
0
Five people died and thousands were evacuated from their homes after heavy rains caused devastation across Italy's northern Emilia Romagna region, while this weekend's Imola Grand Prix was canceled, officials said Wednesday.
"The city is on its knees, devastated and in pain," said Gian Luca Zattini, the mayor of Forli, a city near Bologna where three people died. "It's the end of the world."
Two of the bodies in Forli were recovered by divers on Wednesday morning, as part of a huge rescue effort involving emergency services and the armed forces.
"Overall in Forli, there were three victims, one in Cesena and one in Cesenatico," which could be a German man previously reported missing, a local authority official told AFP.
Emilia Romagna, which is one of Italy's richest regions, had already been hit by heavy rain just a fortnight ago, causing floods that left two dead.
This time, around 50 centimeters (20 inches) of rain fell within 36 hours in Forli, Cesena and Ravenna – around half the normal annual rainfall, a situation "with few precedents," Civil Protection Minister Nello Musumeci said.
"It is still a very critical situation," he told reporters, adding that while the rain was still falling, it was expected to lighten during the day.
The flooding caused the cancellation of the Formula One Emilia Romagna Grand Prix, which had been due to take place in Imola on Sunday.
Organisers said they could not guarantee the safety of fans, teams and staff.
"It would not be right to put further pressure on the local authorities and emergency services at this difficult time," they said.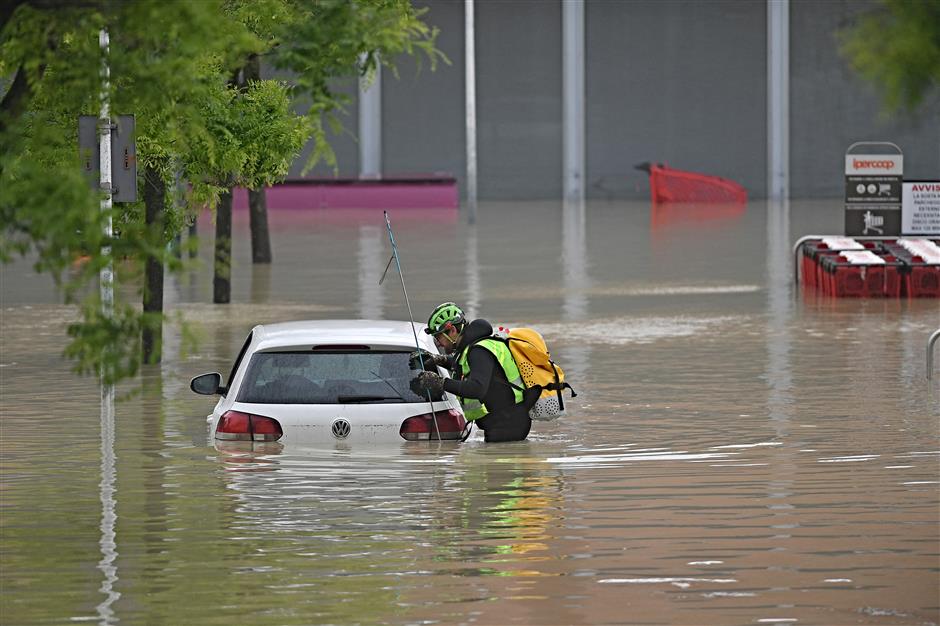 AFP
'We're scared'
Rescue workers had worked through the night to save children, the elderly and the disabled from the rising waters.

"We're scared, this time we're scared," said Simona Matassoni, the owner of the Hotel Savio in Cesena, which has so far escaped flooding.
"I was born here, I've seen lots of full rivers, but never anything like this," she told AFP by telephone, adding that it was still raining.
"At the moment we're crossing our fingers... but another flood is expected, so who knows (what will happen)."
Musumeci said an estimated 4,000 people had been evacuated from their homes, while around 50,000 people were without electricity.
All the rivers in the region had broken their banks between Tuesday and Wednesday, and 24 local authorities reported flooding.
The civil protection agency urged "maximum caution," as mayors warned people to stay on high ground.
In Forli, an AFP photographer saw people in a state of shock late Tuesday, fleeing through floodwaters in the dark in their bare feet.
Images showed streets transformed into rivers, and firemen moving people to safety in rubber dinghies.
AFP
Meloni pledges support
Elsewhere, muddy waters rushed at great speed under the arches of the covered walkways in Bologna, while locals in Cesena swam down a road to rescue a three-year-old child.

"We absolutely must not lower our guard," Cesena mayor Enzo Lattuca said on Facebook.
Residents "must not under any account go into basements or cellars," and should "stay out of ground floors if possible," he said.
Italian Prime Minister Giorgia Meloni, on her way to the G7 summit in Japan, tweeted her support for those affected and said the government was "ready to intervene with the necessary aid."
Much of northern Italy suffered a drought last winter, on top of a record lack of rain last summer that ruined harvests.
However, spring has been wetter and colder than normal across the country.
Source: AFP Editor: Zhu Qing Special Reports