Reviving a love affair with books in sensational new surroundings
14:00 UTC+8, 2018-01-20
0
Brick-and-mortar bookshops in China haven't died; they have simply reinvented themselves. The industry is breaking down old business models and liberating itself.
14:00 UTC+8, 2018-01-20
0
Mark Twain once famously wrote: "The reports of my death have been greatly exaggerated." That could also apply to China's bookstores, whose demise has been lamented for years in the age of online reading and book sales.
Brick-and-mortar bookshops haven't died; they have simply reinvented themselves.
Witness the crowds lined up on the seventh floor of a newly opened shopping mall in suburban Minhang District. It's not the restaurants, clothing shops and entertainment facilities that are packing them in. It's a new bookshop called Space of Light.
But this is no ordinary bookshop. The egg-shaped space spans two floors — with bookshelves on the seventh and an art center on the eight.
The new bookshop is an outlet of state-owned Xinhua Bookstore, the largest bookstore chain in China. It opened in mid-December.
What distinguishes this shop is its stunning design by Japanese master architect Tadao Ando, who celebrates natural light and simplicity.
"In Japan, people are increasingly becoming more alienated from books," the 76-year-old architect said during a recent trip to Shanghai. "Many children and adults simply don't read any more.
"I hope this space will help visitors have a new understanding of books, and to see light and hope for the future through reading," he added.
Wang Rongjiang / SHINE
Wang Rongjiang / SHINE
Wang Rongjiang / SHINE
Space of Light is not the only example of a new bookstore age.
"The industry is breaking down old business models and liberating itself," explains Cheng Sanguo, head of Bookdao New Publishing Institute. "This time, it is not only a revival but also a rebirth — brand new from inside out. There are more opportunities and potential to be discovered."
The institute, which specializes in research on the publishing industry, recently issued a report on the past and present of bookstores in China.
It said more publishing houses are opening bookshops and many bookstores on campuses have become sophisticated cultural sites.
Some new bookshops have no staff and rely on digital technology to operate. Others have become crowd-funding spaces.
Last year was a new starting point for bookstores in China, the report said. In Shanghai alone, more than 20 bookstores opened in 2017. More are expected this year. The new shops are generally stunning in style, diversified in book collections, themed with modern motifs and interactive with digital accessories.
Bookshop industry sales hit bottom in 2012 after years of ups and downs. Many closed, including landmarks like the 21-year-old Old China Hand on Shaoxing Road and the 24-hour Popular Bookmall. Blame was heaped on the e-book trend and on spiraling shop rents.
To the rescue came bookworms who prefer to hold a book rather than read text online, and shopping malls that viewed bookshops as magnets for a certain group of consumers. Governments also provided subsidies to keep the shops alive.
Most new bookstores have shed their image as ivory towers for eggheads. They have created airy, welcoming spaces where both bookworms and even non-readers can enjoy a few hours away from the urban rat race.
"I was never a big book lover, but I was quite amazed by the aesthetics of a bookshop that I bumped into while shopping with a friend last year," says Zhang Haolin, a 32-year-old financial analyst. "It was completely different from the staid, boring bookstores I remembered from my childhood."
Zhang now takes dates to bookshops.
"These new shops are fashionable and photogenic, full of personality and unexpected pleasures," he says.
Wang Rongjiang / SHINE
Wang Rongjiang / SHINE
One such venue is Sinan Shuju, a 30-square-meter "experimental" bookstore that opened on a temporary basis for two months at the end of last year. Each day, a writer-in-residence stood in as shop attendant from 4pm to 8pm.
The writers read from their own works and shared their favorite books with customers. The freshness of the business model packed people into the tiny space that holds more than 3,000 books selected by both organizers and writers.
Due to its success, the temporary shop is most likely to become permanent fixture at a different location, according to its operators.
"I have always believed that one thing would never change," says Sun Ganlu, deputy chairman of the Shanghai Writers' Association and one of the masterminds behind this new model.
"People need to meet each other," Sun says. "Human beings need activities in public spaces. Authors meet authors. Readers meet readers. Authors meet readers. They hold discussions. All the various components of the book industry — writing, reading, publishing and selling — converge in one space."
Events featuring authors are nothing new to bookstores, but many shop owners have built on the tradition to go beyond traditional book launches or group reading activities.
"People no longer walk into a bookstore just to buy books," says Steve Guo, an independent publisher and researcher. "Bookstores are no longer just for book lovers. Many shop owners hope to attract people with creative activities, hoping they might browse and buy books if they are happily entertained."
According to Liu Jun, founder of Da Yin, or the Big Hideout Bookstore, more than 300 events were held in the chain's five stores last year. In addition to reading events and book launches, there were craftsmen workshops, live performances and flea markets — activities not traditionally associated with bookstores.
Da Yin, which opened its first shop in May 2016, has just unveiled its sixth venue in the city. It will remain open until 2am.
"When we first started, it was a business of books, and later one of spaces," Liu explains. "Now it's all about catering to readers."
The various branches of the chain all share some commonalities, such as the bright designs, bookshelves that reach to the ceiling and Zen-style tea areas. Each also features its own unique characteristics.
Wang Rongjiang / SHINE
Wang Rongjiang / SHINE
Wang Rongjiang / SHINE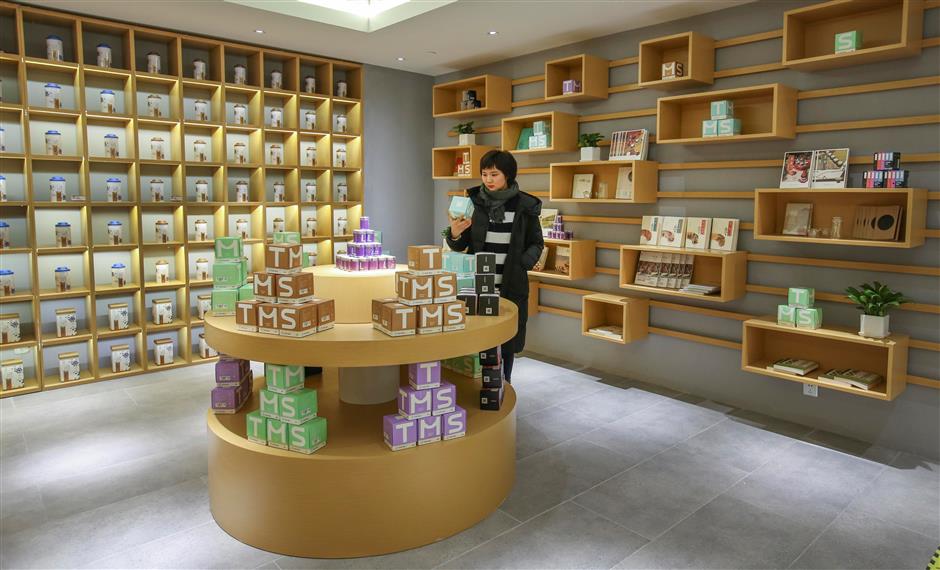 Wang Rongjiang / SHINE
Wang Rongjiang / SHINE
The branch on Wukang Road, for example, has two long benches outside the store for people waiting at a bus stop. The venue on Chongqing Road S. is equipped with a small theater, where dramas, musicals and dances are regularly performed.
The latest venue, in Yangpu District, has a large studio where visitors can experience the process of sound recording.
"As physical bookstores, we can never expect to beat e-shops in terms of price, speed or variety of books," Liu says. "The only thing that sets us apart is that we can offer a personal cultural experience that is physical, not virtual."
Some bookshops attract people who come to simply admire architectural design. Bookstore operators have started to work with top architects and designers to create spaces that awe people. Publishing houses and publications sponsor contests asking people to vote for the most beautiful bookshops in China.
Zhong Shu Ge was among the first bookstore "beauty queens." Its first shop, opened in the suburban Songjiang District, attracted people who took selfies in the shop and posted them online. Netizens dubbed the shop the most beautiful bookstore in Shanghai. Last year, a branch in the downtown district of Jing'an opened.
The fact that so many bookstores are opening in areas of expensive real estate attests to their staying power.
The view of the Bund from the third floor of JIC Books in the North Bund Business Center has spawned many photos on the Internet. The shop boasts the biggest collection of biographies in China. Each month, one author is featured in a special corner of the shop piled with biographies.
The new wave of bookshops has cleverly caught a trend, or perhaps created one. According to a survey by the Chinese Academy of Press and Publications, 59 percent of Chinese read books, with each person reading an average eight books in 2016. And, best of all, the numbers are rising.
Wang Rongjiang / SHINE
Wang Rongjiang / SHINE
Source: SHINE Editor: Liu Qi Special Reports