Living better by learning more about death
16:25 UTC+8, 2020-07-17
0
Have you ever talked about death with a member of your family? Do you have a bucket list? Have you written your will? Do you want a memorial after you die? If so, what kind?
16:25 UTC+8, 2020-07-17
0
Ti Gong
Have you ever talked about death with a member of your family? Do you have a bucket list? Have you written your will? Do you want a memorial after you die? If so, what kind?
These questions have been frequently discussed among strangers at HOMO VIATOR (a term meaning "man on the journey" invented by French philosopher Gabriel Honore Marcel), a free "death salon" created and hosted by Shi Yuhan from Yancheng, Jiangsu Province, who relocated to Shanghai in 2016.
"Death is the one thing that will happen to all of us," Shi said. "We all know we will die one day, but none of us places enough importance on it."
Her view of life expanded after giving birth to her son in February of 2018.
"Death is important," she said. "Why don't we spend time discussing this significant issue?"
Shi held her first death salon in Shanghai last year and has continued hosting them once a month in coffee shops, bookstores, restaurants and even a yoga gym.
They've even spread to Shenzhen, Beijing and Hangzhou.
To date, 11 HOMO VIATOR salons have taken place with more than 100 participants, predominantly women.
Ti Gong
Unlike the renowned Death Cafe, a group-directed discussion of death with no agenda, objectives or themes, each death salon is centered around a topic, such as bucket lists, hospice care, farewell parties prior to death and imaginary memorials.
"Every time I host a salon, I do the brainstorming exercise first, and I write down my answer to a certain topic again together with participants," said Shi, "It's like a life review. I get different answers each time. So if it's possible, I recommend people to do such exercise every year."
Shi thinks a satisfactory farewell to the world contains not only a good property arrangement but also a good review of one's life.
"I want to offer principles in each salon and encourage participants to prepare a step-by-step death-preparation document," she said. "When we talk about death, we don't talk about it as if we will die immediately. What I hope is when we die, we leave without regrets. However, that doesn't mean we need to think about death all the time."
Shi designed a series of 10 salons to help people better understand the process of preparing for death, and she's in the process of incorporating these ideas into an official manual.
Shi hopes in the future, life-and-death education becomes commonplace in communities.
"Spare two hours, pick a topic and deeply contemplate it," said the 31-year-old. "That will make a difference. Most participants are younger than I am. I think it's promising. Maybe death will no longer be a taboo topic with younger generations."
When we talk about death, we don't talk about it as if we will die immediately. What I hope is when we die, we leave without regrets.

Shi Yuhan
As a child, Shi became curious about death, and during high school she read "The Tibetan Book of Living and Dying" by Sogyal Rinpoche, which focuses on the understanding of life.
During that time, she asked her mother, a nurse, the philosophical question, 'What is the meaning of life?' to which her mother replied "to experience and explore it." When Shi asked for a longer explanation, her mother said there was nothing more to discuss.
"I'm not satisfied with that answer," said Shi. "I wanted a better answer to pass along to my child."
HOMO VIATOR is her way of searching for a better answer.
In 2008, Shi enrolled at Shanghai International Studies University as an interpretation major. She continued her studies in Hong Kong, earning a master's degree and becoming a business journalist for seven years at Bloomberg Businessweek and CBNweekly. Writing in-depth stories on the funeral and interment industry provided insight into death and spawned the idea to start the salon.
After every salon, Shi would post a group photo or write a summary on WeChat Moments. Additionally, she became a self-styled "cancer and death consultant" among her friends.
When a friend's father was diagnosed with terminal cancer but refused to be treated, he asked Shi how to change his father's mind. After giving him pertinent materials, Shi suggested he empathize with his father's position.
When a college classmate asked her about how to care for her cancer-ridden father, she discovered hospice care from Shi for the first time.
"I was shocked that my classmate, who's a reporter, didn't know about hospice, and she's not the only one," said Shi. "I even have a friend who works in a cemetery who had never heard of it. We lack life-and-death education, because we don't learn about it in school or from our families."
The experience of friends asking for help informed her that life-and-death education is an urgent societal need.
"It's not common knowledge for Chinese people, but it should be because we all need it."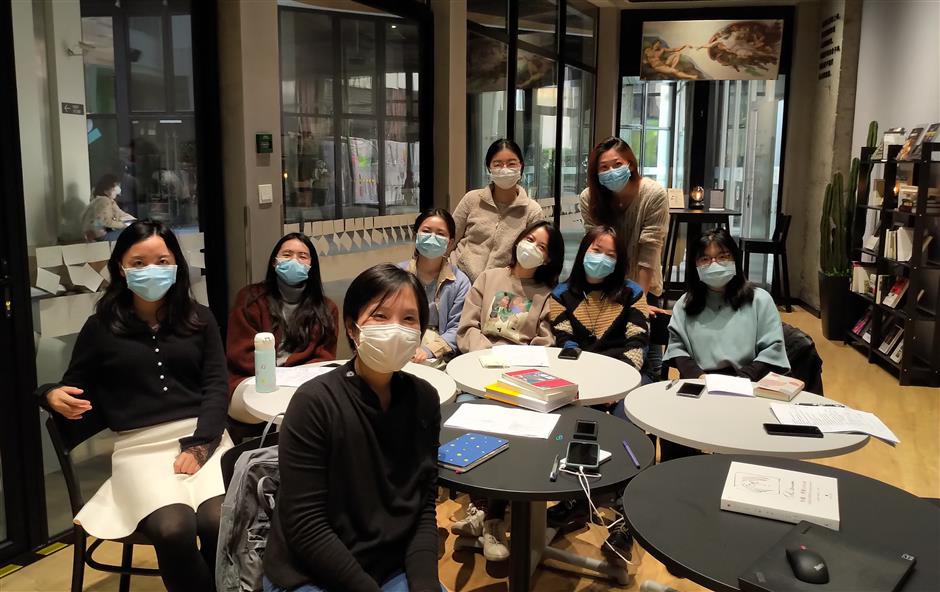 Ti Gong
Shi thinks the global pandemic is a good opportunity for such education, so she compiled a list of 56 life-and-death picture books and distributed it to salon participants and others with children.
"Don't let death be such a heavy issue," she said. "Parents can read these picture books to their kids and make it warm, cozy family time. "
With a full-time job as an insurance manager, Shi organizes HOMO VIATOR during her down time. In order to improve the group, she meets as many new people as she can.
Once her mother, who helps her take care of her son Lucien, complained about the amount of time her daughter was spending away from her family.
"You always discuss death with others," her mother said. "When do you have time to care for us?"
Her mother's words affected Shi and filled her with guilt.
"One of the reasons I started the salon was to prepare myself to care for my parents when they reach their twilight years," she said. "But I realized in so doing I was ignoring them."
Shi's father-in-law was diagnosed with cancer four years ago and is still in denial.
"I'm trying to help him face the truth, but it's hard because I'm not the victim," she said. "It's even harder to practice what I've learned on family members. I still have a long way to go. Compared to those who passed away without any preparation, we are fortunate to sit here and have an honest conversation about death. By preparing, we come to understand what's truly important."
As American writer Mitch Albom said in his best-selling book, "Tuesday with Morrie," "When you learn how to die, you learn how to live."
Ti Gong
Source: SHINE Editor: Wang Haoling Special Reports