This Chinese New Year, try out some famous local delicacies
18:16 UTC+8, 2019-02-01
0
The Chinese New Year falls on February 5 this year. A major part of the Lunar New Year is nianyefan, which is the most important family gathering.
18:16 UTC+8, 2019-02-01
0
The Chinese New Year falls on February 5 this year. A major part of the Lunar New Year is nianyefan, or the Chinese New Year's Eve dinner, which is the most important family gathering. Cities and provinces across China have their own custom and delicacies about nianyefan. Shanghai does too. Joan Zheng guides you through some of the local delicacies.
Eight-treasure duck
Eight-treasure duck is a signature dish of the city — an absolute must-have for nianyefan.

Stuffed with chestnuts, bamboo shoots, sliced ham, shelled shrimps, green soya beans and other ingredients, eight-treasure duck is juicy in taste and delicate after it is steamed for an appropriate amount of time.
Recommendation:
Shanghai Classical Restaurant
Established in 1875, Shanghai Classical Restaurant is a famous eatery serving Shanghai delicacies.

It has absorbed characteristics from Jiangsu, Zhejiang and Anhui provinces, and created some famous Shanghai dishes. Eight-treasure duck is a specialty here, along with sweet and sour fried croaker and pepper salt spareribs. Don't miss it.
Address: 242 Fuyou Rd
Tel: 6311-1777
Smoked fish
Baoyu, or smoked fish, is a well-known Shanghai home-style dish. The fish is pickled before being deep-fried until its skin turns golden and crispy. The fish tastes fresh and tender while the skin is crispy and appetizing.

Recommendation:
Meiji Baoyu Shop
Located in a traditional alley, Meiji Baoyu Shop is a small food outlet that serves smoked fish. With fresh food material and tasty flavor, the restaurant has attracted a huge number of customers since it opened. Smoked fish served by Meiji has a rich taste that combines smoky and sweet flavor. It is also a nice topping for noodles.

Address: 260 Zhapu Rd
Tel: 138-1695-2602
Eight-treasure rice
As a traditional sweet dish in Shanghai, eight-treasure rice is an essential dish for Shanghai natives. It is normally made of sticky rice, lard and eight "treasures" — sweetened bean paste, lotus seeds, walnut seeds, strips of processed fruit, candied jujube, raisins, red jujube and melon seeds.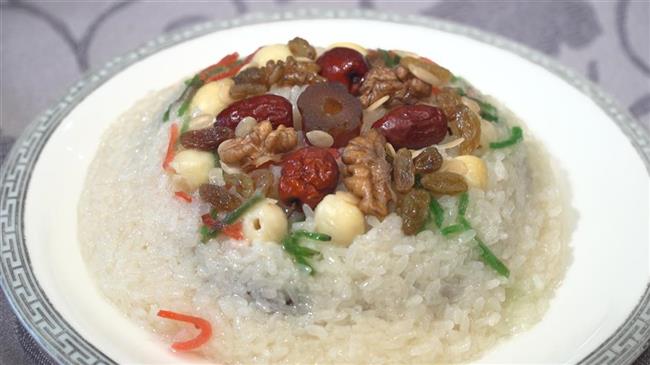 Recommendation:
Longhua Buddhist Cuisine
Located inside Longhua Temple, the Longhua Buddhist Cuisine is a special vegetarian restaurant serving different kinds of vegetarian dishes, such as steamed gluten, vegetarian duck, mooncakes and eight-treasure rice.

Eight-treasure rice here has a healthier style and taste because it is cooked in vegetable oil. And the sugar content is lower too. It meets the expectations of health-conscious people.
Address: 2787 Longhua Rd
Tel: 6457-8777
Glutinous rice dumpling in sweet rice wine
Usually made with glutinous rice and sweet rice wine, it is a delicate Chinese dessert and has a balanced sweet and sour taste. Glutinous rice dumplings taste soft and waxy while the soup is fragrant and sweet. It is a perfect dessert for people to enjoy while watching the annual China Central Television Spring Festival Gala with their family.

Recommendation:
Fuchun Xiaolong
Fuchun Xiaolong, located on Yuyuan Road, is an authentic snack bar which is famous for xiaolongbao (little steamed buns) and other local food.

Although the glutinous rice dumpling in sweet rice wine is not so famous as xiaolongbao, it is still worth trying. Glutinous rice dumplings are soft and tender.
Address: 650 Yuyuan Rd
Tel: 6252-5117
Sixi steamed gluten
Sixi steamed gluten is a traditional cold dish at Shanghai-style nianyefan. It is usually served with mushrooms, enoki mushrooms, black fungus and groundnut kernels. As an appetizer, Sixi steamed gluten has a rich taste that is both sweet and sour. When you bite it, the rich juice leaves a long aftertaste.

Recommendation:
Xinyuan Restaurant
With its simple and traditional design, Xinyuan Restaurant is a popular restaurant featuring Shanghai dishes.

It serves a number of local cuisine, such as sauteed shrimps, eight-treasure duck, wined chicken and other Shanghai-style fish and vegetable dishes.
Sixi baked bran here is juicy and chewy. Go and try it.
Address: 508 Jiashan Rd
Tel: 6437-5017
Spring roll
Spring roll is a popular pastry in the south, especially during the Spring Festival.

It is usually filled with shredded pork, shredded cabbage and other vegetables. After the fillings are rolled in the wrapper, they are deep-fried until they become golden. Each place has a different paste. In Shanghai, people often prefer pork and cabbage filling.
Imaginechina
Recommendation:
Meixin Snack Store
Meixin Snack Store is a time-honored food brand since it opened in 1949.

It sells a large variety of Shanghai-style snacks and dishes, including spring rolls, sweet dumplings and local noodles with different toppings. Spring roll here is a must-try. The skin tastes crispy, and the fillings are rich and juicy.
Address: 105 Shaanxi Rd N.
Tel: 6247-0030
Stewed assorted delicacies
Stewed assorted delicacies are one of the favorite items on the dinner table of Shanghainese. With a strong implication of "reunion and good luck," stewed assorted delicacies are a popular dish in many areas. It includes a large number of food materials such as meat ball, agarics, bamboo shoots, pork skin and vegetables. In Shanghai, egg dumplings are added to the dish.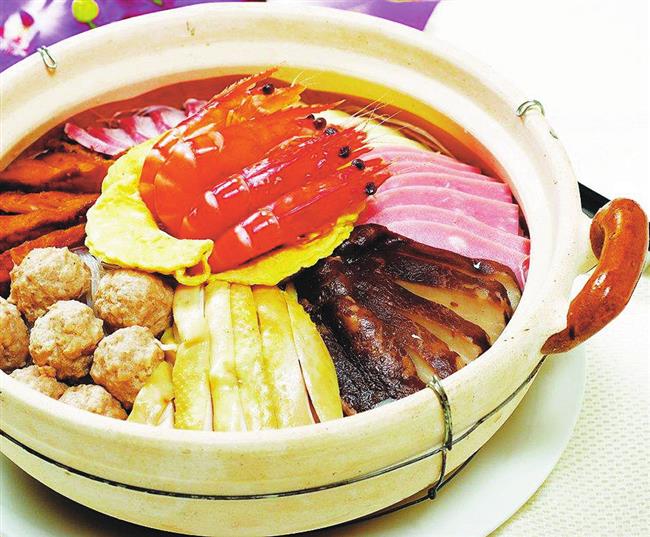 Recommendation:
Shenyan Restaurant
Shenyan Restaurant is a traditional restaurant that combines classic Shanghai and Sichuan cuisine.

With an elegant and classical design, Shenyan Restaurant serves well-matched food. Drunk green crabs, tofu skin rolls, steamed white fishes, Shanghai-style red-cooked pork and stewed assorted delicacies are the highlights here.
Address: 801 Yanchang Rd M.
Tel: 6652-9347
Source: SHINE Editor: Shen Ke Special Reports