Thoughts on China reflected in Shanghai filmmaking project
18:32 UTC+8, 2023-06-07
0
They made eight short documentary films about China's many cultures and arts as part of the "Looking China" youth film project.
18:32 UTC+8, 2023-06-07
0
Ti Gong
Eight short documentary films made by young international filmmakers conveying China stories were recently screened at the Shanghai Vancouver Film School.
The films were shot and made in two weeks.
The 2023 edition of the "Looking China" Youth Film Project encourages overseas youth to experience and record the country's diverse cultures and arts, as well as share their thoughts on China with the rest of the world.
"Shanghai Rhythm," "The Essence of Laolongtang Culture ― Jiuzi Game," "A Day of Interviewing Locals," "A Home Away from Home," "Home Hometown Village," "Halal Cuisine in Shanghai," "Never Give Up" and "Never Too Late" are the eight films.
Young directors from Madagascar, Turkmenistan, Ukraine, Indonesia, Bangladesh, Russia, Thailand and Vietnam presented these films under the theme of "Folk Residence, Folk Song, Folk Custom" with the help of Chinese producers and volunteers.
They visited Shanghai's well-known sights and were able to depict the city's unique blend of past and modernity. They also learned about traditional Chinese culture, as well as local folk rituals and arts.
Some of the foreign filmmakers spoke with Shanghai Daily about their experiences in making the films, their impressions of the city, its people, culture and way of life.
Ti Gong
Nguyen Trang Thi (Vietnam)
Film title: "A Day of Interviewing the Locals"
Participating in this initiative as a Vietnamese student was a wonderful experience. My film explores the city of Shanghai.

I didn't expect to see so many elderly people gathering at People's Park in the morning, so content with their old age. The smell of happiness was everywhere. All of this would not be possible without the hard work and dedication of generations of Chinese people.
Only a strong country can allow people to live and work in peace and happiness, as well as allow the elderly to spend their golden years in peace. I believe this is due not only to the fact that Shanghai is a global city where they are used to mingling with people from many cultures but also to their rich life and spiritual world that has given them an open-minded mentality.
In the afternoon I attended the International Culture Festival and Customs Exhibition at Shanghai University. I interviewed a large number of overseas students. They were all aware that Chinese is a vast and profound language that requires a significant amount of time and effort to master. Nonetheless, they chose to persevere in learning Chinese. It demonstrates that the global impact of Chinese higher education is growing, and I am really delighted to be able to study in China.
Ti Gong
In the evening, I went to Yuyuan Garden. During special occasions like the Spring Festival, Mid-Autumn Festival and Lantern Festival, Shanghai residents visit Yuyuan Garden to observe lanterns and eat traditional food.
Chinese history spans five millennia and has produced innumerable cultural gems that have shaped various Asian and global cultures.The Chinese culture has shaped me as a Vietnamese student abroad. Vietnamese observe many traditional Chinese festivals. I feel at home when I witness Yuyuan Garden's busy environment. This sense of belonging helps me like traditional Chinese culture more.
Late that night, when conversing with Uncle Security, I learned that he knew everything about our school's students, and I felt warm in my heart. The reason we can study in peace at school and enjoy the great university life to the fullest is that folks like them are secretly protecting us.
The shooting and editing were exhausting, but the locals gave me energy and warmth. We met wonderful people. Learning Chinese was my best decision. I made great friends, met amazing people, and learned a lot throughout this program. These experiences made me love Shanghai and China more.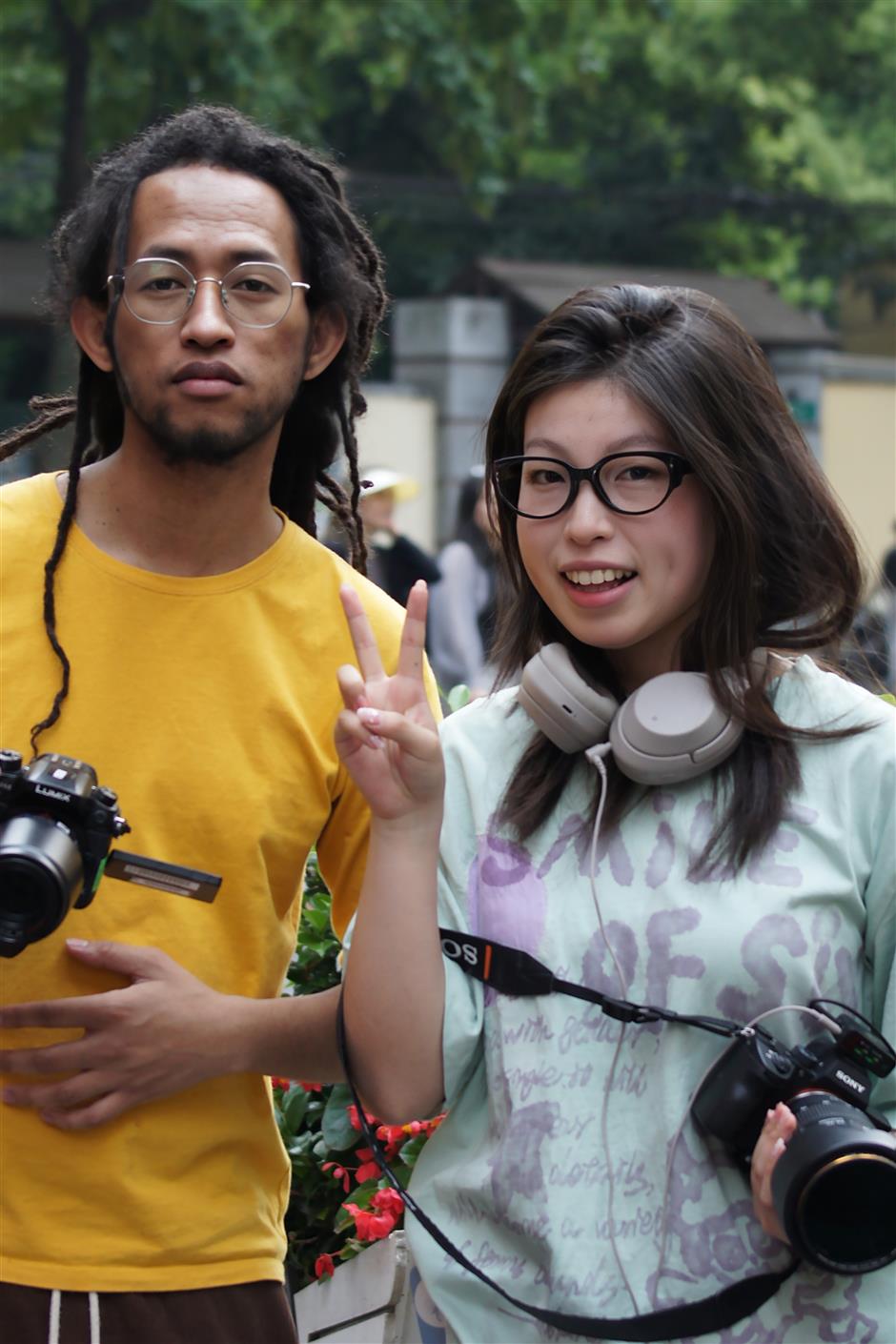 Ti Gong
Nataniela Randrianomearisoa (Madagascar, left)
Film title: "Never Too Late"


This is an adventure that will remain forever in my heart.

Firstly, it all started with the choice of subject. The initial idea was that I wanted to tell a story of people's lives. Then, I became interested in old people because I thought that, thanks to their experiences, they must have something interesting to say. As a fan of new social media like TikTok, I've seen a few videos of old people who like to dress up on streaming platforms. That gave me some ideas. I thought they may have something to tell because the way they dress also reflects their thoughts.
We had two people as subjects. One is an elderly woman who loves fashion. I was worried we wouldn't find anybody with that interest in time. So a week before the shooting started, I went to Anfu Road, a street known for finding this kind of people. There, I met Auntie Chen Chen. I saw her in the middle of the crowd; she was walking like a star, and everyone wanted to take photos with her.
The other subject is Liu Jiankui whom I had met at university when we performed together for a play that tells the story of our lives through dance. He's an old man who enjoys Latin dance. After retirement, he spends his time dancing in parks and teaching children.
Ti Gong
Filming taught me a lot about time management and handling equipment, as well as a few lessons about what these old people were saying.

My colleague and I always worked together because we were our own technicians. We shot together, edited together, and enjoyed ourselves together. It was during the editing that I learned the most. I always learned editing by myself, but when I worked with her, who had studied the theories, I learned some important things, like the technique of transitioning shots, as well as solving sound problems such as noise reduction.
I slept at the Shanghai Vancouver Film School for a few days to fine-tune our film. We worried that we wouldn't make it in time, but in the end, we did. It was my first film shot in Shanghai. And I've decided not to stop pursuing this passion. I was delighted to meet friends and contacts during the festival. I was so happy that I danced with Liu during the screening ceremony. And the best is yet to come.
Ti Gong
Angelina Mikhailina (Russia)
Film title: "The Essence of Laolongtang Culture: Jiuzi Game"


I saw an announcement about the "Looking China" filmmaking project back in March. I immediately thought about what to make. I've only been in Shanghai for a little over a year, and there is so much to explore.
Participation in various activities and competitions held by the university helped me with this. That is how I first learned about the traditional longtang (alleyway) game: the Jiuzi game. I managed to participate in a few games, and I found that there are a few games that I remember playing in my childhood. I decided to make a documentary about the classic Shanghai longtang games.
Ti Gong
I was able to learn about the history of the Jiuzi game during filming, as well as how traditional longtang games continue to adapt in the current times and why these games are still passed down to the new generation.
It's critical to me that other people understand the same thing about the game as I do, so I am grateful that we have an informative and engaging documentary.
As a student at the College of Management, I became familiar for the first time with the laborious process of filming and processing videos. This is a life-changing experience for me, and I am grateful to my producer, who worked on it professionally.
We accepted the challenge of shooting and editing a documentary in 17 days. And we succeeded! We had a lot of fun participating in this project and will remember it for good.
Ti Gong
Angga Yudhistira (Indonesia, 3rd from right)
Film title: "Shanghai Rhythm"


Art has been my passion for a long time. People used to ask me what I wanted to do when I grew up. Some of my friends aspired to be doctors, lawyers and astronauts, but I said unequivocally that my dream was to become a musician and an actor.
As a 6-year-old, I had that conviction. I recall watching the film "Space Jam." I enjoyed the soundtrack and seeing how the basketball players performed in the film.
Ti Gong
Right now, after more than 20 years, I am grateful that I could complete these projects and put my talents and enthusiasm to use.
Thank you so much, Shanghai Vancouver Film School. My thanks go to my teachers as well! I hope the "Looking China" project is a huge success.
See you again soon!
Ti Gong
Nitra Thitipithaktham (Thailand, right)
Film title: "Home Hometown Village"


Being a director in this project has helped me learn a lot and expand deeper into my areas of interest. Shanghai is a fashionable and affluent metropolis, so I did not think that there would be any countryside. But after speaking with the producer, I realized that there are also rural places in Shanghai. So I was curious: What kind of lifestyle do the rural folks live?
Rural life is equally fast-paced, but they have more natural scenery. When I was filming in Shanghai's rural areas, I met a young man working there. I was curious: Shouldn't a young man work in the city center? Why did he come to the countryside to work?
After getting to know him, I realized it's for the sake of the family and that he might return to his birthplace. This helped me grasp the Chinese concept of "falling leaves returning to the root." Chinese people place a high value on the concept of "home."
This "Looking China" initiative taught me a lot about Chinese culture and ideas. Thank you very much for allowing me to be a part of this endeavor.
Ti Gong
Source: SHINE Editor: Liu Qi Special Reports