Stimulating minds: Library serves a diverse community
11:39 UTC+8, 2019-05-24
0
At a time when paper books are being replaced by e-books , how can community library attract readers back to flick through pages?
11:39 UTC+8, 2019-05-24
0
Xinhong Library is celebrating its first anniversary, and what a year it has been!
The library, which has a collection of about 80,000 books, has already won awards for its focus on serving divergent community groups, from retired farmers to young children.
"The first time I visited, I was surprised to find such a big library in the neighborhood," said a resident surnamed Wang.
At a time when paper books are being replaced by e-books and the pleasure of reading is being overshadowed by reality TV shows, how did the library manage to attract about 200,000 readers so far to flick through pages?
Ti Gong
"It's our wish to provide spiritual food and activities for residents," said Shi Yijing, a staffer at the Xinhong cultural center. "On one end of the spectrum are white-collar workers from the Hongqiao business hub, and on the other are retired farmers who moved to city under government relocation plans."
To meet the divergent reading interests of such a wide range of patrons, the library developed specific plans. For companies in its area, the library placed book corners in offices and changed books regularly, hoping to entice workers on their breaks.
Qisheng Biological Preparation Co Ltd and R&F Properties are among the companies that have availed themselves of the library service. With more companies opening offices in the Hongqiao hub, the free service is expected to expand.
"Staff give us feedback about the books they want to read, and we try to make them available," said Shi Yu, a library staffer.
Not to be ignored are retired farmers who suddenly have a lot of leisure time on their hands and need activities to fill it, said Shi Yijing.
To run the library more smoothly, the Xinhong subdistrict commissioned private companies to organize activities in various libraries under its jurisdiction.
Shanghai Book Co, for example, is paired with Xinhong Library. The library provides space for lectures and book clubs, which the company organizes.
"The resources we can provide are not limited to books," said Wang Chengxian, executive director of the library. "Youngsters also need a space to socialize and take part in cultural activities."
"The first few events we held weren't as successful as we had hoped," said Wang. "So we sent out questionnaires for feedback, asking specific groups of readers what they wanted."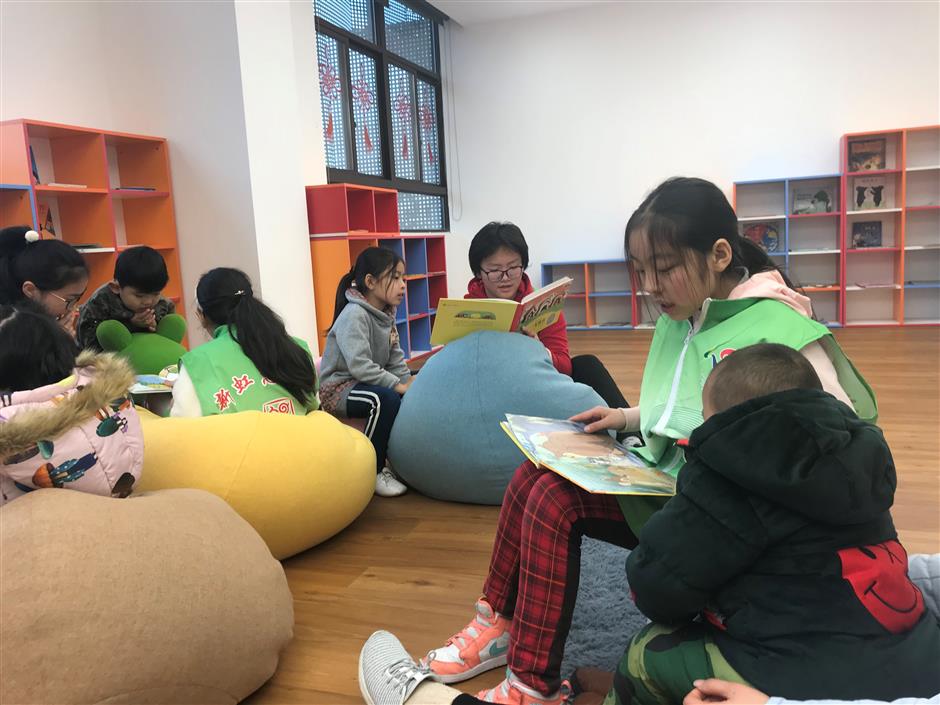 Ti Gong
The library has organized three series of Jingwei branded events, covering literary lectures, children's reading activities and a book club for readers. More than 80 activities have been held to date, attracting thousands of readers.
"It's hard to find a seat on the weekends," said Shi
Yu. "Reservations are booked within hours after we
release information about the next activity."
"I took my daughter to the Spring Festival activity, where traditions were explained in games organized for the children," said local resident Xu Yi. "The activities were designed to illustrate the traditions, and I think it was a fun way for my daughter to learn about them."
Xu added, "If my daughter were a little older, I'd take her to the math teaching event held at the library. These activities are educational and free, and, most importantly they are close to our home."
For children, the library has held activities about writing, poems and science. During winter break, 80 older students became volunteers to help out in the library.
"Activities for children appeal to parents and teachers," Shi said. "We have received calls from teachers in a nearby school, asking if they could bring a whole class to some activity."
Ti Gong
Three months on, the book clubs have attracted young white-collar workers. Many of them want to broaden their minds.
"I found many out-of-print books on the third floor, which is a heaven for philosophy lovers," said a resident who works in a bank. "I can tell that the books have been carefully selected."
The lecture series brings in writers or other professionals to talk about traditional Chinese culture, history, economy and sociology.
"We want to introduce good books to our readers, and they often want to share and discuss their reactions after reading them," said Wang, the library's executive director.
The library is the only community library that has been certified to participate in Shanghai Book Fair activities.
Source: SHINE Editor: Chen Xingjie Special Reports